Honda has sold 75 million units globally of its iconic '50', also known as 'Super Cub' motorcycle. In comparison, the world's most sold is the Toyota Corolla at 40 million units globally. While the word Super does come in its names but it does not imply a character of sports or racing. But what that means is that it was a Super motorcycle by all means: Cargo, business, family, personal, at a great mileage with super strength that even motorcycles today don't have. I couldn't find the clip, but it was Discovery Channel that aired the clip where the presenter just threw the 50 from a roof, went down, and started to drove off.
For Sale on Pakwheels: Motorcycle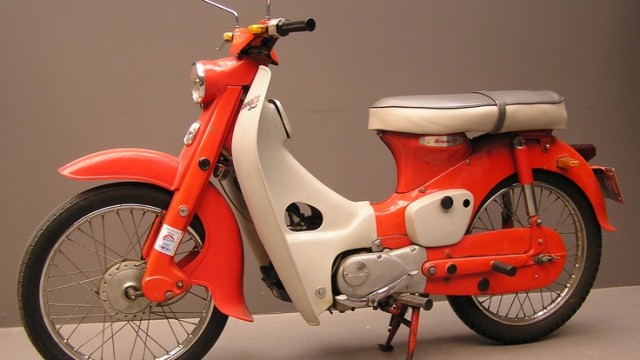 However, being the icon it is, only one out of those 75 million Super Cub's look like this in the world. This is a 1961 Honda Super Cub; that's now named 'Firefly' by the company 'Deus'.
Let's first drool at the pictures then we'll take you through the bike.
Deus, a Japan-based company, recently had a new Director of Motorcycle Operation, Matthew Roberts, who took inspiration from small capacity GP and TT racing bikes from Honda 50's era of birth. But it doesn't only look here though Matthew plans to race it in Japan's pre-1964 motorcycle racing series, and thus, the bike features a monocoque body that houses petrol, battery, electrical, and coils. All these things are laid out in the backbone that is just 4.5 in width at its widest points. So this is beauty and the beast as well. (Probably)
Original hubs were kept though they were equipped with DID alloy rims with custom spokes. And since Deus plans to race it, all the lights on the motorcycle are fitted with quick-release mechanisms so the headlight can easily by swapped for a number plate.
Also Read: The Risk Business Of Innovation
Even though we have had our fair share of the motorcycles that are now considered classics in the West, we have yet to inspire people to start making some drool-worthy motorcycles because they couldn't find a vehicle of their dreams anywhere.