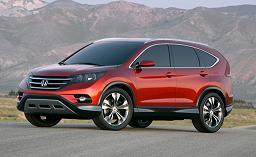 Honda Atlas launches the new CR-V in Pakistan
Honda was in the process of launching the new CR-V in different regions of the world and Atlas – which has the assembling rights for Honda vehicles, launched the newer, more aggressive looking CR-V in Pakistan.
The CR-V is priced at an exorbitant 7,100,000 PKR and will come with a 2.4 Liter engine producing 180 HP powering the 4 wheels of the car.
The CR-V has a lot of competitor worldwide however, very few of those competing vehicles are available in Pakistan. While most of them are imported by local dealers but none of them are new although they are priced much lower than the CR-V which makes the used SUVs worth the buy.
Indus Motors also have begun to assemble the Toyota Hilux Vigo and Avanza locally and they are priced better than the CR-V. It will be quite a rough a journey for new CR-V in Pakistan due to its insane price and better competing vehicles by Indus and importers.