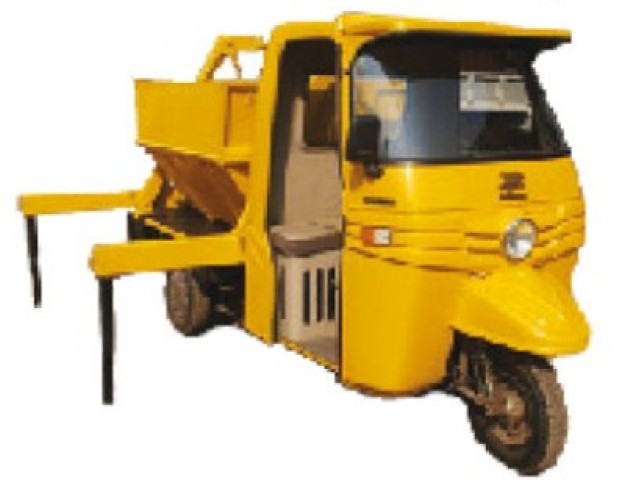 Rickshaw made to pick up your trash
Pakistan is a country where rickshaw has seen many forms; from those loud and polluting blue rickshaws to Qingqis to these quiet yellow rickshaws – we have had it all and still our entrepreneurs are pretty confident thats there's room for innovation in these absolutely trash quality rickshaws.
So they have come up with a unique kind of rickshaw which can peneterate into the most dense areas of our cities and keep our small and tight alleys clean.
With limited resources and design expertise at hand, local entrepreneur, Khayam Hussain who has done a lot of releif work for the flood hit areas of Sindh had seen the miserable situation of trash disposal by homes and therefore, he began to though about ideas to cope up with this situation design Rick-saaf.
The new form of rickshaw we are going to see will be called 'Rick-saaf', which actually is a trash grabbing vehicle made by Khayam's company 'Autocom' which specializes in building special utility commercial vehicles like, garbage trucks, trailers, reefers, etc.
The first prototype that is produced has a bin made of steel attached to – where previously – the passenger cabin used to be. The steel bin can take up to 200 KG in load. Moreover, that bin is operated through hydraulics which generates power through independent power pack using a seperate battery dedicated to this system. Thusly, the engine remains free of added load and the fuel consumption is than not affected.
The cost of the rickshaw in total is 400,000 PKR which is very expensive given that it is a rickshaw however, the hydraulic system alone costs 100,000 PKR which is quite a simple one – and can be operated by almost everyone.
Khayam Hussain is trying to play his part to keep the society clean but his attempt to engage the government in creating a program to deploy these rickshaws reminded me of Revo – who also had asked for government's help but that's what killed Adam Revo.