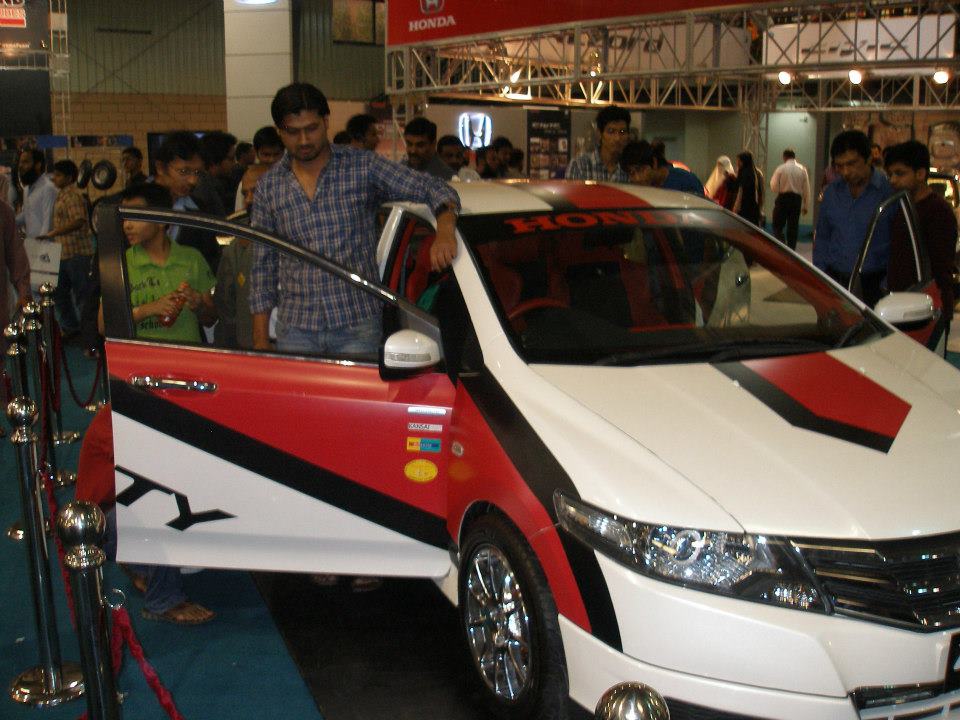 Honda Atlas Pakistan displayed a one-off edition of City at Pakistan Auto Parts Show
A week has gone by since the first time this car was displayed by Honda Atlas Cars at the 2013 Pakistan Auto Parts Show but we were patient to post about this show car as there wasn't a single detail available to us about it and it seemed that the man incharge to take and post photos to the Honda Atlas' Facebook page needs a bit of training on how to take photos and publicize a show car.
The press release (containing two-three lines) reads at the FB page of Honda Atlas; three cars built with locally manufactured parts were displayed at the Expo Center to promote the local auto industry of Pakistan.
The consumer and buyer was again ignored and a purpose built show (concept) car was rather displayed inefficiently at an Auto Parts Show open to a limited audience. The aim although was good but the arena chosen had a limited type of audience therefore the hype it could've made in a proper auto show such as the recent Auto Shows done Pakwheels (Karachi GTG and Lahore Auto Show) could've done much more for the marketing and image of Honda Pakistan.
No details about what the car was equipped with were released, even when Pakistani auto makers have the courage to advertise Sun Roof (SR) option as BMW advertises its M badged cars and Mercedes its AMG badged ones.
The seats are clearly bucket types fitted in this car as we can see in the picture alongside the vinyls, etc. So we assume someone with an overdose of NFS (Need for Shaheed) was granted the opportunity to make a one-off sporty City for the wrong type of people at the wrong event.
The opportunity was clearly lost, the true stakeholders of Honda Atlas were again ignored and perhaps, Meera, Veena and Atlas Honda could do a bit better with a functioning PR department.
Here's a top tip for folks at Honda Atlas; 2013 Pakwheels Auto Show is just around the corner, get that stupid looking NFS inspired car at the show and the car will be swarming with humans like a sweet dish is with bees and you will get more social media attention then you ever thought you could, and all of this will happen with proper photos and details this time without you asking for it.