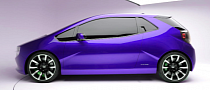 Honda introduces a small, city-car for the new generation of buyers
Detroit Auto Show is on-going these days which has left little or no room for any other auto shows happening anywhere around the world. But cars do take our attention away, and Honda, just revealed a concept car called 'Gear', which is aimed towards the gen-y buyers at unheard, Montreal International Auto Show.
Honda says its design is inspired by fixed-gear bicycles, and it approaches the supermini genre from a whole new perspective – all things which make the Gear sound like a very enticing prospect, if it were to be put into production.
It is quite a small car, identically in size with Renault Twingo, but with a bit of style and good looks to impress the new gen-y buyers.
In Honda's own words, "subcompact cars are usually either utilitarian, but uninspiring or they're fun, zippy cars that are impractical and too expensive for the Gen-Y buyer [ . . . ] GEAR Concept tears down those walls – it's practical but fun, customizable, connected and affordable. Everything that young, discerning urban buyers would want in a car."