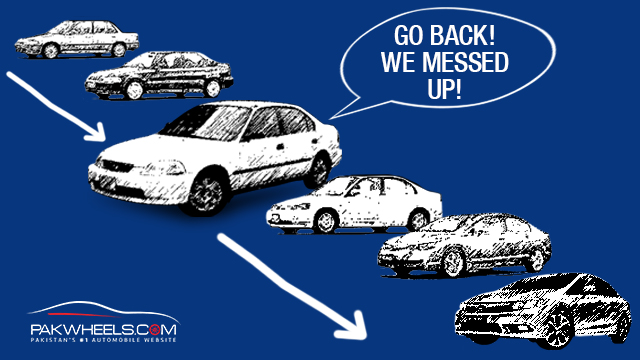 Honda Civic: A Story Of Continuous Decline, Disaster And Dinosaurs
"Oh baaains!" was my reaction when I saw the 1999 Civic for the first time. It was a little before sunset, I was on my bike waiting for the traffic signal to turn green when it appeared on the horizon in Shalimar Rose Mist and leisurely took a u-turn across the road giving me a full 360 degree view of its super-seductive curves. Starting with the long sleek bonnet fading into the windscreen slanted at next-to-perfect angle, maturing at the modestly rounded roof followed by rear window smoothly disappearing into the boot and oh-damn-those-crystal-lights – it was not a car, it was art. It was love at first sight. It was the sort of moment when on your Hunza Trip, you come across a local Angel who coincidentally looks into your eyes and takes your breath away. You end up spending the coming months lost in her afterglow despite knowing that she, most probably, isn't even aware of your existence.
"Someday, InshaAllah" I thought to myself. The Civic disappeared into the busy backdrop leaving a faint meeoow of its 4-pot engine as the driver floored it. Deep inside I did believe, however,that that someday may never come.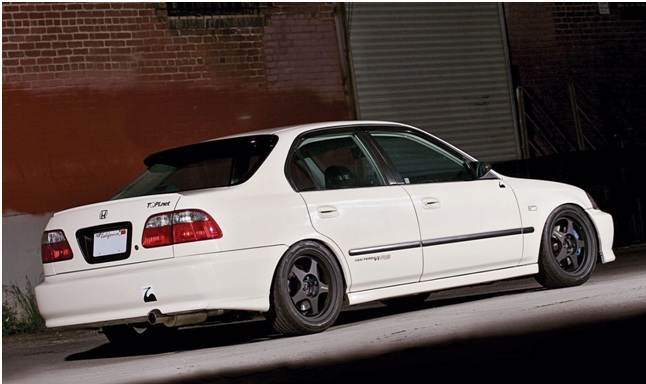 See, Honda Civics in the 90s were not everyone's cup of tea. They were bought by the eh..chosen ones. They were bought by risk takers. A friend who is also a fellow Pakwheeler, narrates that upon buying a 2000 VTi; he was greeted with the following phrase by his maternal uncle – "Teray pay abhi itni zimaydaarian hain, tu nay phir bhi VTi Lay li?". (You have so many responsibilities, yet you again bought a VTi?)
And the uncle was right to an extent. The spares weren't cheap, the local mechanics didn't know if EFi was a fruit or a bird, and the suspension wasn't exactly designed for the 3-potholes-every-10-meters standard of our roads back in late 90s. It was meant for people who loved driving and lived in areas where roads allowed this fetish to be fulfilled. While its competition, the Indus Corolla was the queen of puddles and off-roads and villages. The 90's Civics came to life in DHAs and Civil Lines and Motorways. The VTEC was subtle, yet fun. A cherry on top, the double wishbone suspension setup made it, well not a BMW, but definitely the next best thing for us third-world inhabitants. It was our Pakistani equivalent of the Ultimate Driving Machine. These Civics would stick to the road like a lizard on turns where Corollas and Balenos would either slow down, or end up upside down. Yes, you were sacrificing the ground clearance, you were missing your cousin's wedding in 28 chak, you were risking hefty repairs, and you were listening to your khaala cursing you for not letting 5 adults sit in the back seat; All those compromises just to be able to take that Kalma Chowk turn at 80kmph while casually puffing a cigarette with your right hand, and boy it was worth it! That is what Civics were about. That is what they were made like. That is what separated them from the usual Corollas and Balenos and Sunny(s).
Unfortunately it has been downhill since then.
Remember when you were told by your elder brother to always "be yourself"? Honda folks didn't have that elder brother. In the pursuit of acceptability, Civic somewhere lost its DNA. The sleek curves of the 90's Civics were replaced by blunt confusion in (2001-2006) 7th Generation Civic. The space took over style when it came to the interior. As if that wasn't enough, they went ahead and murdered it by replacing the Double Wishbone with Mcpherson Strut. The result was a car with more space, simpler suspension, and zero drive pleasure. The result was a Corolla knock off.
Six years (of huge sales owing to the leasing revolution in Pakistan) later they tried reversing their mistakes, and like in case of most accidents, overcorrected themselves. The curves came back to the 8th gen Civic, but every single bit was a curve now. The interior was redone- though at the cost of various blind spots – but really adequately I give them that. Yet it looked something out of 60s Sci-Fi movies- which is cool if you're in 60s! For the increased cabin space, they had to push their engine forward resulting in some pretty serious understeer. To counter the understeer, they had to give it a 'Circuit' suspension and steering, which came with a 'circuit' turning radius. Yes, they provided a torquey-ish 1.8 engine to be acceptable to your average Bankers, and their housewives, who didn't want to change gears so often…but see, with 200 extra cc, they could've easily produced a beefier and faster 160hp motor. Instead they went for a fatter engine to move that fat and 'pretty in its own way' body.
The 8th gen made way for the 9th gen, and it wasn't great news either. It was as if Honda just wanted to release a newer model for the heck of it. It was bloated to compete with the corollas, it was softened in comparison to the 8th Gen Civic and the fuel economy was tweaked. Oh, and the HPS was replaced by EPS. They managed to do everything they were looking for – make an ordinary car which doesn't have the flaws of the 8th Generation Civic.
Not really high standards to set for a car with an overly enthusiastic fanbase, right?
See in the olden days, driving a Civic was always about the exaggerated feel of drive, the urgency of the RPM meter. You feel me? In Civics you didn't need more torque; you just needed to rev quickly and shift. Another gear, yes, then another! That's the super-bike experience we wanted and that is exactly the experience this bike company delivered to us in older Civics.
Honda NSX: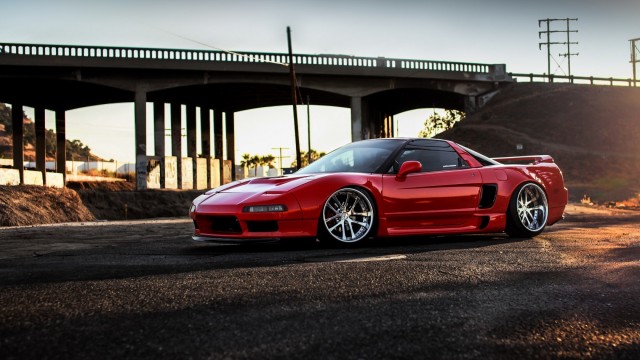 The 7th and 8th and 9th generation Civic aren't exactly bad cars. But the thing is, Honda can do so much better. Honda has done so much better. Remember, these are the maestros behind the original NSX and the BB1 Prelude, the DC2 Integra and the 2nd Gen CRX. That was the 'Power of Dreams' behind the older Civics and Accords. Older Civics used to give you a slight taste of what Honda was doing in performance motorsports; sadly not anymore. And that is why myself, and many dinosaurs like me are still stuck in the 90s. Had Honda been producing better Civics in the last 15 years, we would have been driving the 8th and 9th Generation as well rather than buying them and selling them within a month.
BB1 Prelude, DC2 Integra and 2nd Gen CRX:
But then, may be that is what evolution is all about. Maybe that is how it is supposed to be. We, humans, used to be tough and strong- now we are fat and lazy- so our cars are evolving with us. Or maybe I am just a nostalgic whiner who cannot accept change. Maybe they should keep making practical Civics which are roomier and have tons of gadgets and a fancy digital meter. May be they should keep making Civics which sell like 'hot cakes'. It's a better business case, right? My mind says yes.
My heart doesn't.
My heart says they should get back to the original recipe: fire all the focus-marketing-financial-corporate divas, ask a motorhead to design an ultimate douche-mobile with a torque-less 9k revving engine, a fine double wishbone suspension, some seats and carpet and snap it with a tiny badge that says "Civic".
And that would be a 'Reborn' Civic for me.