Toyota Prius v. Honda Vezel: A Comparison Between Two Popular Hybrid Options In Pakistan
The automotive world has witnessed a massive shift from conventional engines to hybrid technologies. It is a trend for today and the future for tomorrow, every major car manufacturer is researching and developing hybrid technologies; be it Porsche, Mercedes or even BMW. But this article is not about them, this article is about the top 2 popular hybrid cars in Pakistan: The Toyota Prius and the Honda Vezel. I myself am a owner of a Prius, but I will try to be as neutral as possible in this comparison as Prius has become common sight in Pakistan and Vezel seems to be fast becoming one.
Looks – Exterior:
The Toyota prius was received here with skepticism due to its unconventional looks, but with time it made its way into the hearts of the people. The 3rd generation Prius had a more aggressive approach in styling and looks far better than what the Pakistani local market has to offer. Having said so, it cannot match the Exterior of the Honda Vezel because it surely is a head turner. Honda Vezel makes it presence felt on the roads with its curvy edges and mean looks. The rims on the Vezel perfectly compliment the body giving it a 5 star look. The Vezel surely is a winner here.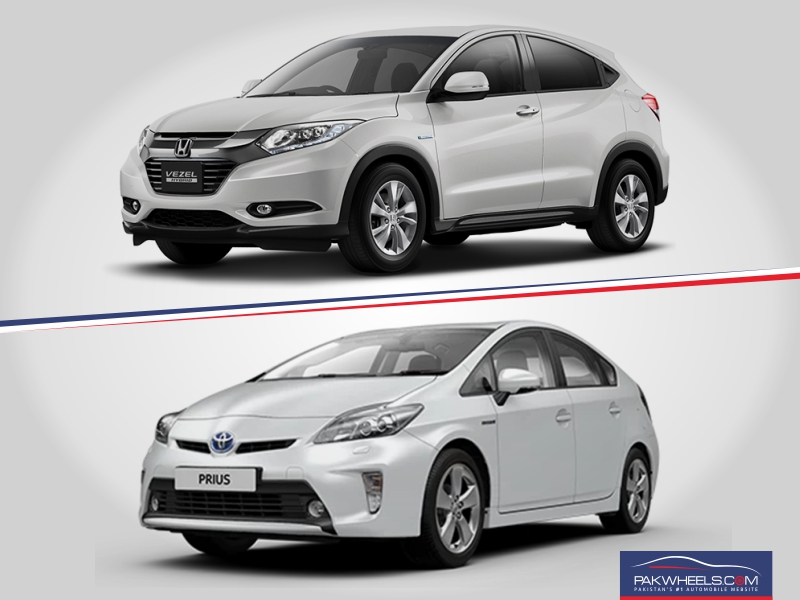 Looks – Interior:
Again, I have to give credit to both here. Both have futuristic interior feel, and out-of-the-box designs, but while the Prius may have the interior of a business jet, it falls just short of the Space-ship type interior of the Vezel; the gear placement, the analogue meter as well as information display is just a perfect mix. The Prius feels a bit cramped though, but this is not the case with Vezel or, since we've comparing a subcompact crossover (Vezel) with a mid-size Hatchback (Prius). From the glossy finish to the chrome trims, everything seems to be in order. The Prius lacks this elegant and luxurious finish to it. I'm not complaining that the Prius's interior is not up to the mark, but Vezel takes the cake here as well. Again points for Vezel on interior.
Related: 2014 Honda Vezel Hybrid Owner's Review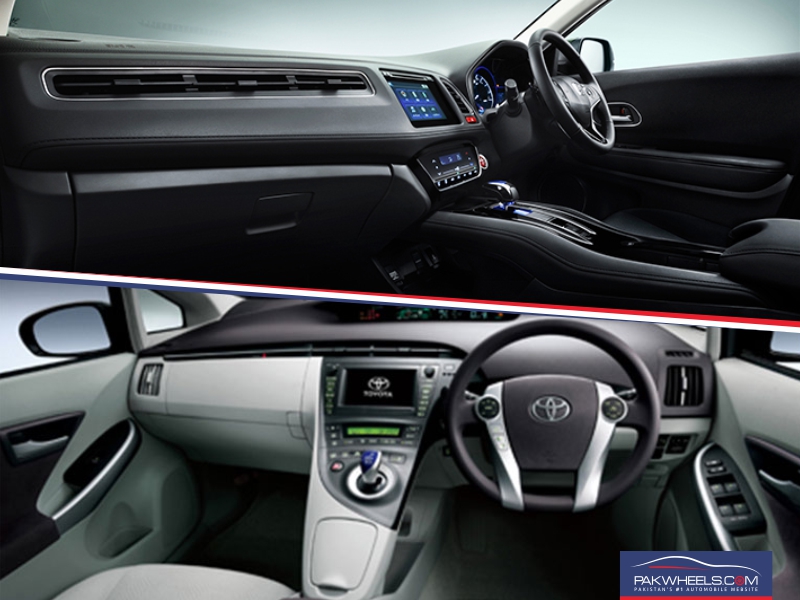 Performance:
The Prius is powered by the 1.8 litre engine with a time-tested hybrid system. The Vezel is powered by a 1.5 engine. Strictly speaking in terms of acceleration or "Pick" as we like to call it, the Prius has more acceleration and torque. The Vezel is not slow either, with a light chassis, it also has a lot of power, but falls short of the Prius.
Ground clearance is a grave source of concern for Prius owners because it will hit most of the speed bumps if you do not cross it properly, or if there are 4 or more people or luggage on board. People try to mitigate this issue with adding spacers or increasing tyre size, but that is another aspect, and the benefits and disadvantages it brings is another story. Vezel is far better than Prius in this regard, obviously by the virtue of being a subcompact Crossover.
Talking strictly in terms of driving pleasure, I found the Vezel more fun to drive (Maybe because I am used to the drive of Prius). The noise is less than Prius, and road grip is great. Ride is smooth plus the feel of driving a crossover has its own "X". Again, Drive of Prius is not BAD or so, but Vezel is better than it.
Related: Here's how you can buy a good Prius

Fuel economy:
Perhaps one of the most important criteria, the fuel economy. The Prius can get you anywhere between 18-25 km/l , even more or less, depending on how you drive. The same can be said for the Vezel. But if you drive both with the same style, the Prius gets better fuel economy, at least that is what I observed.
Case for Pakistan:
Vezel is gaining traction and increasing numbers here and does not cease to impress, but still I would call Prius a winner for the Pakistani market, here is why:
Cost difference:
You can get a 1.8 Prius L for about 1.8 million here, and a good S LED for about 2 million rupees. The price dies go up to 3 million, but then you get stuff such as Solar roof, adaptive cruise control, etc. Vezel starts at about 3.2 million, so there is a price difference of roughly 1.4 million which is a lot. For Most of the buyers here, money is all that matters, so going above the 3 million price is out of the reach of most people. You can buy a good car in 1.4 million, just saying. the cost difference alone puts these car in different leagues.
2. Spare parts:
Prius can be called as the JDM Mehran of Pakistan for its numbers. Now almost after every few cars, you see a Prius. Toyota also launched the Prius here, and most Toyota workshops give maintenance services, even to JDM Prius. You can find each and every spare part of the Prius now, right up to the batteries (used). Some good mechanics have also popped up in major cities who can fix any fault in the Prius. They are not your typical "Mistris", and have proper diagnostic and maintenance tools. The same cannot be said for Vezel, at least for now.
3. Resale:
Due to spare parts availability and market acceptance, Prius now enjoys a good resale here. It can easily be bought and sold without much loss (Ignore the drop in Japanese yen, talk currently). The Vezel is making its way, but it will take a while before it reaches there. If you buy a Vezel , plan to hold on to it for a while.
Other than the fact that Prius has been time tested here, Vezel is a new entry, and we can only tell once people's experiences build around but If you are looking for a good car in relatively less cost that performs well, go for the Prius. If you can afford a Vezel, definitely go for it.