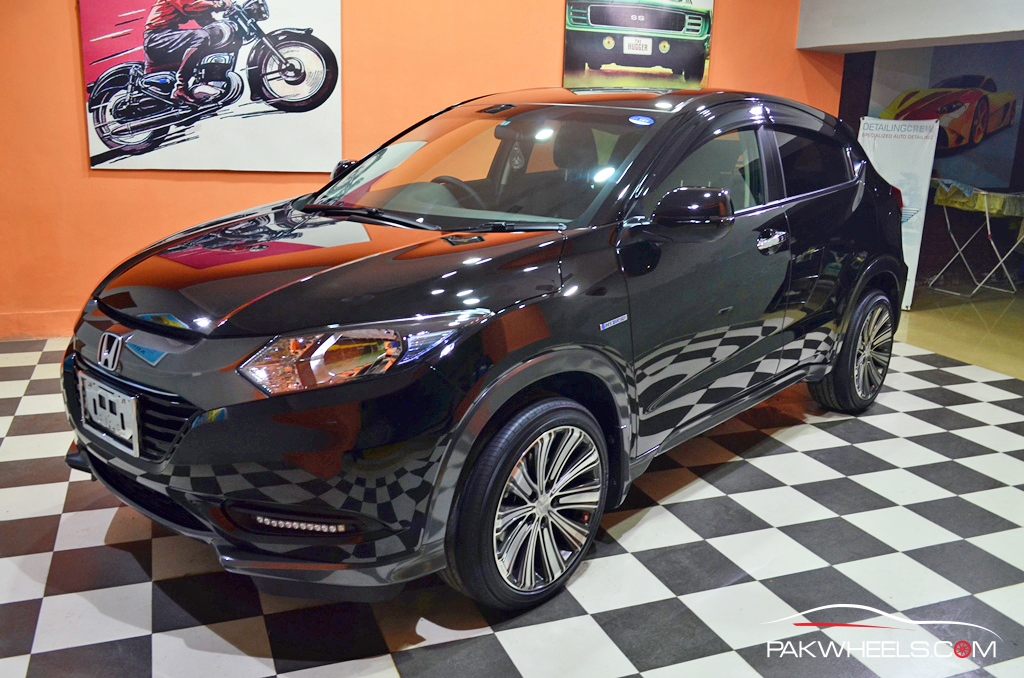 2014 Honda Vezel Hybrid Owner's Review
Before beginning hunt for my next vehicle, I finalized the maximum amount I could spend and the range bracket came out to be PKR 3.0-3.4 million. I started out by setting certain pre-requisites; it had to be JDM, it had to be 2013 or higher model with no more than 25k on odometer and it had to be 5A grade or higher. After a detailed survey, I shortlisted the following options;
Toyota Prius 3rd Gen S Touring Package 2013-14
Toyota Prius Alpha S Touring Package 2013-14
Nissan Juke 2014
Lexus Ct 200 2013-14
Toyota Allion/Premio 1.5 L 2014
Mitsubishi RVR 2012-13
Mitsubishi Galant fortis 2013
Nissan Sylphy 2012
Mazda Axela 2014
Honda Vezel Hybrid (2014)
Making the right call wasn't easy. Apart from Toyota Prius, Lexus CT and Juke, I had not experienced any other car out of these options. So in reality, it was going to be judgment call and to many, a risk. But after careful workup, my mind and heart was set upon Honda Vezel 2014 Hybrid.
INTRODUCTION
When Honda's previous hybrid technology of Integrated Motor Assist (IMA) failed to live up to their expectations and couldn't really compete with arch rival Toyota's Hybrid Synergy Drive in sales, Honda Japan launched its new series of hybrid engines in 2013. Honda Fit Hybrid, Honda Grace Hybrid and Honda Vezel Hybrid, all utilize this latest sports hybrid technology and design offered by Honda in japan with Earth Dreams Engine Series.
Now after having owned and driven Vezel in various conditions for almost a week, here are my detailed personal impressions about this car for all who are or might be interested in getting a similar car.
EXTERIOR
Come 2014, come the era of modern automotive design category; Compact Crossovers. Terminology based on the fact that these cars take designing clues from other vehicles above and below their category and try to fill in the gap which had always been there from a design perspective. Honda Vezel Hybrid is based upon Honda Fit Hybrid and Honda CR-V. And boy have they done a remarkable job here. Are these SUV's? Technically no. Are these Sedans or compact hatchback? Nope. They are just compact crossovers. That's the end of it. And their recent global acceptance is a testimony to the fact that they are here to stay.
Pros
Honda Vezel Hybrid 2104 has perfection written all over it when a car enthusiast analyzes its exterior. The front is beautiful. Grill, bonnet, bumper, headlights, fenders, every inch of designing detail is a beauty to behold. The back is equally good if not better with LED lights. Most of all, as a package, the road presence is spectacular and surely a head turner. In its class, maybe only Mazda CX-3 is able to compete with Honda Vezel in designing.
Cons
16 inch alloys with 60 profile tires maybe practical but also the weak link in its exterior as well. They simply don't do justice. Although the top Z trim does offer 17 inch alloys and seem more appropriate.
INTERIOR
Pros
The moment you open Vezel's door and step in, you can't help but feel that you're sitting in a car worth way more. There is no doubt as to why it is categorized as a premier luxury vehicle in Japan. The front panel, steering wheel, door panels and arm rest all have high class leather stitched finish. There's an all touch climate control panel. The meter, I-MID and gear lever all beautifully designed. Nice chrome finish around speakers and AC vents. LED cabin roof lights come standard. When you look at the seat fabric and floor mats, you realize how much detail went in selection of materials and overall aesthetics of Vezel's interior. Leg space and overall cabin space is great and it's a proper 5 seater. Honda's magic seat system comes in real handy when one wants even more space for cargo and stuff. All in all, Vezel's interior design fuses together the personal feel of a coupe and the comfort of a minivan at a high level.
Cons
The only thing I've noticed is that the piano finish around the gear console is a bit prone to micro scratches and swirls.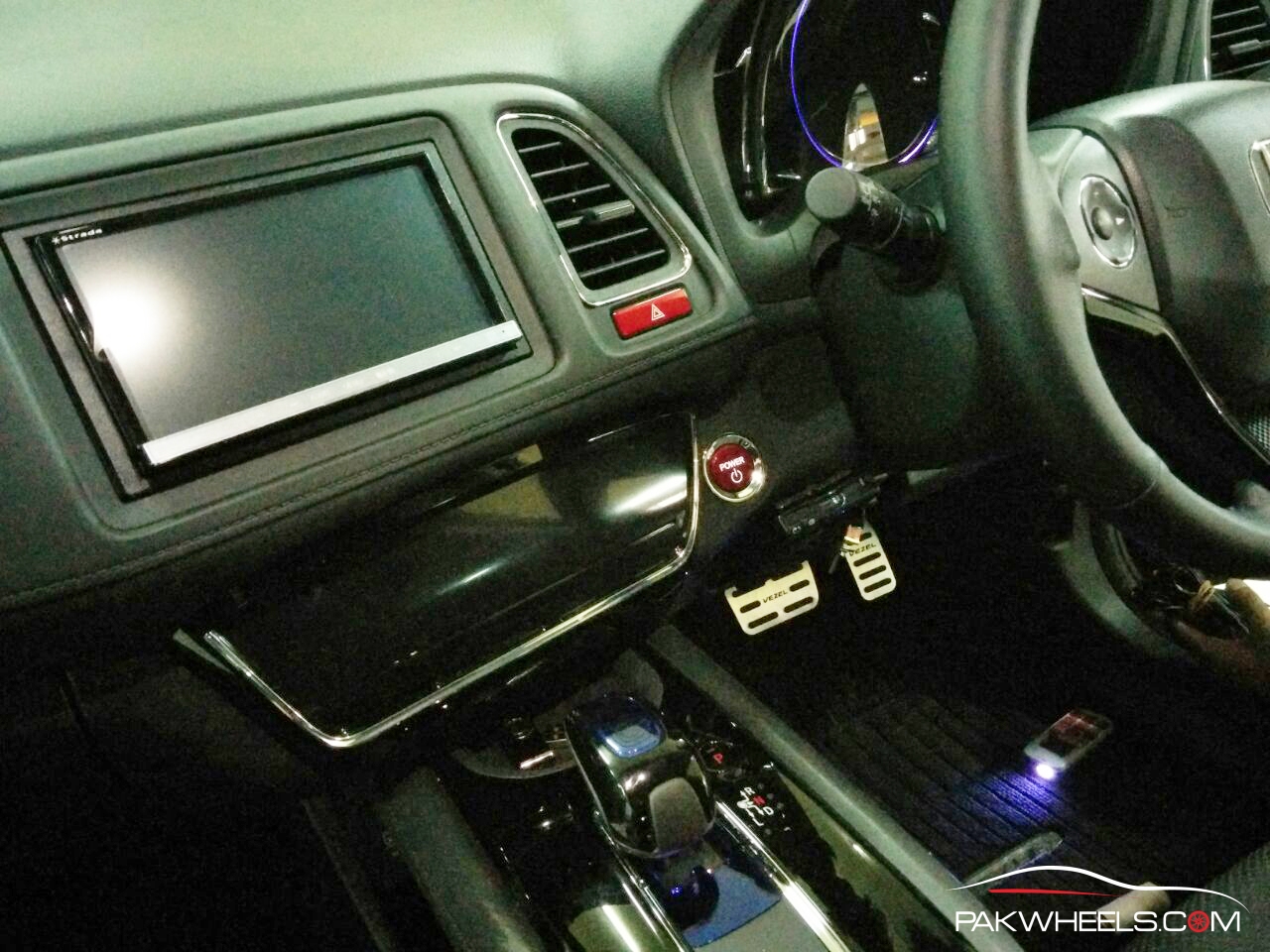 ENGINE
Honda Vezel Hybrid is equipped with a 1.5 L direct-injection engine from Honda's Earth Dreams Series. It has Intelligent Dual Clutch Transmission with paddle shifters. This combines with a powerful Li ion battery (placed beneath the rear seats) which powers the single motor. Combine these 2 and you'll get 152 Hp with 0-100 time of just under 8 seconds. It's extremely fuel efficient at the same time and one can achieve city mileage of 20kmpl with ease in Econ Mode. Many people are wary of the fact that Vezel might be under-powered, but what people don't realize is that it only weighs 1180 kg (almost 100kg lighter than Civic) and therefore you get great weight to power ratio and exhilarating torque.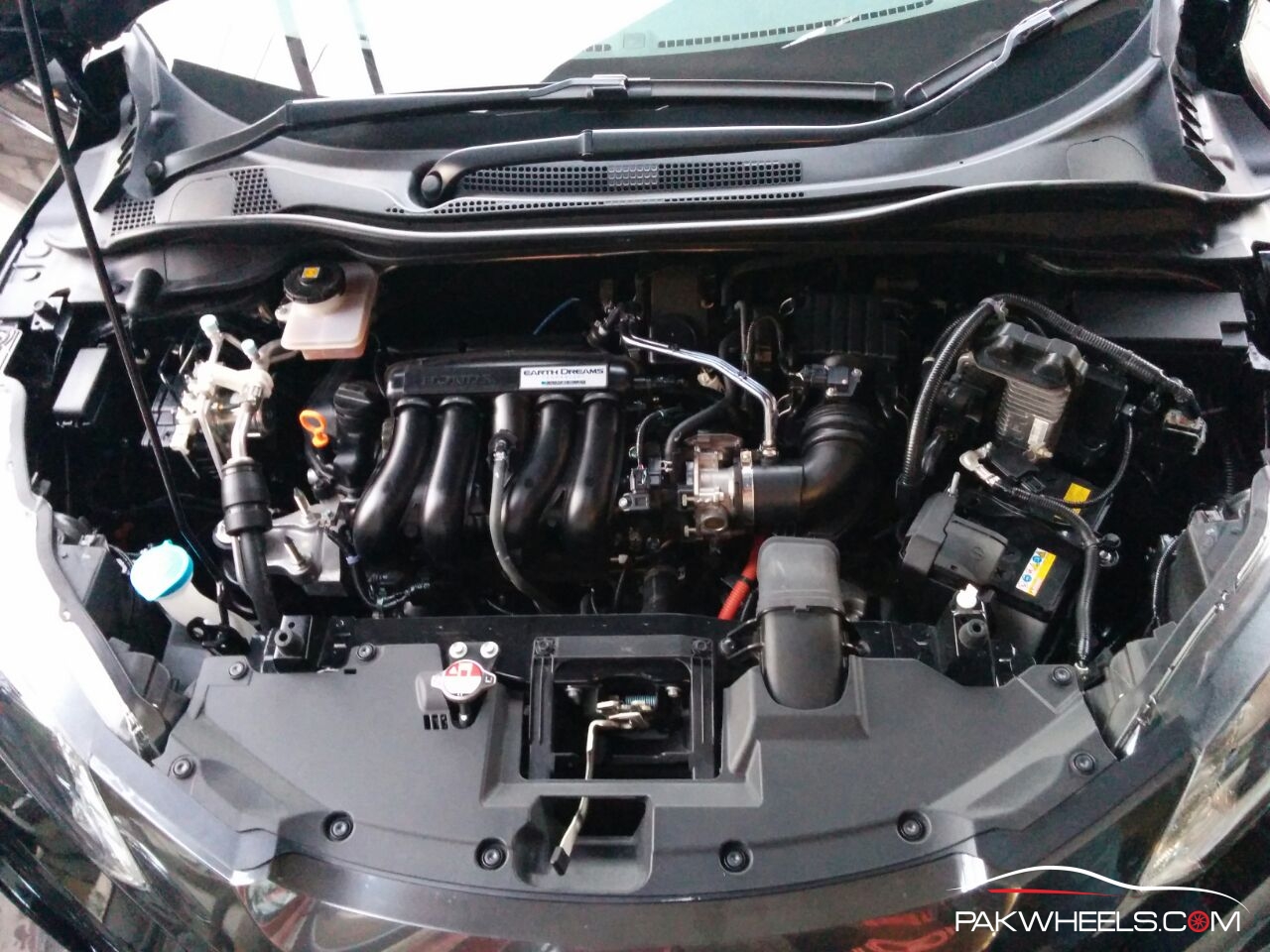 DRIVE
This is arguably, the most important aspect in a driving machine. It could be beautiful and have all the perks, but if it doesn't drive well, then that's a serious drawback. Fortunately, for Honda, Vezel passes the drive test with flying colors. From first gear, it is smooth as silk in acceleration, steering control and handling. The shift between electric and hybrid modes is seamless once in motion. Road grip and handling around corners is a joy to experience and traction control can be used as an option to make one feel even more secure. One thing which is hallmark of truly great luxury machines is their sound proofing and Vezel doesn't disappoint here either. At 140kmph, I couldn't hear any road or outside noise. The sleek beams on driver's sides are very well placed and limit the issue of blind spots very efficiently. Civic PKDM 9th gen owners can verify how risky and annoying this issue can be. Anti-Lock Brakes with EBD do their job as they should and make you feel completely in control of the machine. Auto Brake Hold function is a great innovation and blessing in local traffic as you don't have to keep pressing the brake or shift to neutral while short stops in city. City collision assist is handy.
Cons
If I really have to point out something I'd say the first gear switch between EV and Hybrid could be even smoother. Having said that it's more like an idealistic demand which I'm sure in time would soon become realistic with future hybrid technologies on the horizon.
Standout Handy Modern Features
Electronic Park
Auto Brake Hold
City Collision Assist
Vehicle Stability Assist (Traction Control )
Height adjustable cup holders
Adjustable Head Lamps
6 way Quality Surround Sound System with 360 degree HD rear cam
6 airbags, Climate, Steering and Cruise Controls
Reactive Force Pedal
Magic Seats
Honda Smart Key Entry System
VERDICT
The all new Honda Vezel Hybrid is a winner all the way. Its practicality makes it evenly attractive to younger generation as well as family people looking for a comfortable daily ride. With the options at our disposal in this price range, Vezel is surely a complete standout and value for money. Overall 9/10
(Available in 3 trims; Hybrid, Hybrid X and Hybrid Z and option of AWD as well)