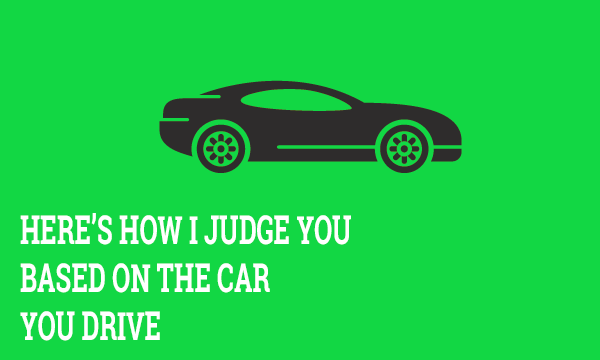 Here's How I Judge You Based On The Car You Drive
"100 rupees say that's a taxi" – your friend utters whenever he sees a white 9th gen Corolla. Add a black piece of cloth hanging from the rear bumper and he'll raise his bet to 500. Couple that with dark orange marks of paan infected spit on the doors and foot board, and you're betting 1000 already.
Each car comes with a perception. It is the image – the vague generalization that has been gradually created in our minds about the people who buy that car.
A 5th – 6th gen Civic, for instance, gives the impression of a racer-boy (usually wanna be) driver, someone in or just after his university years whose parents wanted to buy him a Cultus but he convinced them otherwise about the bigger boot space and power steering and power windows in the older Civic. You'll see them driving rash once in a while. They don't like being overtaken and will go out of their way to follow you, and return the favor by overtaking you from the wrong side in case you've casually overtaken them. Once they grow out of this phase, they buy the 7th gen. The ones who want to make a social class statement while still being able to enjoy the VTAAAKK-kick-in-yo every now'n'then upgrade to the 8th gen.
A Honda City, especially the iDsi on the other hand speaks of a family guy to me. Someone who doesn't want fuss and drama, wants excellent fuel average and ample seating space. You won't see them driving rash often enough. It's not because the car isn't speedy, it is pretty throttle happy mind you. But because it doesn't brake, and you don't want to be at higher speeds without brakes with your kids on the backseat or waiting for you at home.
Jacked up Indus Corolla – The car is driven in a village, probably deeper in the central Punjab or if it is a diesel, in the Northern Areas. In the former case, it works as a daily workhorse, from transporting animals to transporting their food from the vegetable market. Once in a while when someone, anyone, from the village arrives from Dubai or Saudi, it goes to the nearest city with airport to receive him/her. The drivers of these cares are not totally at home with city traffic – they're not comfortable with queues and find it OK to park anywhere on the road as if it is part of their "250 murabbay".  In latter case, i.e. the Northern Areas counterpart of this car has immaculate interior, clean and taken care of like a baby, often with a few bright decorative hangings and florescent interior light. The car is washed very regularly – often from the mountain streams. The drivers usually feel relaxed in Pindi, not so much in Islamabad, and it is apparent from their trying to hit apexes on each turn from the farthest lane.
First and second gen Toyota Vitz is usually the second car for local driving for someone who has a bigger car at home, or someone who wanted to buy a brand new Alto or a Cultus but was wise enough not to throw 9+ lakh rupees down the drain on something which doesn't have ABS, Airbags, Power Steering, Power Windows and has substandard build quality. Similar are the people who buy other mainstream JDM Kei cars. You don't see them speeding because well, they barely move with those 3 cylinders a little over half liter engines let alone speed and race. The buyers of those 660cc cars are promised 30kmpl by the 'dealer', and their whole lives are spent trying to keep the RPM below 1500 and achieve that mythical figure.
A less than 3 years old Toyota Land Cruiser shouts of a Member of the Upper or Lower house, or someone from the Land Mafia. Usually accompanied by one or more Hilux double cabins, these people own the road. If you're in their way, they may not hesitate shooting you point blank in the face (ref : Ghazi road incident). Steer clear, save yourself the misery.
Suzuki Mehran – This is probably the toughest car to generalize. Anyone can buy it – some buy it for the practicality, some for the size, some for the cheap maintenance and some due to budget restraints. Some even buy it for the disguise. As the old saying goes, never judge a person by his Mehran.
Well here was my personal perception of some of the mainstream cars locally available, there is a lot of satirical generalization involved – trust me, this is not serious, and without any offensive intention to anyone in mind:
What is your take on this matter? What do different cars tell you about their drivers/owners? Don't forget to share your views in the comments section below.