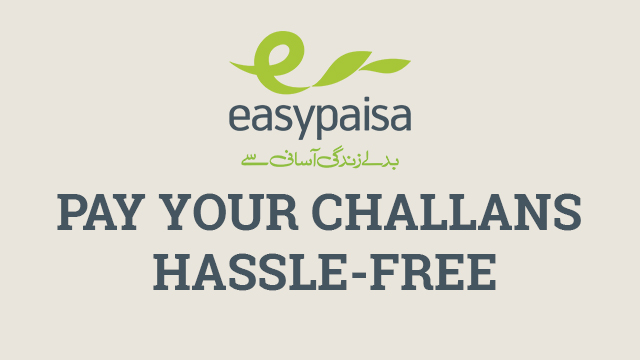 Ever since the invention of Easypaisa, a service provided by Telenor, transfer of money and payment of the utility bills has become less of a hassle for the people.
Recently, Easypaisa launched the very first branch-less service, in collaboration with A2Z e-payments – an e-payment service provider, which allows collection of Traffic Violation Ticket (Challan) charges for the traffic police department of Khyber Pakhtunkhwa province.
Through this system, if someone violates the traffic rules, he/she would have an option to pay their Challans in KPK through any Easypaisa shop present in the region.
Previously, all the traffic fines were paid through National Bank of Pakistan branches, but now anyone can easily pay off their Challans through Easypaisa. The process of paying your  traffic fine through Easypaisa is really simple.
HOW TO PAY TRAFFIC CHALLAN THROUGH EASYPAISA
The traffic violator has to visit the closest shop of the Easypaisa service with their traffic Challan ticket.
Pay the shopkeeper the amount of your Challan; he will enter the payment through the set up POS machine. The machine will then generate a receipt for the traffic offender as well as the merchant, while the traffic violator will also get an SMS confirmation as a proof for his/her payment.
Once the offender gets the receipt, he/she can submit it at the Traffic Police Department and collect his/her respective papers.
This is an effective service which is providing the residents of KPK an easy way to pay off their traffic fines even if it's a holiday. The service is so far doing well as it's the first time that any Government Department is getting involved in branch-less banking. This service has proved to be very effective as it is saves a lot of time and hassle.
Additionally, this procedure is quite helpful for Traffic Police Department of KPK for maintaining a proper record of the traffic violators. The service allows them to cut the cost as they don't need to manage any paperwork, while the other major benefit of the entire process is that paying Challans through branch-less banking will minimize, if not eliminate, the corruption and other malpractices of the Traffic Police Department.
Easypaisa is putting in their best efforts along with the government bodies to expand the service and make it countrywide through the vast network of Easypaisa service providers present in all the small and big cities of Pakistan.
via ProPakistani