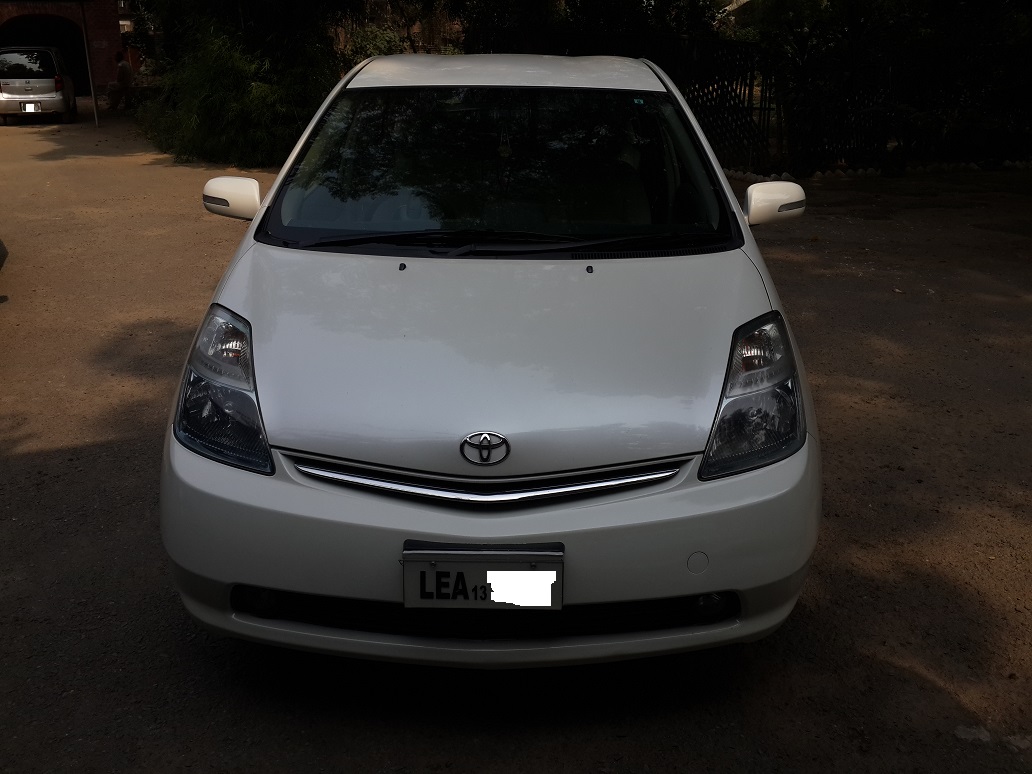 Car ownership diaries: Driving a Toyota Prius in Pakistan
I first came to know about Toyota Prius during 2007, in my BSC Environmental Engineering class in UET Lahore. Air pollution control and vehicles meant that Prius was an option in Pakistan to counter increasing pollutant levels in ambient air. From that point onwards, my interest in Prius was born and by the grace of Allah Almighty, on October 2013 I bought a Prius S 10th Anniversary edition (2nd generation) after selling my 2012 Suzuki Swift Dx.
I had never driven a Prius before, just sat as a passenger and heard the driver (my friends) sing praises about how great this car was. I had bought my swift brand new and at the time of sale it was driven less than 11000 km; that too over a span of about two years and it was comfortable as well as responsive but the factor that led to the change was it's fuel economy. It did about 11 Km/L in city and put traffic jams in the equation and it got worst. I work for the government as an Assistant Director and I have frequent visits to sites scattered all over Lahore, mostly places with traffic congestion.
During the process of searching for a Prius, I observed several issues. The Government's Hybrid policy had virtually no effect on Prius's price. There was a catch; no duty for a Hybrid below 1200 cc, and very little changes to hybrid cars having bigger engines. Whatever little price reduction that Prius got from the scheme was shrugged off as the brouhaha about the scheme increased the demand which meant that prices would remain the same. Other major and common issues were that:
1) Dealers did not provide auction sheet.
2) The car was involved in an accident of any sorts or was tampered.
3) Specifications of the car were not what I had in mind.
After searching for days, I finally found a Prius with (verified) auction sheet, and specifications to my liking and bought it. And that day onward, I was extremely happy I made that switch. Here are the reasons why
1.  Fuel economy
My Swift, and most cars tend to give an average of 10 Km/L (give or take) locally, and with petrol prices creeping up and inflation out of control, everyone wants to save his/her fuel costs. Luckily for Prius, if you do not have a lead foot, this average easily crosses 20 Km/L and even up to 25 Km/L. Even when you are at a signal or in a traffic jam, the petrol engine shuts down by itself and for slow movement; the engine just uses the battery.
You do not have to worry or think whether to turn the engine off or not (as some of us might think) since Prius has start/stop tech.
Both Civic and Prius have approximately 50 Liter fuel tanks. Assuming petrol rate of 105 Rs/liter, they get filled in 5250 Rs. While Civic doing 9 Km/L locally barely crosses the 400 KM mark before asking for a refill whereas Prius even if you take 22 km/L is more than half full after crossing 500 km mark. It's all simple maths then on;
Civic = 50 x 9 = 450 km
Prius = 50 x 22 = 1100 km
These savings will add on as you drive the Prius day after day and at the rate petrol prices are increasing, the savings will be significant.
2. Automatic transmission
Some people might argue that they prefer manual transmission, because it gives them a control over power transmitted to the wheels, while I do agree with them, but city traffic such as Lahore, and being stuck in it changed my mind. There were times (during metro bus bridge construction) when I used to be stuck in traffic for 1-2 hours daily and changing gears from 1st to 2nd and backwards was a real fatigue. Luckily for Prius, and other automatic transmission, it is just a D mode and leave the rest to the car. Also, being a CVT transmission, you never feel any jerk on gear change and this car goes from zero to any speed flawlessly.
3. Comfort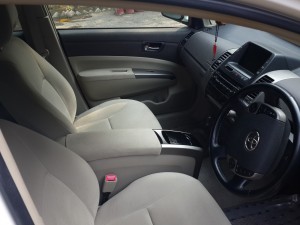 Many people just think of Prius as a fuel saver, but it is much more than that.  Its comfort and feel is better than 9th Generation Honda civic (which I own as well, and comparing them as both of my cars).  Suspension is soft; you do not feel every bump and ground clearance is very good as well. It is ideally suited for Pakistani roads. Plus features such as Automatic reverse parking are found in cars such as BMW and Mercedes etc. SMART Entry means that you just touch the door and car unlocks, forcing many people to believe that this car has a fingerprint scanner that only works by your thumb. Smart start also promises that you just sit inside the Prius, press the start button and drive away. The remote never comes out of your pocket!. There are many other  features like Bluetooth, Hard drive for storing songs , Rear view camera, etc, etc that make this this the complete package.
4. Performance
Is Prius a slow car, for only short distances? Wrong my friend! Don't be deceived by looks, this is a fast car. The 1500 cc ensures car is responsive and in pick, it can overcome even 1.8 Civic as well (tried many times) although I do not encourage this sort of driving. The science behind it is that when you floor the pedal, the battery also comes into play to power the 1500cc engine, giving it a further boost. Plus its aerodynamic body means less drag when accelerating which is actually designed to save fuel because less air drag equals to less fuel the engine has to burn to come up to speed. This isn't a sports car replacement, but it isn't a slow car either.
5. Maintenance
A frequent question to me. Its maintenance is like any other car. When I bought it, I took it to Toyota Shaheen Motors and there, I got tuning, filter change, wheel alignment, wheel balancing, spark plug change, throttle body service, fuel injector cleaning, brake pad service; just like any other Toyota car. I've seen spares at many places, even Half cut Prius at Bilal Gunj (Both ends). People say replacement is expensive, I have seen Prius batteries for sale at 50,000 Rs against some claims of Lacs.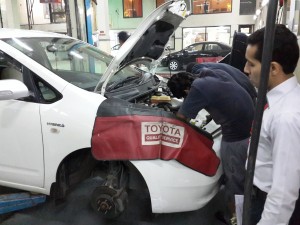 All these points combined, my experience with Prius has been wonderful, I have driven it happily for 4000 Kms and counting. I bought it when ODO read at 51000 something km. And now after every tank full, I could easily drive it till the next 1000 Km, like when ODO hits 52000 something. It is complete Peace of Mind. No need for constant gear shift could even have a juice in my left hand. No more fuel or traffic jam worries. Even cars up to 1600 cc are no match for its pick and were surprised at the pick this car had. Comfort is better than any local car.
In the end, my advice for people would be, it is the best car in 2 million or less budget. Total value for money. Just buy a less driven and non-accidental vehicle and you are set to rock and roll.  In the coming days of CNG closure and petrol price hike, this is the car to own
In the end, to summarize my argument, Buy a Prius if:
1. You want a perfect blend of fuel efficiency and comfort
2. You care for the environment
3. You want a vehicle which is designed to to latest safety standards
4. You want to have a vehicle that makes you happy every time you drive.
On the other hand Do Not buy a Prius if:
1. You do not understand how to buy a low mileage clean Prius.
2. You live in a City/Village where mechanics are not available for Latest cars (or won't touch anything except for a Suzuki or a Toyota).
3. You cannot tolerate the display in Japanese (though it doesn't make much of a difference and you can always buy UK Prius with English language).
4. You have a phobia of resale, (while this doesn't mean that Prius has bad resale but hey! you and I can't look into the future).
You can also read how to buy a good Prius here: Here's how you can buy a good Prius