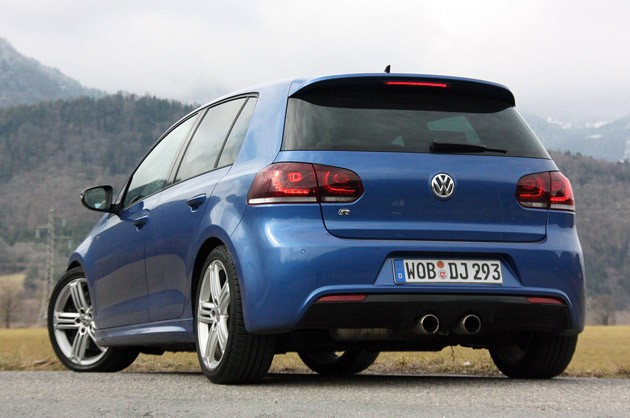 We all have been fans of the VW Golf Gti but with its 296 bhp turbocharged engine the VW Golf R sits a little above than the Gti. The first Golf R was introduced in 2002 with V6 R32 engine and since then the power has just kept on increasing. The release of the 2014 model marks the 4th entry of the Golf in the R series. The 2014 Golf R is 29 bhp more powerful than the previous Golf R and 70 bhp more powerful than the Golf Gti. That makes it the fastest Golf ever produced.
The Numbers:
So, how fast is the fastest Golf? Well hold your horses while you read this. With the double clutch DSG from it will hit 62 mph in 4.9 seconds and if you go for the manual option then it will touch the 62 mph mark in 5.3 seconds which is a bit slower but the fun of driving a manual never fades away. Agree?
Fancy Electronics:
Fancy or not it, doesn't matter as long as it does the trick. All the Rs are equipped with XDS plus as compared to the Golf Gti which comes with XDS. The "plus" in the XDS plus brings into play the rear axle of the car which means that you can have the fun of 4WD system. Since the engine is quitter than the previous models, it comes with a race mode which produces artificial engine sound and the steering wheel becomes a bit heavy at 2.1 turns from lock to lock its sufficient enough to keep your car skidding on a frost pond. Just for fun I guess.
You will be wanting to switch to sports mode (if it thinks you are ready) it leaves you alone and you can drive normally, aim for the apex but if start to lose control it will coax a brake that will keep you in shape and the fun going.
Buffed up engine:
All those added 70 bhp doesn't come out easily. All the intake valves, exhaust valves, cylinder head, valve spring and pistons have been modified to beef up the engine. The VW claims that it can give upto 38.0 mpg if drive a little bit sensibly which is difficult when you have such raw power in your hands.
The Damage: 
If you want all this fun then you have to suffer the damage. The prices start from £ 29,900 that is £2,780 greater than the price of Gti with performance pack. For additional power and the fancy electronics, this price is not much if you compare it with the basic price of Merc 45 AMG.