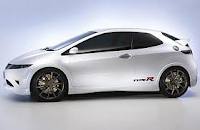 Honda Civic is the women's car of the year
The redesigned Volkswagon Beetle was globally perceived as a feminine car and with the 2012's model release, VW begin a new campaign to get over that image of a female car and begin targeting men as well. It's still hasn't worked out yet as men still don't prefer it. Mazda Miata was another example, it had the same problem although it was basically, a fun little Indus Corolla – only better. A lot better. Ranked on almost all the top car lists as the best car in the world, be it Discovery channel's list or other automotive media, like Jalopnik, Motor Trend and even Top Gear can't deny how good it is yet many people consider it a girl's car.
Now though, Honda Civic might got the award for best women's car in the world but such an image could prove complete isolation from men's point of view.
At the ongoing Paris Motor Show, European version of the Honda Civic has been named the Women's World Car of the Year at the event. The award which was divided into three categories; family car, luxury car, sports car and economy car was decided by a committee formed with 20 female judges from across 11 countries.
Out of total 300 cars, Honda Civic won in the economy category, placing ahead of the second and third placed Volkswagen UP and Ford Fiesta respectively.
Henny Hemmes and Sandy Myhre, two members of the judging panel, presented the award to Toshiaki Konaka, Director, Honda Motor Europe Car Division, on the Honda stand at the Paris Motor Show who on the occasion said, "This award highlights the unique exterior styling and practical interior that are synonymous with the Civic model and meet the needs and desires of customers within the C segment in Europe."
So who here owns a girl's car? That's how this will affect Civic, just like it did with Beetle and Miata, which had reliability, RWD, compactness, awesomeness, durability and sportiness and all the characteristics that can take you across seas without a single wuss.