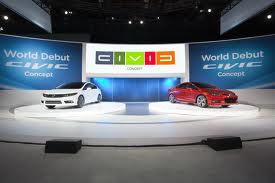 This year was progressing in favor of Honda which gained three awards, first the IIHS awarded Honda Civic as the best sedan in terms of safety followed by Reputation Institute's award for Honda as the most reputable automaker out of Japan and than England's warranty specialist, MB&G rated it the most reliable car with least warranty claims amongst all cars by notable research organizations however, now, Consumer Reports have slammed the new Honda Civic by rating "too low to be recommended."
The Civic dropped 17 points, from a very-good score of 78 to a mediocre 61, bringing it down to second last position in the rankings just behind VW Jetta. In the latest Consumer Reports road test of small cars whereas previous Civic models have often been Consumer Reports' highest rated small sedans, as well as Top Picks in five of the past 10 years. But the redesigned model was slammed for the cheapness of its interior, poor ride quality, long stopping distances and loud interior noise.
Increased competition from American and Korean automakers alongside decreased value worked against to make the new Civic, like many of the Japanese compact models, a failure in a category it once dominated.
On the plus side, the Civic's fuel economy was second-best in its segment, trailing only the aging Toyota Corolla. While Hyundai loudly advertises that the redesigned Elantra compact has received a 40 mpg highway rating, Consumer Reports' testing showed only a 29 mpg overall fuel economy.
In a statement, Honda disagreed with the magazine's findings:
"In virtually every way, the completely redesigned 2012 Civic is a step forward. The new Civic excels in areas that matter to small-car customers, including fuel efficiency, safety, and reliability," the company said in a statement.
Honda also noted the magazine's high marks for the redesigned Civic's safety, as well as its long history of reliability, which was not measured in the test.
Honda may not agree but its undisputed best year may have ended after decades of domination.