Honda HR-V, Suzuki Vitara, Nissan Juke, and Honda Vezel all belong to the crossover packaging, with of course some modifications or crossovers.  The crossover culture has started romping steps in Pakistan at a high speed these few years. And, no don't get us wrong as we are totally happy about this. It's really nice to see something different running on our streets. Usually, it's either Mehran, Sedans, or Pajero's that are marking it as their territories, but now crossovers are also gaining head-first look. People love them and our auto dealers have started going an extra mile to get those imported in the country.
The Crossover Trend
We are glad that we do have Honda HR-V and the Suzuki Vitara very much apart from the general crowd of sedans. They both have a unique, and different design language with the hi-tech features. If you look at the previous, ancient crossovers, you will agree that they are nothing like what we are seeing now. The design consisted of:
Slab-sides
Two-door placements,
Four-wheel drive type
But, at present, we get to see some state-of-the-art, high-riding, hatchback-constructed crossovers. No complaints towards improving the "new- car-type". Today we are comparing Honda HR-V and Suzuki Vitara to grasp and appreciate both of these beauties.
OVERVIEW – Honda HR-V vs Suzuki Vitara
Some of you will agree that Honda is a much-improved version than that of 1999. Though, some will debate on the Suzuki Vitara being more fab than that of 1998 version. Both of these are counted as the godfathers of the modern-compact crossover realm. Notwithstanding their differing antiquities, the HR-V and the Vitara are now up-front rivals. They are challenging for the identical middle-of-the-road customers in the fastest-growing section of the Pakistan market.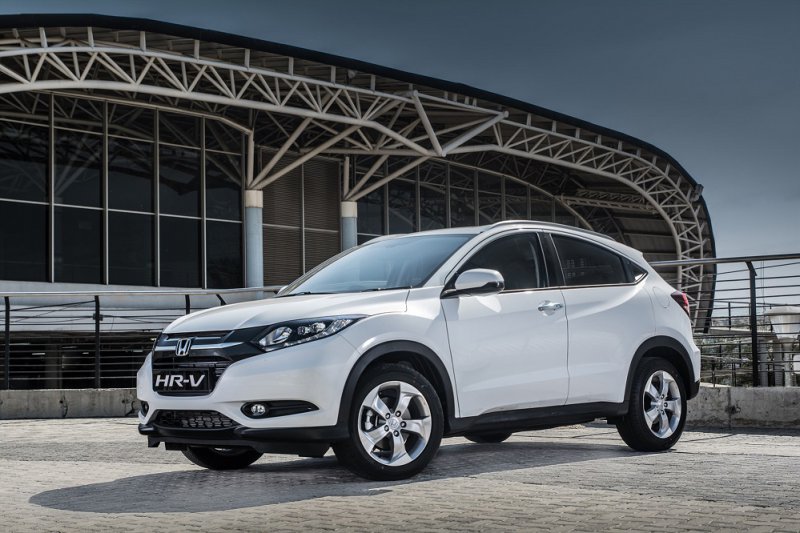 The 2017 Honda HR-V is an intercontinental variant of Japanese Honda Vezel. It's a compact crossover deprived of Hybrid technology. Honda Atlas Cars Pakistan Limited initiated the global second-generation as the first-generation of Honda HR-V. Though, if you must know, the Pakistan's 1st generation Honda HR-V is same-in-standing with the Honda Vezel Hybrid. However, there are some minor cosmetic modifications that may or may not count for some. For instance, different front grille, and the hybrid technology obviously. The name HR-V stands for "Hi-rider Revolutionary Vehicle", in general. The Pakistani market gets the Honda HR-V open in one variant-type merely. Whereas, on the other hand, international version comes in poles apart variants. We see that they have EL, E and S variants. The Honda HR-V price is PKR 37.00 lacs.
Suzuki Vitara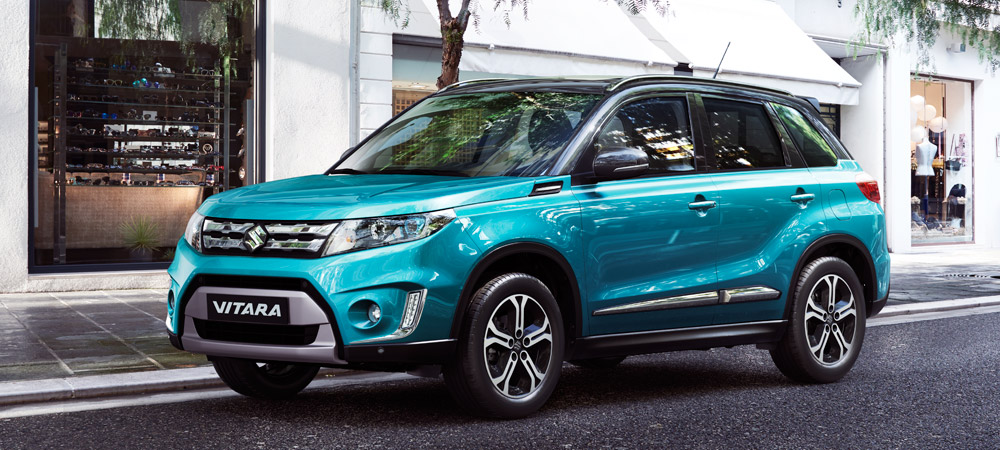 It is a crossover-compact vehicle presented internationally in 1988 as Suzuki Escudo. The history comes with the Fourth and the latest generation being revealed in 2014 Paris Motor Show. Then, it went for selling in Japan as of October 2015. Suzuki Vitara is offered in Pakistan since December 2016. And, yes it's the Pak Suzuki marketing queen too. The all-new Vitara is 'The Game Changer' according to Pak Suzuki, and we are to determine if the say correct here or no. There are two variants, GLX and GL+ on the show if you are considering your options. The Price range for Suzuki Vitara is between or from 3.49 million to 3.79 million PKR, though we may say too high for too low in some aspects.
Exterior – Honda HR-V vs Suzuki Vitara
The exterior of 2017 Honda HR-V is of 27% of ultra-high strength steel make. It is to ensure that the car doesn't drop its rigor in due time. When we compare it to the Vezel, the front outlook is somewhat changed. We get halogen head lights on the HR-V facade, and a new grille with center chrome bar. You can see the Honda logo on the bar. The front lights go-to the center of the front-lateral fenders. You can also see that the front bumper has two large horizontal incisions in the bottom-side. The rear lights come with halogen lamps. A delicate black front edge boosts the curvatures of the car very slightly. Nevertheless, Honda has changed the HR-V's design by making it aerodynamic, but devoid of trailing or cutting any of its crossover assets.
On the other hand, Suzuki Vitara hails from a trendy exterior that is succeeding to not a single variant. It has got some painted alloy rims, chrome grille touching, along with:
Roof spoiler
Front-back door shades
Keyless entry
Ductile front and rear mud flaps
Silver side-body styling
Tail lamp trimmings
Interior Aspects of Honda HR-V vs Suzuki Vitara
The Honda HR-V 2017 interior is as passenger-friendly as possible. The interior exists in higher to prospects ratio. This is also to give you the feel of a high-end drive. The interior is highly dignified and well-fortified. The device panel for driver arises with a color-coded dial and a 3D view. Center control is laden solely of features, containing a touch sensitive climate control entity. You also get Honda's touch screen infotainment system incorporated in the car. All customary modern features are there, like:
Multi-control steering wheel
Electric power steering
Power-side mirrors and seats
Keyless engine start
Cruise and Traction control
Rear view camera
Whereas, Vitara facelift comes with an enormous 10.1" touchscreen infotainment system. You get an eye-catching climate control system, with handy storage spaces located at numerous points. The panoramic sunroof of Vitara includes two glass panels, both of which glide easily. The other hi-end features are:
The meter constellation
Tilt and telescopic steering wheel
Paddle shifters
Cruise control
Automatic wipers and lights
Keyless entry
Engine & Gearbox
Honda HR-V has a 1.5L SOHC i-VTEC in-line-4 engine with CVT gearbox. The engine makes 120 BHP@6,600 rpm and 145 Nm of torque @ 4,600 rpm.
For the Suzuki Vitara, you get a 1.6 Liter DOHC 16 Valve Engine and 6-speed automatic gearbox. Both of the variants, the GL+ and GLX are accessible with a 1.6L M16A inline four cylinder with VVT. It yields 115 BHP at 6,000RPM and 156 NM of torque at 4,400RPM at the show. The fuel economy is around 12 Km/L.
Colors & Competitors
Though both of these crossovers are each other's rivals, they also have to look-out for others in comparison and specs. Their main rivals in Pakistan are none other than the Nissan Juke, BMW X1, Honda Vezel, Toyota C-HR, and Audi Q2. We say to watch-out for all of them, as this is what's going to accelerate the hi-tech features, and without competition where will the fun go otherwise?
When we talk about colors, both of these luxuries get us amazed with their color choices. You get the Honda HR-V in 8 colors, namely:
Alabaster Silver Metallic
Taffeta White
Morpho Blue Pearl
Carnelian Red Pearl
Crystal Black Pearl
Modern Steel Metallic
White Orchid Pearl
Rose Black
Whereas, with the Suzuki Vitara you get:
Galactic Grey metallic
Cool White Pearl
Cosmic Black Pearl Metallic
Atlantis Turquoise Pearl Metallic
Horizon Orange Metallic
Final-Word Conclusion!
No doubt we get more than we asked for in both Honda HR-V and Suzuki Vitara in general. The only regrets we do have with them is the hybrid functionality missing in both. Overall, they both are comfortable in drive and day-to-day use. With HR-V being economical and Vitara being all good with safety ratings and driving aids, the choice is yours to pick. Finally, we do hope and cross fingers for better in-future variants in crossover domain by our automobile companies.