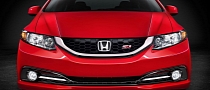 Honda introduces the 2013 Civic in Si trim
A year after the 2012 Civic was launched, Honda asked it's dealer to sell out the stock because an emergency facelift was coming, and so it came to internet while we had to wait for the actual production model to be unveiled at the 2012 LA Auto Show and today, Honda has unveiled the 2013 Honda Civic in Si trim, the sporty variant of the normal Civic.
The powertrain remains the same, a 2.4-liter four-cylinder engine with 201 horsepower and 170 lb-ft of torque, available only with short throw six-speed manual gearbox.
Honda has introduced revisions across the range for the Civic, meaning that you get thicker anti-roll bars, improved steering and slightly stiffer springs.
The Civic Si features the same redesigned front and rear ends as the rest of the Civic range, including a U-shaped chrome insert for the underside of the bumper and honeycomb grille. The 2013 Civic Si also sports a new rear wing and redesigned alloy wheels.
The rest is mostly the same with the rest of the Honda Civic range however, the interior is set apart from the range by having a Carbon Fiber trim on the dashboard.
And it does look red hot!