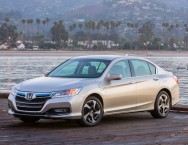 Honda unveils 2014 Accord Plug-in hybrid and it is ugly
Although Honda has a far better eco friendly technology (FCX Clarity) at hand, yet the green hippies have driven Honda to deliver plug-in hybrid vehicles as well and Honda has just taken the wraps off its Accord Plug-in and our instant response to it, some one has perhaps done something wrong to its face!
Even though FCX Clarity existed and auto-pundits have cast their vote of approval and some of the noisiest voices and biggest guns of automotive journalism has gone a step forward and called it the future but until the world lacks the infrastructure of hydrogen filling station, automakers will have to roll out plug-in hybrids.
Honda's plug-in hybrids or its systems have not met the same level of success as Toyota's Prius which has gone onto become world's best selling car, moreover, while the Prius could drive under pure electric power at low speeds which was useful when creeping along in tight traffic, Honda's hybrid system was not good as its motor merely provided extra boost to assist the engine but this time, the electric motor will be primary driver of the front wheels and Honda has chosen to keep more information about the drivetrain a secret.
Powered by Honda's new Earth Dreams 2.0 litre i-VTEC 4-cylinder engine, the new hybrid produces a total of 196 hp (engine and electric motor combined), and runs in pure electric mode until the battery needs charging, at which time the vehicle switches over to gas/electric hybrid mode or at higher speeds or under high demand for acceleration, the gasoline engine can kick in to provide additional power while Honda estimates the total range with 500 miles and is expected to do 100 miles to a gallon!