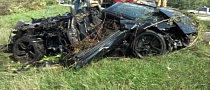 Would you believe that the driver survived this crash in his Lamborghini?
Believe it! Because the driver of this Lamborghini Murcielago was street-racing a Toyota in Zeeland, Michigan and we are certain he had gained precious lead on the Toyota until he lost control of his Murcielago.
The Murcielago skidded off the road and flipped over, hitting multiple trees until coming to a halt but after looking at the damage to the car and reading that the driver left with only light injuries, it is quite surprising and relief to know how strong these bulls are!
Via: wreckedexotics