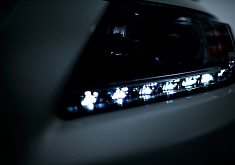 Pictures: Honda teases us with bits of the next CR-Z
CR-Z does for Honda what Golf does for VW, it is one of the world's best hot hatches and as these teaser images suggest, it is going to get hotter.
Back in 2010, when they began manufacturing the CR-Z in Japan, Honda's aim was to create a fun-to-drive Hybrid, which is why they opted for a three-door mini hatchback over any other pattern.
The current CR-Z weighs around 1.2 tons and is powered by a 1.5-liter engine coupled to an electric motor, offering a combined peak output of 124 hp and 128 lb-ft (175 Nm). Now though, a change is coming on the CR-Z as Honda Japan's website has teased a facelift version of the which will be shown on 27th of September at the Paris Motor Show.
Three details are revealed about the new CR-Z. First off, there's a new headlight, framed at the bottom by LEDs. Next, Honda shows a fresh design for the wheels, an evolution of the five-double-spoke design with black accents.
Lastly, there's a S+ button. Right now, the CR-Z has three driving modes: Econ, Normal and Sport. Hopefully, this will be matched by a power bump.