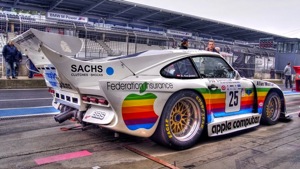 How Steve Jobs wanted MAC to look like a Porsche
As Apple announced the death of the visionary Steve Jobs, billions of people around the globe were saddened by the news as the man is admitted by everyone to have changed the world, atleast technologically.
"It's got to be different, different from everything else." Steve Jobs wanted the first Macintosh to revolutionize personal computing, an idea that had to be backed up by its looks. But could he have used his Porsche 928 for inspiration? According to an account on Folklore.org, a site devoted to telling the story of the original Mac's development, Jobs sparred with his designer, who wanted their product to resemble a Ferrari.
The following account was told by a software developer whose office was next door to the one where the following conversation took place between Jobs and James Ferris, Apple's Director of Creative Services, in 1981.
Jobs said, "James is helping me figure out what the Mac should look like."
"We need it to have a classic look, that won't go out of style, like the Volkswagen Beetle", Jobs suggested.
"No, that's not right," Ferris responded. "The lines should be voluptuous, like a Ferrari."
"Not a Ferrari, that's not right either, it should be more like a Porsche!" At the time, Jobs owned a Porsche 928. The Macintosh was launched to the public in 1984.
Although Steve Jobs may have used the Porsche 928 as the inspiration for the first Macintosh, his impact, and the impact of Apple, the computer company he created, has had more of an impact on the automotive industry than cars ever had on the products Apple built. From infotainment systems to concept cars to, it's hard not to find Apple's influence in our industry.