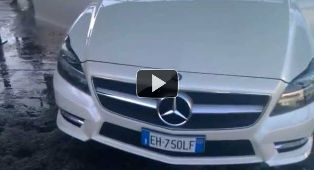 How you should not wash (detail) the interior of a new Mercedes CLS
Modern vocabulary for car wash has changed, today, washing your car is called 'detailing', but for some car detailers, practices has also changed with the appropriate word.
So this Italian guy bought a new CLS 350 CDI and like any other new car owners, this dude also wanted to his Mercedes shiny to the tiniest level but money can buy things but it won't buy you sense which this gentleman lack of which he displayed by taking a hose to his brand new leather interior.
According to the Youtube description, the car's owner moved to the self service hose after employees at the car wash shown in the video refused to clean the car in the way he desired.