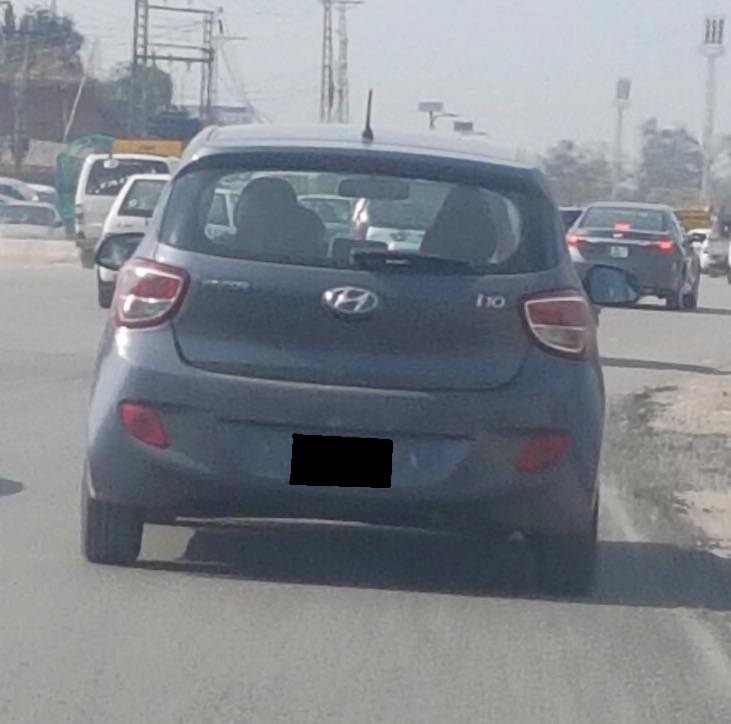 We start off with another sighting of a (relatively) new car in Pakistan. Yes, readers, the car in the below-attached picture is off Hyundai make, more precisely it's an i10, an entry level hatchback designed to cater needs of the middle class. Before I delve into the schematics and description of this car I would like to mention that details on this car -attached below- are scarce. As of now, there are two possibilities:
Either it's a genuine 'Test Unit', imported by the company.
Or it's an imported CBU being utilized by a diplomat or a civilian (which is also supported by the fact that this car has capital territory registration plates) 
The second possibility holds more weight of reality to it but let's just humor the first reason as well. Let's just assume it to be a test unit from the company. Considering the fact that Hyundai's local subsidiary has mentioned that until the local production of Hyundai car starts in Pakistan, it is likely that company might start selling CBU's in the country to serve the purpose of making its presence in the local market.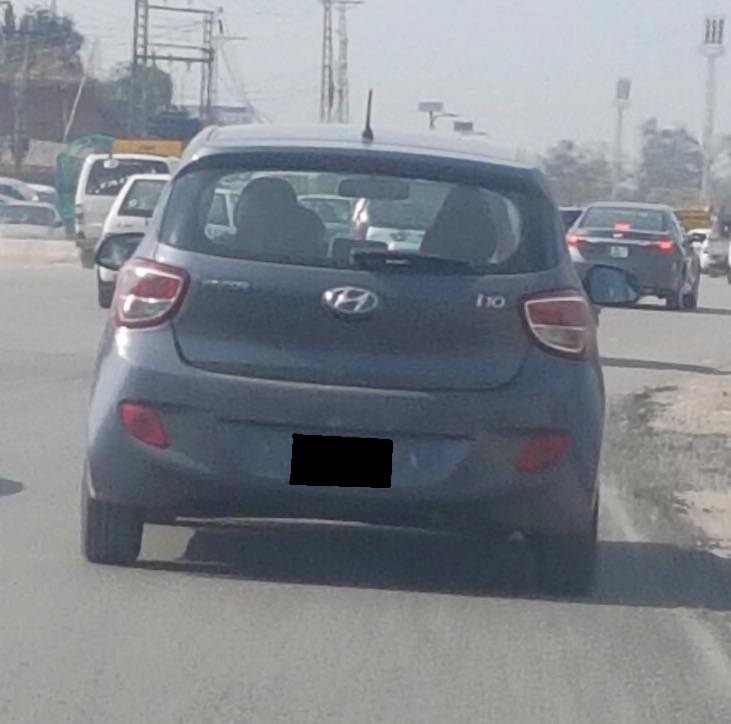 We swiftly move on the car itself. This car started its life in New Delhi in 2007 and was produced in India for both, domestic and international markets. This car was also the replacement for the Hyundai Santro (Globally known as Atos). It received a facelift in 2010, which transformed its ordinary looks into contemporary and modern features. Fast forward to 2013, the i10's redesign was revealed by Hyundai's European design team. Among other things, it managed to score four stars in the Euro NCAP ratings for an LHD.
The second generation of Hyundai i10 is 65mm wider and 80mm longer than its previous generation. On top pf everything, it came with three engine options (for European variants):
1.0L three-cylinder petrol engine capable of delivering 66bhp and 94Nm of torque.
1.0L three cylinder bi-fuel engine capable of delivering 67bhp and 90Nm of torque.
1.2L four cylinder petrol engine capable of delivering 87bhp and 120Nm of torque.
Before you go off to look at the picture, I would like to point out that this car comes with Electronic Stability Control as standard.