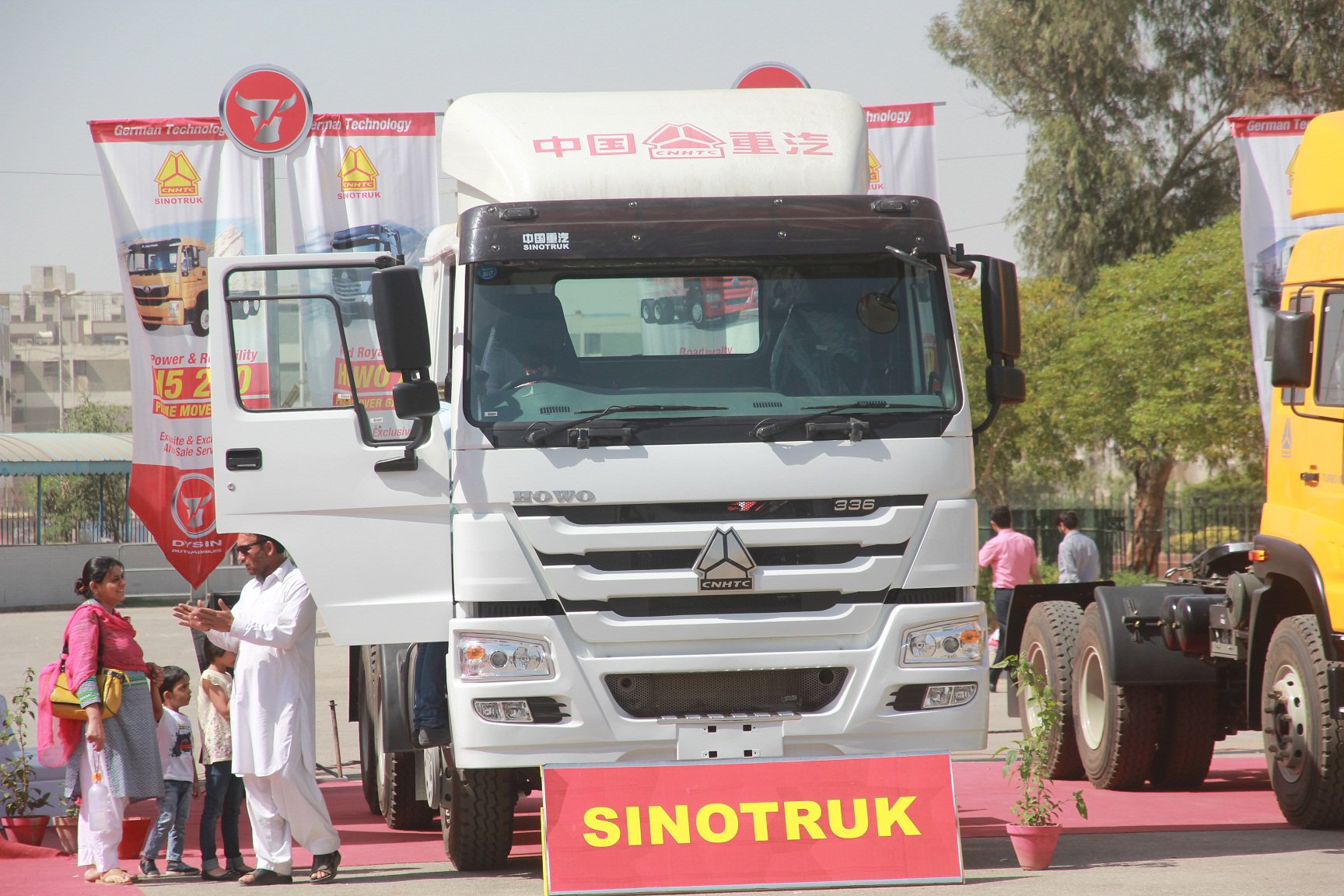 This version of PAPS (Pakistan Auto Parts Show) has not only managed to showcase the willingness of local companies to venture forward in the realm of mutually beneficial partnerships but more importantly, this version of PAPS 17′ has managed to shed light on the drastically improving automobile industry of the country. In this regard, a great number of trucks are being used to transport goods along the China-Pakistan Economic Corridor route and Chinese manufacturers are aiming to penetrate in the Pakistani market to gain major shares in a Japanese dominated automobile sector.
Keeping in mind the importance of CPEC and its need for heavy vehicles, this bold yet noteworthy step from the Chinese truck manufacturers should not come as a surprise that Chinese manufacturers dominated the exhibition in terms of numbers.
"We are looking for better sales in the coming months," said Dysin Automobile Limited Manager Tender and Commercial Sales Jawaid Iqbal to The Express Tribune.
Who are Dysin Automobiles? and how are they relevant to Pakistan?
The company in question is a regular exhibitor at PAPS and has managed to sell more than 700 trucks in Pakistan. The presence of these trucks can be felt in the country's traditional sectors like oil, transport and major infrastructure projects. As the CPEC bolsters the economic activity, the demand for heavy vehicles is likely to increase exponentially. The statement is further augmented by the fact that many small contractors are finding refuge in buying easy-on-budget Chinese trucks and utilize them for their workload.
An Overview of the heavy vehicle exhibition at PAPS 17′:
Overall there were four truck manufacturing companies present at this year's auto-parts show. Interestingly, three of them were Chinese and one was European. As always the USP of every Chinese manufacturer is its competitive price. Where a Chinese truck can be bought in Rs 7.8 million, Japanese manufacturers offer the same product at Rs12.6 million.
But as mentioned earlier, the biggest turnout of this event was not the presence of European or Chinese auto manufacturers, but remarkably it is the willingness of local stakeholders to step forward and opt a unified stance towards the prosperity of this industry.