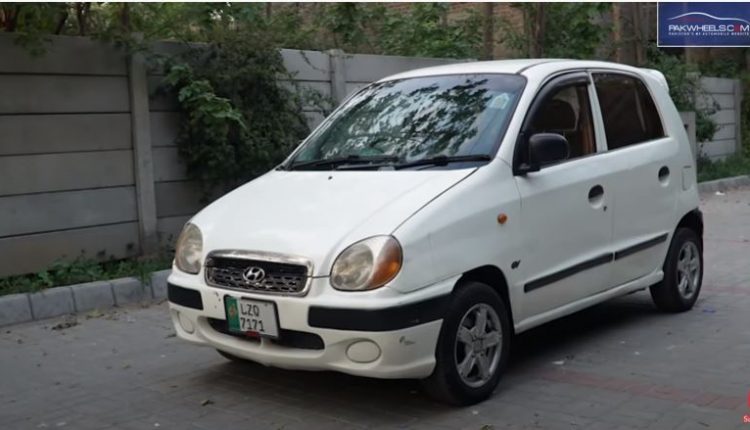 Hyundai Santro 2005: Owner's Budget Car Review 
PakWheels has brought the owner's review of Hyundai Santro 2005 model, which is also our budget series analysis. Hyundai launched this car to counter monopoly of Suzuki Mehran in Pakistan; this model continued till 2009 when Hyundai exited the country.
After making a re-entry in Pakistan, a common query by customers is whether Hyundai will release Santro in Pakistan or not. There is no official confirmation by the company over this issue as yet.
So, without any further delay, let's start this owner's budget review.
Price and Purchase: 
The owner said this is a 2005 model with Club variant and 1000cc engine. The company launched three variants in Pakistan, i.e., Club, Executive, and GV. Both Club and GV had company installed CNG kits in them. The owner told us that he bought this car in 2016 for Rs470,000. "From the start, I was interested in Santro, especially its Executive variant, but I didn't get any option in good condition at that time; hence, I bought this Club variant," the owner said.

Fuel Average: 
The owner told us that its intra-city fuel average is around 7-8 kilometers per liter, while on a long route, it gives mileage of about 11 kilometers.
Missing Features: 
According to the owner, there is no specific feature he misses in this car; however, he wanted to buy Executive because it was a better choice with power windows and power steering.
Furthermore, the car does not have airbags or ABS in it.

Suspension: 
Discussing the suspension of this car, the owner told us that this car's suspension has become rather stiff because it is an old model.
Availability of Parts:
As the car is discontinued in Pakistan since 2009, the availability of parts can be a serious issue for this car. However, the owner said all parts are readily available. "I faced gear switch problem,but found it easily, while all of its parts are available on PakWheels Auto Store," the owner said, adding that he has never faced any issue in this regard so far.
Road Clearance: 
The owner told PakWheels that road clearance of this car is perfect for local roads, which is a major plus point of this car.
Sitting Capacity: 
Being a small vehicle, the car has a spacious sitting capacity, and its sitting space is much better than Mehran.

Boot Capacity: 
The boot capacity of this car is comparatively low because the extra tire takes most of the space in the trunk. According to the owner, this point makes this car less favorable for a long journey with a family. "If you remove company-fitted CNG kit, then it can have more space," the owner said.

AC Performance: 
The owner is satisfied with the performance of this car's AC, saying he has never faced any issue regarding the cooling. "Its performance gets a little affected at very high temperature, but still, its much better comparing to Suzuki Mehran," he said.
Audio Unit: 
The owner has installed an after-market audio system in his car with USB and FM Connector. The original unit of Santro only has a cassette player in it.

Oil Service: 
The owner said he gets it Mobil oil, air filter, and oil filter change after 3000-3500 kilometers at the cost of Rs3,000-4,000.
Resale Value: 
The owner believes that this car still has good resale value in the local market. "I think I still can sell this car for around Rs5.5 lacs.
Final Verdict: 
The Hyundai Santro has ruled the Pakistani market in the last decade and still a very reliable and under the budget car. Its spare parts are very readily available, and its maintenance is also very economical. Henceforth, it is always a good purchase for people who are looking to buy a right car in a low budget.
You can buy second-hand Santro from PakWheels Used Car Section.
Watch Video Here: 
Recommended For You: Suzuki Margalla-Budget Car Review