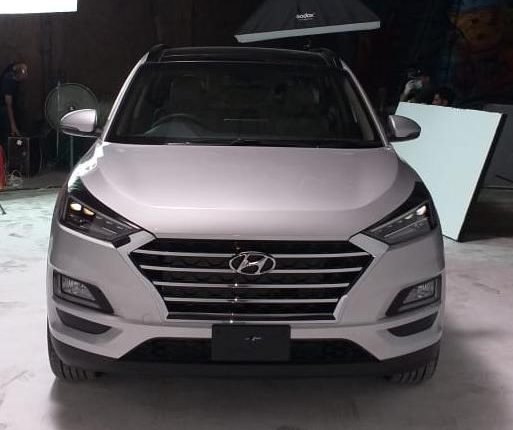 Hyundai Tucson Ultimate Vs. GLS Sport: A Comparison
Hyundai Nishat Motors launched its Tucson SUV in Pakistan yesterday. The company has introduced two variants of the car, i.e., Tucson Ultimate and GLS Sport.
Although both have significant similarities, including engine, transmission, and airbags; however, there are few differences between both cars.
In this article, we will discuss the major differences and significant similarities between these two variants.
Differences between Tucson Variants: 
Seat Fabric: 
The first difference we have noticed is in the interior of these cars. According to the company, the GLS Sport will come with fabric seats, while Ultimate will have leather ones.
AWD and FWD: 
The GLS Sport is Forward Wheel Drive, while the Ultimate variant is All Wheel Drive, providing another difference between them.
Handsfree Power Tailgate System: 
The Tucson Ultimate has the Handsfree Power Tailgate System, while GLS Sport does not have this feature.
Power Seat: 
In GLS Sport, the driver has an 8-way power seat along with 2-way lumbar support, meanwhile, the company has installed an 8-way power driver seat, 2-way lumbar support, and 8-way power seat in its Ultimate variant.  
Fuel Mileage: 
Hyundai has not yet shared any detail about Tucson's fuel average as yet, and we will know its real average after it will hit the road. However, if we are hoping that its average will be the same as FWD and AWD variants of KIA Sportage.
The fuel average of KIA Sportage AWD is 10km/liter (intra-city) and 12km/liter (highway). Meanwhile, the within city fuel average of Sportage FWD is 12km/liter and 14km/liter on a long route.
Price of Tucson Variants: 
The GLS Sport will cost you Rs4,899,000, while the rate of Tucson Ultimate is Rs5,399,000. It is pertinent to mention that these are ex-factory prices.
Similarities between Tucson Variants: 
Engine, Transmission: 
Both variants come with 1999cc engine, producing 155hp at 6200RPM and 196N-M Torque at 4000RPM, mated with 6-speed automatic plus Tiptronic transmissions
Dimensions: 
The company has introduced these two variants in similar dimensions, i.e., 4480mm length, 1850mm width, and 1660mm height.
Wheel Size: 
Both variants are launched with an 18-inch wheel size, with alloy rims and 225/55 R18 tyre size.
Booking and Warranty of Tucson Variants:  
You can book both variants by paying Rs15,00,000. Meanwhile, the company is a 4-year/100,000 kilometers warranty.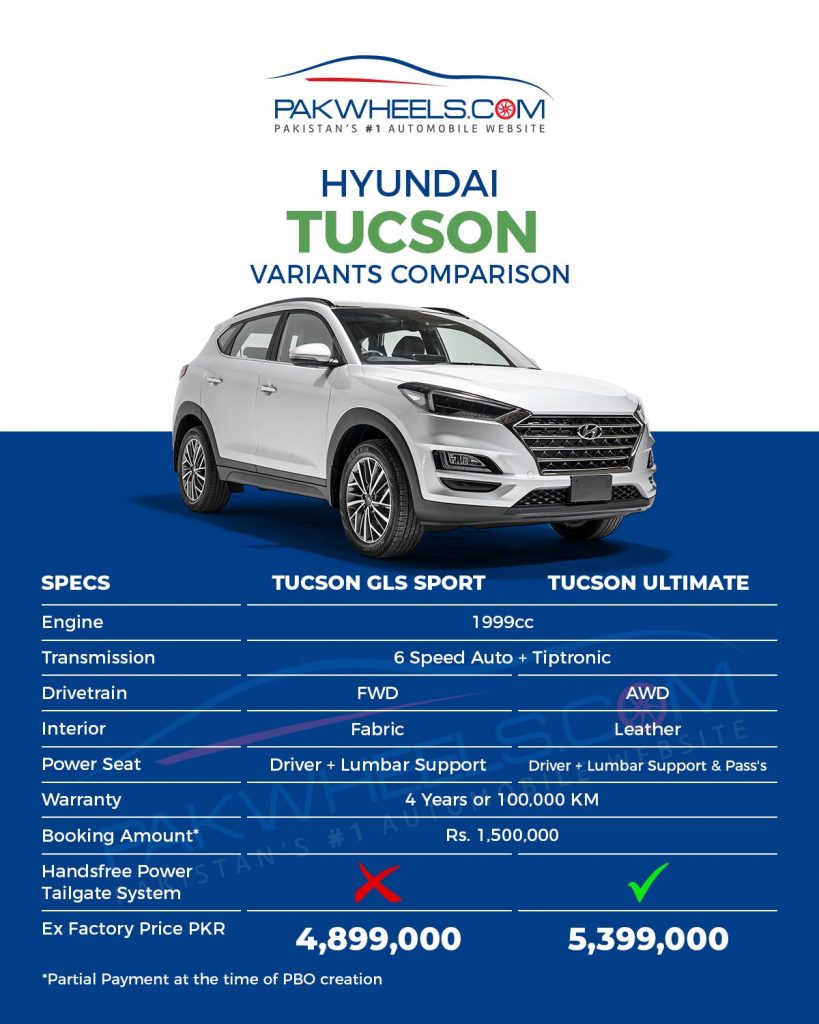 Recommended For You: