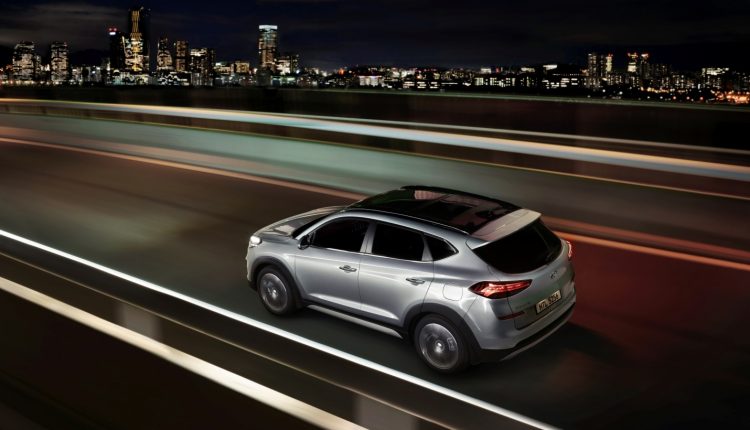 Hyundai Tucson vs KIA Sportage: Here's the Winner
Today, we will compare the two SUVs hitting Pakistani market this year, i.e., Hyundai Nishat's Tucson and KIA's Sportage. As Sportage is already in the market, Tucson is expected to be introduced this year. The rumor has it, Tucson is set to give a tough competition to its competitor with new features, chic exterior, comfy interior and stat-of-the-art build.
We will be discussing both cars side by side, based on available features of Sportage and expected features of Tucson. Our sources have said that South Korean company is launching its SUV, while keeping already available options in the market for local consumers, Henceforth, it is expected that fulfil the demand gaps, previous SUVs have left for Pakistani customers.
Exterior:
The Tucson has a dominant looking sleek exterior, especially the front grille of the car. Hyundai's special and iconic radiator grille makes it bold yet beautiful. Its exterior is styled with LED headlamps, fog lamps, and Daytime running lights (DRLs). One of the best features of Tucson's exterior is its material. The company has increased Advanced High Strength Steel (AHSS) by 51%, enhancing its safety and sturdiness. This safety feature gives Tucson an edge over its competitors. The SUV has LED combination lamps with a 3-dimensional lighting effect and a rear spoiler with a high-mounted brake lamp.
Meanwhile, Kia Sportage has a relatively smaller front grille as compared to Tucson. We think, this feature, reduces first look impact of Sportage, a little bit. The Sportage also has DRLs, fog lamps and bi-functioning LED front lights. Meanwhile, the car has high-mounted brake lamps, but it is without lower brake lights like Tucson, giving Hyundai's vehicle an edge and chicer look at rear.
Dimensions:
Reportedly, Hyundai has developed Tucson according to Pakistani roads and flow of traffic. The SUV is 4480mm long, 1850 mm wide and 1655 mm high.   Meanwhile, the Sportage is slightly bigger, with 4485mm in length and 1855mm in height, which can be a slight inconvenience on Pakistani roads.  Sportage is also less high than Tucson, standing at 1635mm, which can result in low headspace for taller persons. The wheelbase and minimum ground clearance of KIA Sportage are the same as Tucson i.e. 2670 mm and 172 mm respectively.
Interior:
According to our sources, Hyundai is presenting a very comfortable, stylish and roomy interior of Tucson. Reportedly, the driving seat has 10-way adjusting system, giving ample options of sitting and relaxed driving. The SUV has 2-tone interior design with black, grey and beige colors. The car has a 10-inch Audio display system, which can be used very easily. The first look of Tucson's interior gives a very fresh and classy feel.
Meanwhile, Sportage also comes in 2-tone interior and like Tucson has power windows and side mirrors. Furthermore, both cars have automatic air conditioning system and push-start systems.
We think Tucson has an edge over its competitor in driving seat adjustments as it gives a more comfortable feel.
Engine Power:
Hyundai Tucson has 2.0-litre multi-point fuel injection gasoline engine with an All-Wheel Drive system. The engine can give maximum power of 155 hp at 6200 rpm and a maximum torque of 192 Nm at 4000 rpm. Meanwhile, Kia Sportage also has a 2.0-litre MPI gasoline engine, with All-Wheel Drive an option in different variants. Sportage can generate maximum power of 157hp at 6200rpm and torque of 192 NM at 4000rpm.
Suspension and Brakes:
According to reports, Hyundai will launch Tucson with ABS along with ventilated disc brakes with floating calipers and pads wear warning devices at both front and rear, with additional high torque parking brake at back wheels. This feature is a great safety feature of this SUV.
Meanwhile, Sportage also comes with ABS at both rear and front, but without pads wear warning devices. In terms of suspension, both the compact SUV's are powered by a MacPherson strut at the front wheels and multi-link suspension at the rear side.
Final Verdict:
In a brief comparison, we have found that Tucson has an edge over Sportage in exterior, safety and comfort of interior. Although both are great addition to the local market, but it seems Hyundai has taken the local needs, road conditions and demands more in consideration, which is great for domestic users because they will find a great new choice for future.