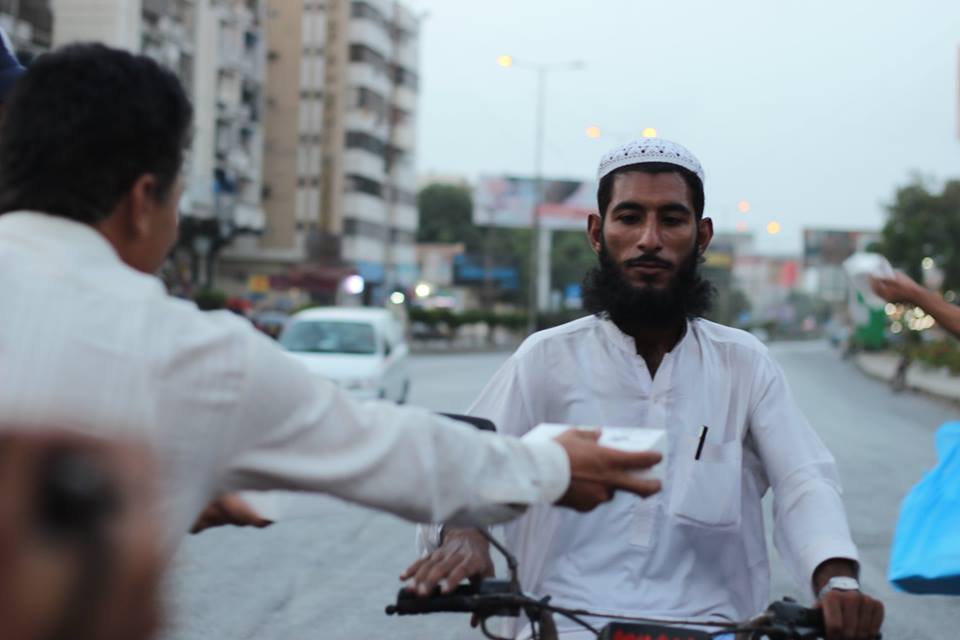 There are thousands of people who break their fast on streets and in cars while going back home from office. You must have noticed there are many citizens who provide Iftari to such people who are during journey. It was 7:15 when I crossed Clifton bridge and realized that I won't be able to reach home for Iftari. When I reached Teen Talwar (3 Swords), there were groups of students providing Iftari to people passing by in cars and bikes. Obviously I stopped there as well and waited for my turn. They gave me a box which had sufficient amount of food for one person. But curiosity arose and I stopped there to try talking to one of the students.
One student spoke, "We students are members of Rotaract Club and every Thursday we provide Iftari to people traveling during this time." He added further, "personally, providing Iftari to travelers is the best thing because they can't reach home on time due to their busy schedule", "also we members receive a sense of satisfaction." A senior member stated.
"We have provided Iftari to people at Allah Wali Chowrangi and now we're at Teen Talwar, we'll now be heading towards a new venue next Thursday, most probably Punjab Chowrangi." He added.
Anyways it was good spending some time with them and observing the way these students were working hard and at the same time managing the traffic as well. It feels good when you see youth working hard for such generous acts. We all should join hands and help the people who are carrying out such drives so that we somehow become a part of it too because it is highly satisfying.