Indus Motor Company Limited (IMC) has introduced a new special discount for its customers buying Toyota Corolla 1.3L variants through Bank Alfalah auto loan.
According to the details, it's a limited time offer through which the customers can book their vehicles at a discounted price. It's an exciting deal for potential buyers in the current declining sales situation in the market due to the rising price of automobiles. The customers can also enjoy special preferential interest rates and insurance upon financing the vehicle. The offer is valid on Toyota Corolla 1.3L XLi, 1.3L XLi AT, 1.3L GLi, and 1.3L GLi AT variants. On booking a vehicle through auto financing, the customers can save up to PKR 100,000 on ex-factory prices of the above-mentioned versions. The current ex-factory prices of these variants are given below:
Toyota Corolla 1.3L XLi MT (PKR 2,499,000)
Toyota Corolla 1.3L XLi AT (PKR 2,599,000)
Toyota Corolla 1.3L GLi MT (PKR 2,749,000)
Toyota Corolla 1.3L GLi AT (PKR 2,849,000)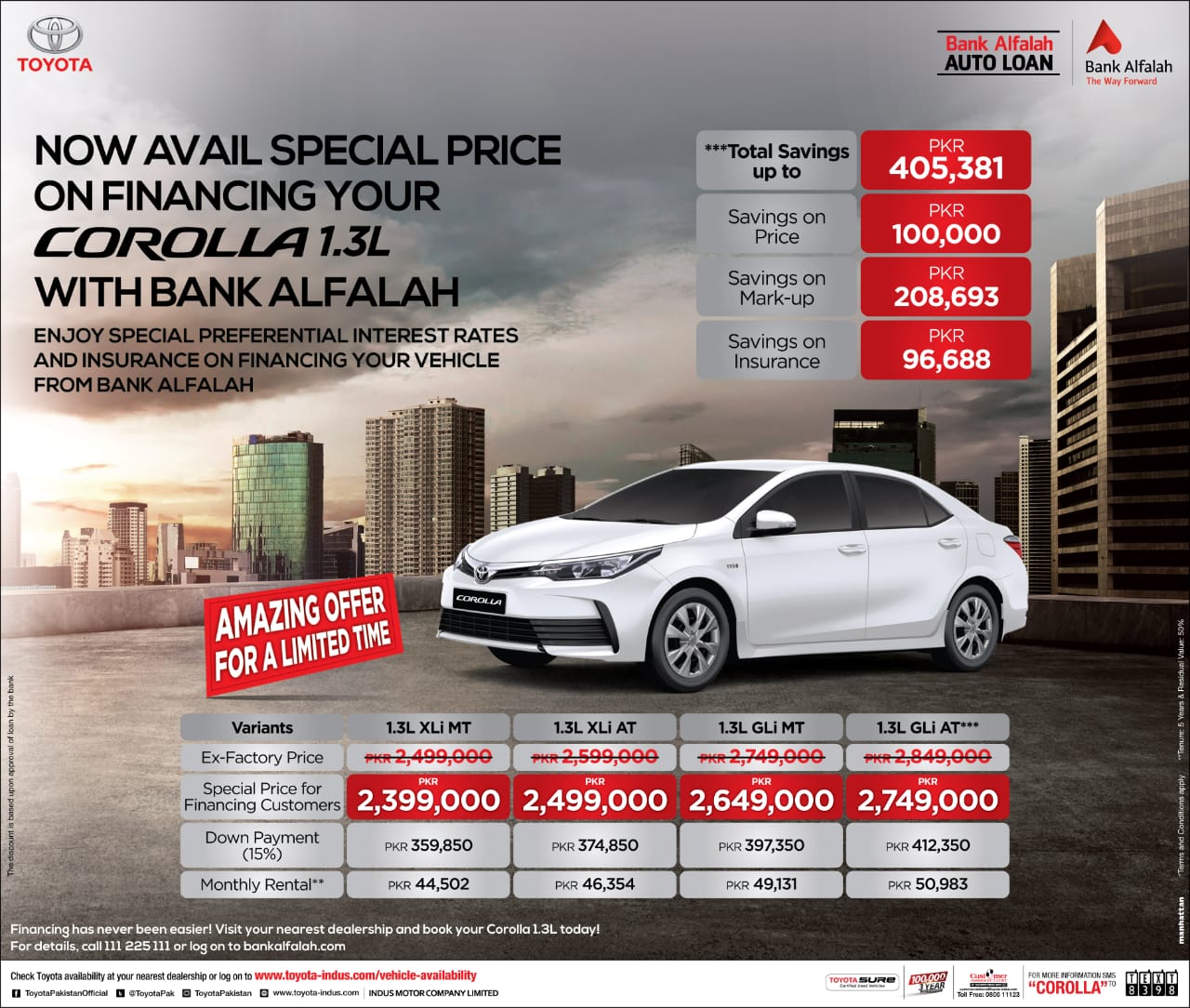 Furthermore, the company is offering savings of PKR 208,693 on mark-up while the customers can save up to PKR 96,688 on insurance. According to the financing plan of the company with Bank Alfalah, monthly installments of as less as PKR 44,502 can be availed on the 1.3L XLi MT variant upon a down payment of 15%. The auto manufacturer is reportedly discontinuing the 1.3L variants of Toyota Corolla soon. It will be replaced by Toyota Yaris in the local market, which is also known as Vios in some global markets. Toyota Yaris is also seen being tested on the roads of Pakistan before the company finally introduces it in the local auto sector for the very first time.
Moreover, the auto industry is going through a critical phase with low demand in the market. The sharp depreciation of Rupee against the US dollar forced a major hike in the prices of the automobiles, thus resulting in a steep fall in sales. The additional duties and taxes levied by the government, such as Federal Excise Duty (FED), also raised the prices of vehicles even more. The sales of Toyota Corolla, like all other cars in the local market, have gone down drastically by 57.70% in the first two months of the fiscal year 2019-20. The company sold only 3708 units during July and August this year as compared to 8770 units in the corresponding period last year.
That's it from our side, drop your thoughts in the comments section below.