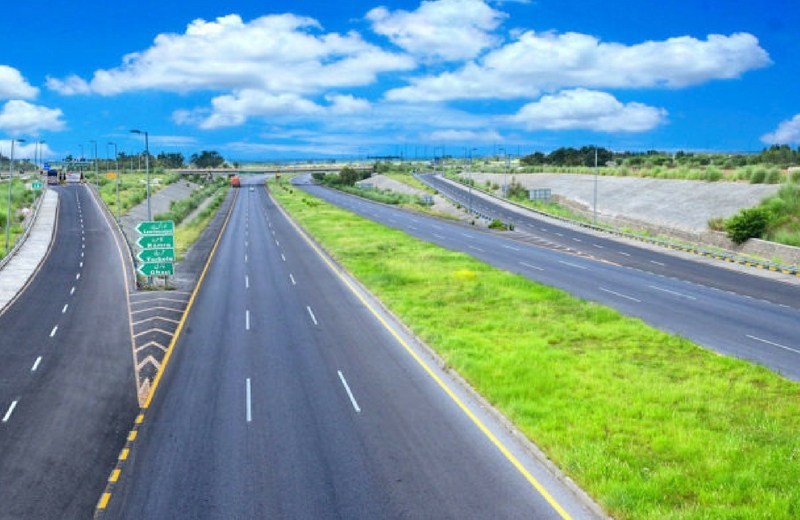 The inauguration of Multan-Sukkur Motorway M-5 has been delayed by the authorities as China looks forward to a grand opening of the project's 392-km section.
According to the details, the Ministry of Communications and National Highway Authority (NHA) was all set to inaugurate the project this month, but as reported, China has demanded more time for transferring its machinery and other equipment before the opening. There is a high demand from the general public regarding the opening of the new road network. Keeping this in view, the officials of the Ministry of Communications were insisting on a soft opening of the project by allowing only private vehicles to travel on the route. It's the biggest transport infrastructure built under the China-Pakistan Economic Corridor (CPEC) whose foundation for the construction work commenced back in August 2016 during the tenure of the previous government.
All the work on M-5 has been completed, but according to the sources, the launch might be delayed by two or three months after the opposition from China. The Minister of Planning and Development Khusro Bakhtiyar also confirmed the delay in the inauguration of the project.
Multan-Sukkur Motorway M-5 is a 392-km section of the Peshawar-Karachi Motorway project which extends to a total length of 1100 km. The project originates from Karachi through a 136-km Motorway M-9 that extends up to Hyderabad. From here on, there is a 345-km proposed road network up to Sukkur. This is the point from where M-5 section of Peshawar-Karachi Motorway begins which continues through the left bank of River Indus. The project work commenced in August 2016 and was scheduled to be completed by September 2019; however, it was finished two weeks before the deadline. It was completed by National Highway Authority (NHA) in association with M/S China State Construction Engineering Corporation and supervised by Ministry of Communications itself. The 6-lane Multan-Sukkur Motorway is an integral link of CPEC which will reduce the travel time for the commuters considerably. This particular section is a gateway to the socio-economic uplift of both provinces Punjab and Sindh and has the potential for Industrial and agricultural sector growth. It will also connect the Southern part of Punjab with Sindh in a much accessible way. The total cost of the project was estimated at around $2.89 billion and helped in creating as many as 29,000 jobs during a period of three years.
M-5 Motorway is designed for speed up to 120 km/h for LTV's. This section begins from Multan and passes through Jalalpur, Peerwala, Ahmed Pur East, Rahim Yar Khan, Sadiqabad, Ubaro, Pano Aqil and finally ends at Sukkur. The project's road map is illustrated below: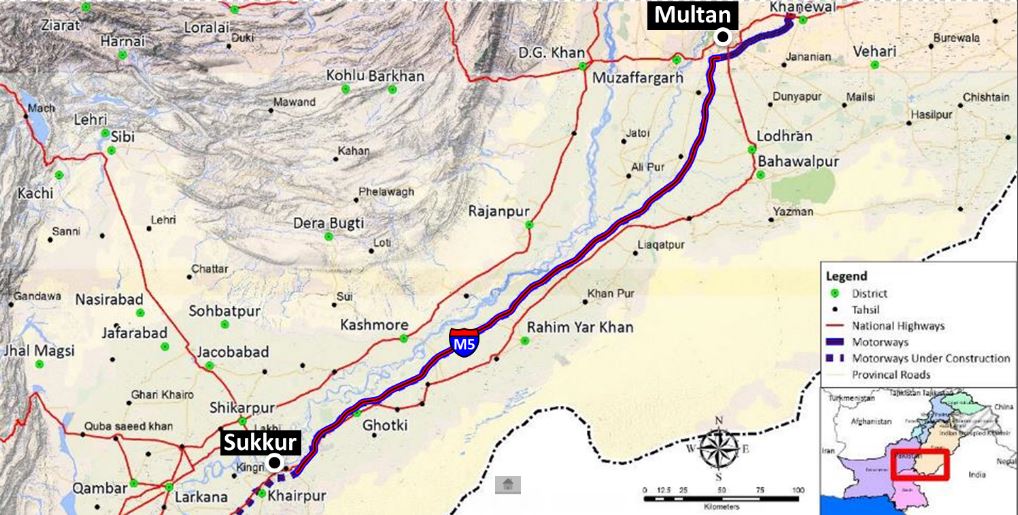 Stay with PakWheels for more relevant news updates and share your opinion in the comments section below.