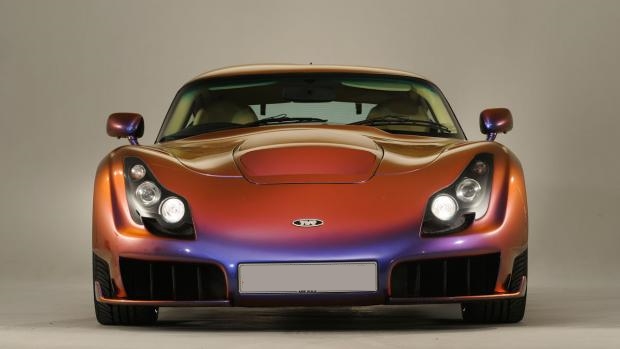 Each year multiple cars get released while some manage to steal the show due to their unique styling, features or performance whereas others do not get the attention they deserve. Being one of the compact and stylish but infamous or underrated vehicles let's talk about TVR Sagaris.
TVR Sagaris is a British made light weight sports car from 2005. While we all grew up hearing about awesome British vehicles companies like Range Rover, Rolls Royce and McLaren makes. But you have to be a real car enthusiast to know about TVR and its cars.
TVR Sagaris
Sagaris made it debut at the MPH03 motor show in 2003 while the prototype was introduced in 2004 at Birmingham motor show. It then came to the dealerships around the world in 2005 till 2006.
Exterior
The exterior of Sagaris is a wild one. Features hatchback like rear while the front is something out of a video game. It has a massive front and equally massive headlights. While the rear being reminiscent to a hatchback is somewhat smaller and features inverted L shaped tail lights. Overall this car features a very small footprint. It has a wheel base of only 2360mm which comes tie with the Suzuki Alto 5th Gen. Whereas the total length is at 4056mm meaning it's a much smaller car than most super cars out there.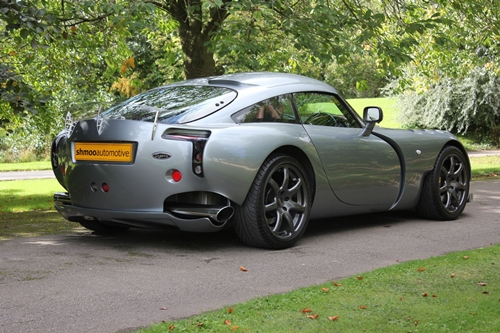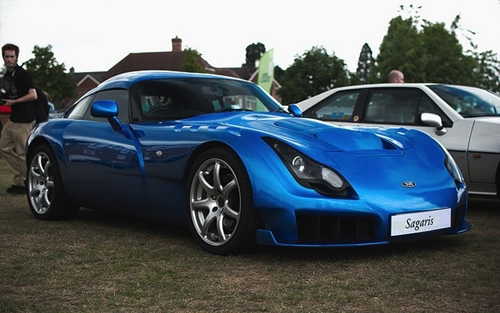 Interior
Interior of TVR Sagaris is an odd one. Maybe it's a letdown as it feels like an under inflated balloon of some sort. Maybe that's just knit picking considering the fact that it's a 12 years old car now. But it could have been better. Anyways, the interior has a very simple layout with only a few buttons to play with. Top tier models do have the option for an infotainment system while the base models have a simple cd player. In the instrument cluster, the RPM and Speedometer dials have been fused together. Whereas in front of the driver lies a simplistic sports steering wheel. And that's about it. Chances are you may not be hard pressed by the interior of this car. See the interior picture and be the judge.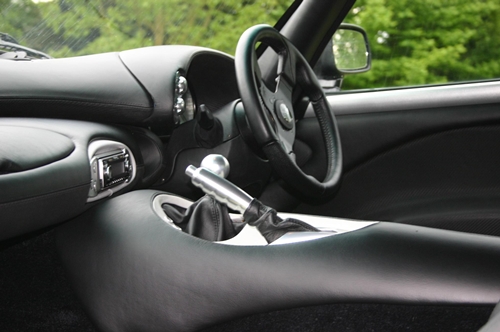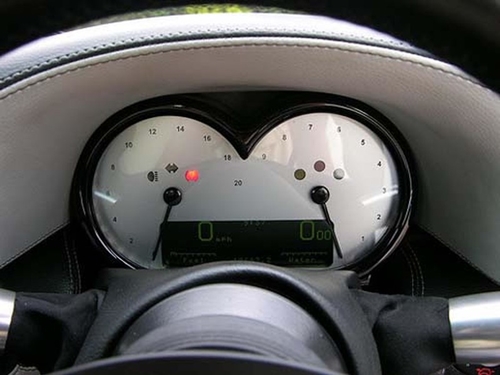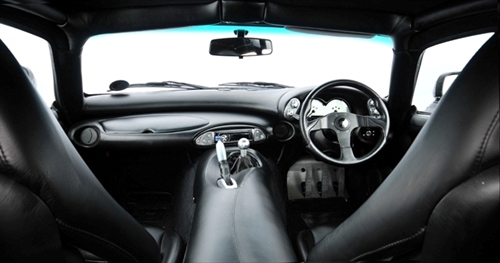 Engine and Performance
So as you know Sagaris is a small car in terms of dimensions but there is one thing in it which isn't so small after all. It has been equipped with a 4.0L straight six engine along with a sweet combination of 5-speed manual gearbox. With such a powerful engine putting out a 406BHP and a super lightweight body at 1078Kg. This car sure flies. It can launch itself from 0 to 100Km/h in just 3.7seconds and is capable of a top speed of almost 300 Km/h. It is not only fast by today's standards but it sure was a killer back in 2005.
Features and Safety
Sadly TVR resisted the European standards that all new cars should come with ABS and airbags. Meaning this car is not the best one to be in if you meet an accident. TVR believed that removing such amenities will help the driver to be more conscious about something going wrong rather than relying on safety aids. So without technology like traction control and brake assist it's rather clear that it's purely a driver's dependent car. Apparently, the absence of all technology aids might be the reason this car weights so low.
Price
At launch, TVR was a very affordable car to buy. The base price was at around $50,000 making it one of the budget friendly super cars. Today you can get yourself one at around $20,000-30,000. However not even a single unit has ever been imported to Pakistan.
Fun Facts
TVR Sagaris was designed as an endurance racing car. The presence of a multitude of air vents and intake openings help the car to be driven for an extensive period of times (better engine cooling).
It has been featured in a number of games such as Forza Horizon 2, Test Drive and Asphalt 2 Urban GT.
It was featured in 2010 film names as The Heavy in which it was driven by Gary Stretch.
Only few hundred units made it out of the factory. Making it a very rare yet cheap super car.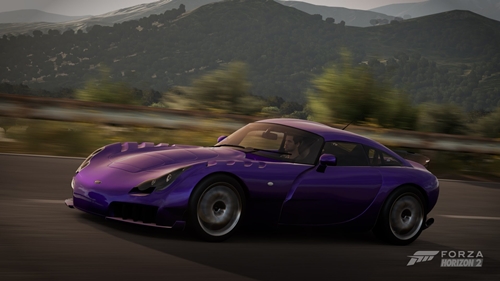 What do you think about this robust little super car? Would you like it in your garage especially considering its low price, small footprint and massive performance numbers?