Back in 1996, I was 7 years old kid traveling with my family. Our Daihatsu Charade G-11 got a flat tyre and we had to pull over to the shoulder to fix it. I was one of the only two male family members in the car so I started helping my uncle with changing flat tyre. When we opened the boot, I was surprised to see that slim, compact size tyre with yellow rim. After we fixed it and resumed our journey, I asked my uncle so many questions, like why that tyre was smaller than others, why don't they provide standard size and much more. But he didn't know much about the cars so he couldn't answer my questions.
20 years later, it was a Friday afternoon and I was driving back home when an elderly man flagged me down for help. He had a flat tyre and his jack was not working so I decided to help him with changing tyre. I opened the boot of his Toyota Vitz and there I saw the same compact size tyre, which reminded me of that car trouble we faced in 1996. We replaced flat tyre in 5 minutes and I started driving again. After I reached home, I did some research and found some interesting facts about it. Here's what you should know.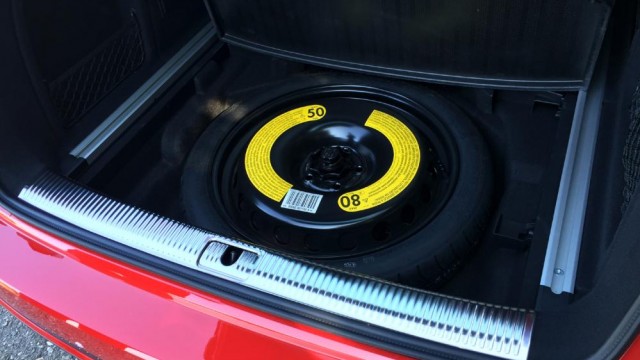 Standard size spare tyre is provided with locally manufactured cars (PKDM) and donut tyre comes with imported cars. You may find it interesting that Pak Suzuki's Cultus has the same size spare tyre but JDM Toyota Vitz comes with a donut spare tyre. There's been remarkable increase in compact size tire usage in the past few years. Full size spare tire now comes only with 4×4 SUVs, bigger vans and pickups in most of the countries.
One tyre, different names: The correct global name of this spare wheel is, "donut tyre". Sometimes they also call it "space-saver" but Pakistani tyre technicians call it "Japani Stepney". Although some automakers provide full standard size 5th (spare) tyre but many opt for smaller spare tyre for some reasons.
It's made for space saving: Smaller cars have very tiny boot, a standard size tyre is much bigger and leaves very little space for luggage. That's why automakers provide this compact size spare tyre. This could be very helpful for CNG converted car owners, who have to keep spare tyre under the gas cylinder.
Donut tyre is lightweight: This makes tyre changing easier and the other advantage is that it reduces a car's weight, which helps in improving fuel economy. A few extra kilograms in the boot do increase the fuel consumption.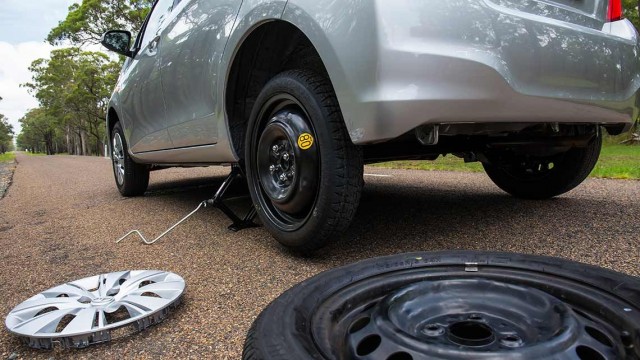 It's cheaper than regular tyre: Modern car tyres are very tough so we don't get flat tyre very often. Therefore, the spare tyre may runs less than 100 kilometers per 10,000 kilometers. So the automakers provide this tyre to cut the costs.
Now you know that space-saver or donut tyre is made to cut cost, car weight and to save space in the boot but is it safe and reliable to use this fragile tyre before you find a tyre shop? Here's what you should consider.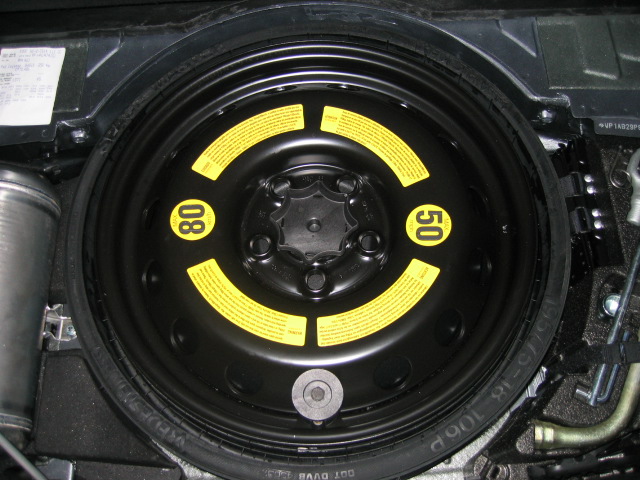 Maximum Speed: The maximum recommended speed limit for this space-saver tyre is 80 km/h. Don't drive fast after replacing your flat tyre by space-saver wheel.
How far can you go on donut tyre? It is for temporary use only. The tyre has very little tread which wears out in no time. Driving safety experts suggest that you should not go beyond 125 kilometers on donut tyre. You should visit the nearest tyre shop to fix your punctured tyre or get a new one if it's burst.
Poor Braking and Handling: Please keep this in mind, you're driving with 3 standard and one donut tyre, which is more like a motorcycle tyre. This means your braking system is less effective and handling is poor. Be careful with braking and avoid taking sharp turns at higher speeds.
60 psi is the safe air pressure: You should frequently check your spare tyre for low pressure. 32 psi is good for normal tyres but the experts recommend 45-60 psi as safe air pressure range for the donut tyre, because low pressure can damage it. Be careful, don't exceed 60 psi as it may explode and cause an accident.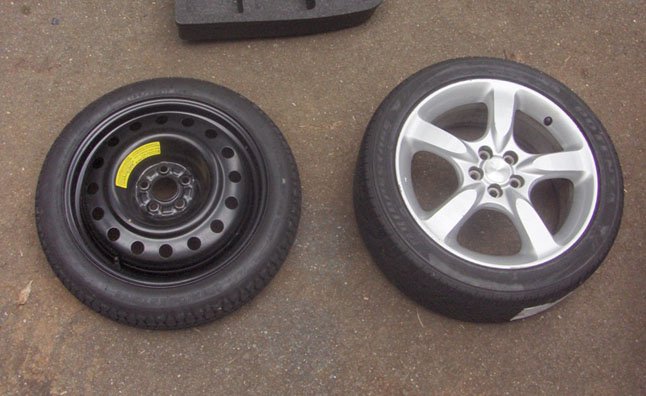 Should I get a standard size spare or donut tyre is good for Pakistani roads?
The answer to this question depends on where and how you drive. If you are being careful and driving in big cities with good road network then you should not worry about donut tyre's performance. You rarely get flat tyre on clean roads and you can easily find a tyre shop within a few kilometers in urban areas. However, it is not recommended to rely on spare donut tyre while traveling on motorway or high speed suburban roads. We also recommend you to carry a standard full size tyre if you have to travel on bad roads, as donut tyre is not designed for off-roading.  If you drive in city most of the times but have to travel on motorways once or twice in a month, it's better to purchase a same size spare tyre, but don't dump your donut tyre. You can carry a donut tyre in city and keep a full size spare tyre in the boot for long trips!