The most important question for any Pakistani who is looking to make profits out of their savings is, "What should I do with my money?" Majority of the people just opt for fixed deposits because of their consistent yields for a longer period of time and lack of over-complicated predictions, which means majority of the people don't realize the potential of investment in automobiles in Pakistan.
So, this blog entry is aimed towards comparing the profits yielded by investing the same amount of money in the same timeframe in fixed deposits and automobiles, as this will give the much needed insight into the profit margins of both.
So without further ado, let's go ahead and have a look at the following list of automobiles, which are very popular in Pakistan.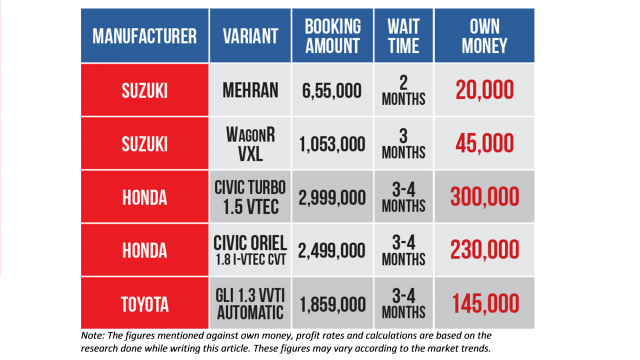 And for the sake of this blog entry, the list of vehicles has been limited to one variant from each manufacturer. In this case the cars include be Suzuki WagonR, Honda Civic Turbo and Toyota Corolla GLI 1.3 VVTi Automatic.
Here it should be mentioned that the growth of automobile industry is highly regionalized, but these regionalized trends are often accompanied by some quirks in many areas of the world. In Pakistan's case, we have the example of 'Own Money'.
Now that we have our first data sample, we shall have a look at the options, which banks have to offer. So let's consider country's 3 of the biggest banks UBL, HBL & MCB, and the fixed deposits for each bank, which yield the highest profits margins. These days, HBL Car Loan Scheme is getting popularity.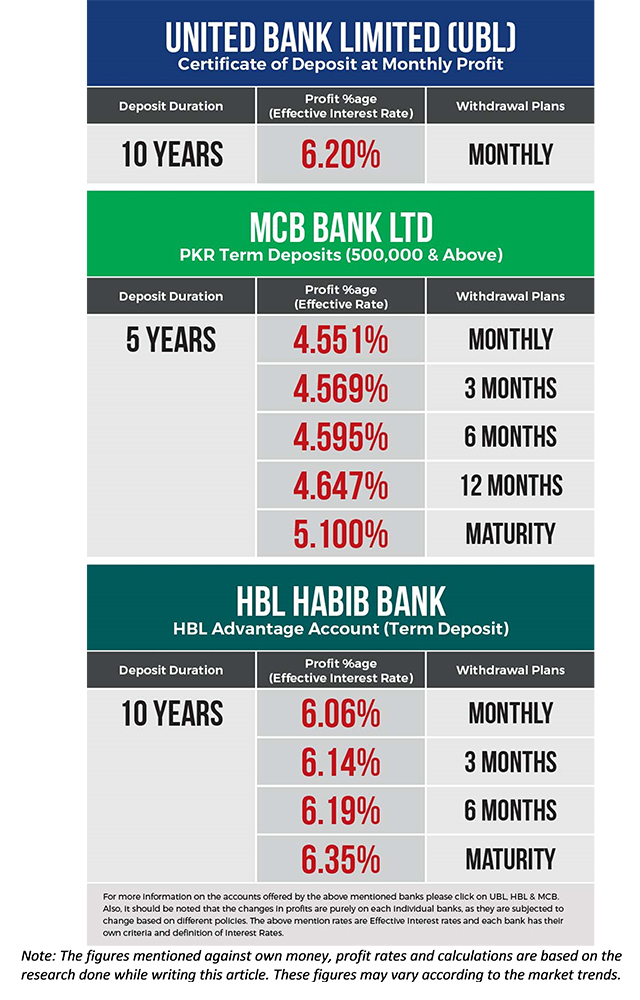 Moreover, our time bracket is 3 months (Quarterly), which will help us to comprehend this data easily.
And now following numbers are the calculated profits of the banks for 3 months fixed deposits on the prices of Suzuki WagonR, Honda Civic Turbo & Toyota Corolla GLi (Automatic).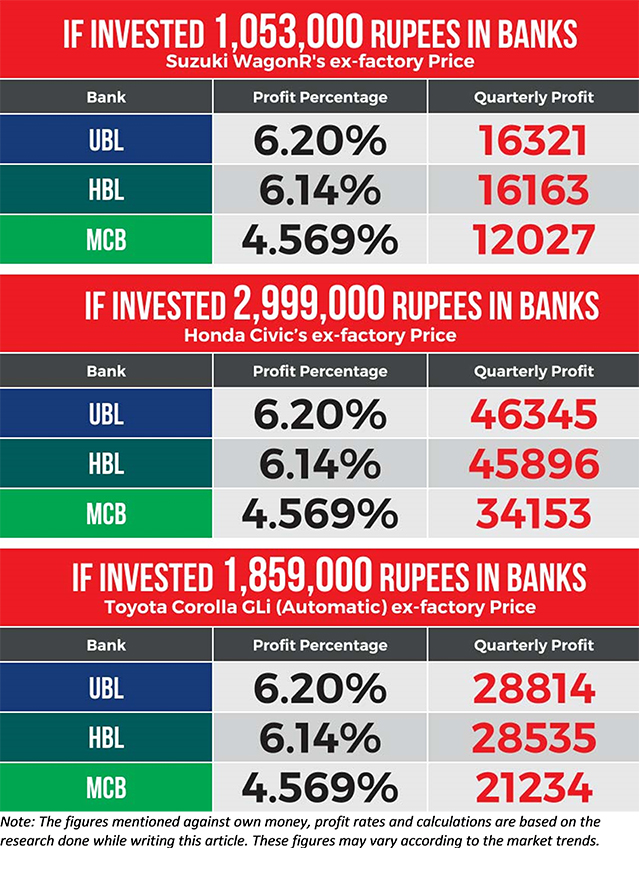 And here is the breakup of automobile profit for the same time bracket off 3 months booking time.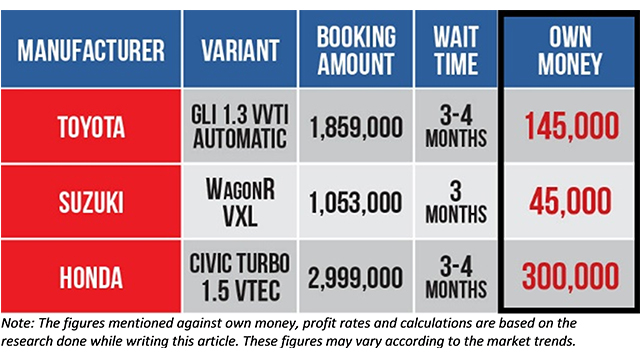 And now let's just go ahead and put these data samples together, and we will get an idea on the profit returns for both cases.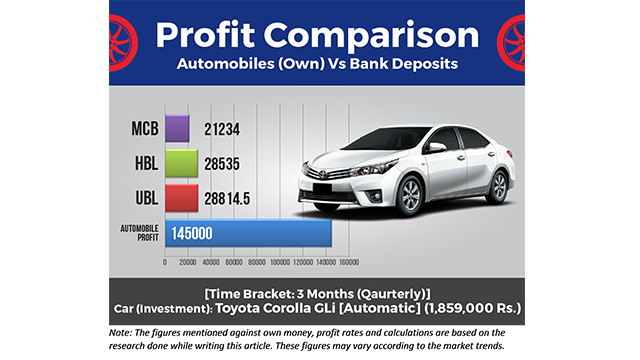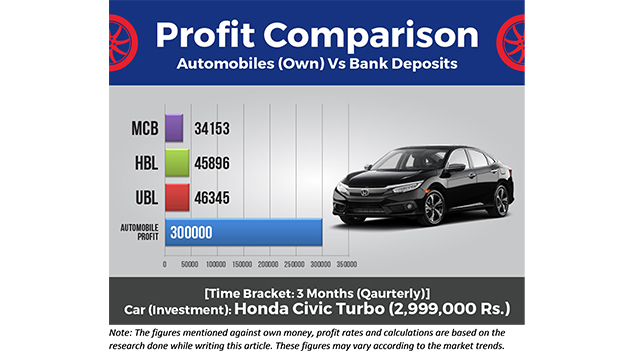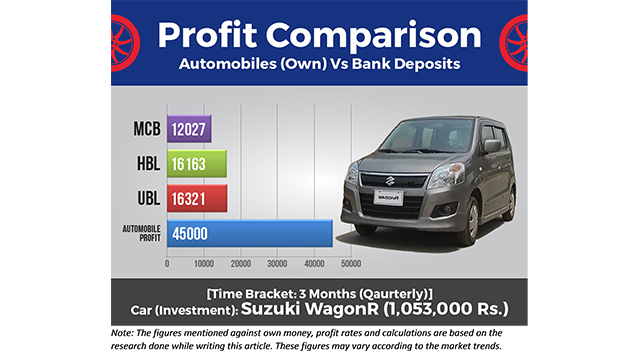 Those figures are really something to look at. In all three cases, the profit margins of automobiles (cars) far outstrip those of bank deposits, which means more profit yield at the end of three months.
Risk Analysis:
Every investment has some risks associated with it and in the automobile's case, it can be related to the country's economic condition, manufacturing throughput and investment security. While the country's economic conditions will end up affecting both cases in our comparison. Manufacturing throughput on the other hand is inversely proportional to profit in the local automobile industry; this phenomenon is also known as the 'Demand and Supply of a product'. And as cars are designed to travel on the road, there is always a possibility of accidental damage or a crash. Whereas some banks do offer the safety of investment but the profit return percentage is a subject to change of policies and withdrawal plans.
So, where does this comparison lead us? Although the banks do end up giving consistent profit returns, which are based on the amount, account type and withdrawal plan. The business psychology is naturally more inclined towards the automobile investment as it yields much higher financial gains. Furthermore, why invest money for a longer period of time (5-10 years is the most profit returning in fixed deposits) and continue to receive nominal returns, when instead, the profit from investing in automobiles is significantly higher.
This article was just aimed to shed some light on financial profit yields in two different industries, based on some equal factors. What did you think of this effort?
What's your opinion on this? Share with us in the comments.