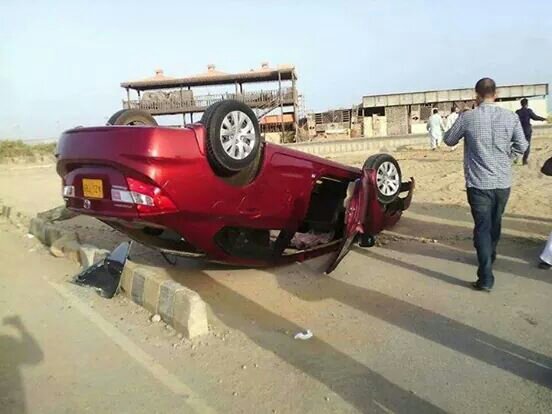 The 9th generation Civic was a much needed improvement over its predecessor in suspension, fuel average and features etc. But lately a lot of crash-pics have been uploaded on PW forums of the 9th generation Honda Civic. These pictures have sparked a debate on the car's performance. So I thought to carefully analyse this situation of these increased number of accidents. As far as my observations and notes go there are two types of issues, which are leading to this sudden increase in the accidents of Honda Civic 9th generation:
1: Vin Diesel and Paul Walker Mentality of Pakistanis
It is the most obvious and can be observed at any road in the country. There is a class of youngsters and adults who really like to put their foot hard down on the accelerator without considering road and driving ethics. Cutting lanes at high speed is a very common trait among these drivers, who like to take their family sedans at very high speeds with non-performance tires and brakes on public roads. This behavioural impulse can be seen all over the world, but due to proper road infrastructures, the damages done is reportedly lower and actions like these are generally faced with severe penalties.
Yes, the driving habits matter a lot and as a matter of fact, they are attributed as the major reason of fatal accidents, but despite their overwhelming numbers; there are other factors which also contribute to heavy loses.
2: Are there any other reasons?
Contrary to popular belief, rash driving isn't the only factor leading to fatal accidents. Likewise, there exists a school of thought which remarks that Honda Civic 9th generation is claustrophobe of badly designed and implemented changes. On the surface, you might be inclined to agree with them, but my personal opinion varies from this. I drove this car in various conditions and following is my take on this:
Engine Performance – It is common knowledge that Honda Atlas did not changed the motor, rather they just used the same engine -the same 1799cc R18a iVTEC- in both (8th & 9th Gen) cars. Therefore, the power output is identical with a minimal difference in the power to weight ratio. The difference maker, however is the transmission in both cars. Gear ratios are essentially the same, in both manual and prosmatec, nothing is changed as such. But the feel is noticeable when you floor the 9th gen Civic. It's much more responsive at low rpms, the iVTEC function disengages more swiftly and delivers power in lesser time than the previous generation. Additionally, there is the obvious fuel economy of the 9th gen Honda Civic. The motor has been tweaked in such a way that it accommodates different driving styles. The engine is a gas guzzler at higher RPMs and a pretty docile economy vehicle at lower RPMs.
Ride Quality – When I say that there is an obvious difference in the ride quality between 9th & 8th generation Honda Civic. The suspension is quite a lot softer, the ride feeling is leaned towards the family sedan concept rather than the sportiness. Sadly, the characteristic Honda civic drive is missing in this car. In terms of stability, it's hard to put a finger on a final result as both cars have very different suspensions, owing to the factor of a hard suspension system in the 8th generation Honda Civic.
Safety – It might come as a shock but Vehicle Stability Assist is not a standard feature in this car. What does it do? The Honda Vehicle Stability Assist System with Traction Control helps sense and correct over steering and understeering to improve cornering capabilities, which means there is less chance of vehicle spinning out of control in emergency breaking. Apart from the lack of VSA, I noticed that ABS is up to the mark. I wouldn't be wrong to say that nothing braked like an 8th gen civic; 9th gen is right up there. Apart from breaking the USP of this car is it's soundproofing in cabin aka cabin noise. This can be a little disorientating at lower RPMs because of very minimal outside noise. At higher RPMs, only a minor amount of engine noise is audible and one can easily enjoy the music on stock audio system.
Conclusion – Apart from the lack of VSA, the car, just like 8th generation is controllable on road legal speeds. Since majority of the population don't have access to performance cars, they misconceive the mass produced lower end cars as performance vehicles and thus try to test their limits on local roads. Yes, there are some faults in the 9th gen Civic (namely its higher ride height and very quiet cabin.) All of these coupled together with a soft suspension, the 9th generation Honda Civic is a very good family but a very bad car to take on higher speeds. Partly because of culture shock of quiet cabin, EPS and soft suspension, which leads one to overestimate turning circle & stopping distance; and partly because of increased acceleration.