Islamabad Traffic Police (ITP) is taking strict action against people who don't wear a helmet while riding a bike. Last year, in the city, the police has issued 96964 tickets to bike users who ride without a helmet, while confiscated 4532 motorbikes as well. The authority is not only trying to take harsh measurements against law-breakers but, also educating the people regarding road safety and traffic rules and regulations.
The education wing of Islamabad Traffic Police, last year, organised 806 educational events to teach the locals about road safety and appealed the bike commuter to always wear a helmet while driving for their safety and the safety of their family. In these educational events, 207479 citizens participated.
RELATED: Tyres for Sale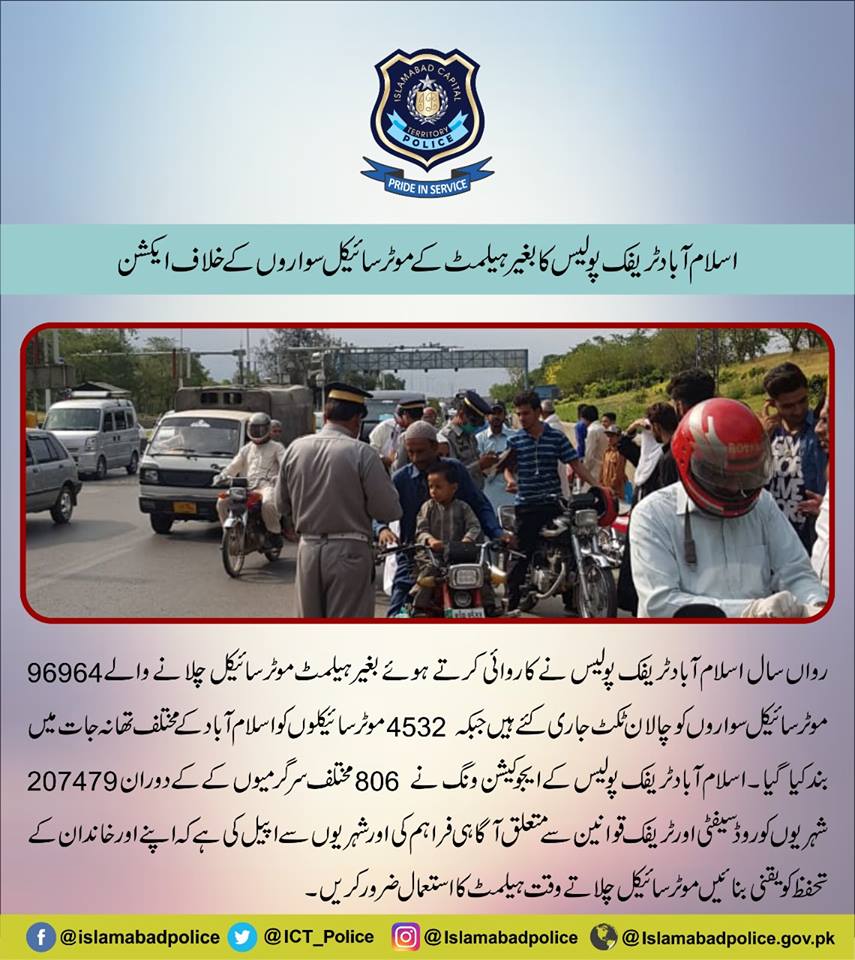 Read Also: Islamabad Traffic Police Fine 15,167 People in Just 15 days
Arranging the educational events to aware people is indeed a great step by the authority, but the locals argued that the traffic police doesn't issue the ticket to bikers, whose bike number plate belongs to any government department, for not wearing a helmet. However, on the other hand, the authority has denied this notion and has explicitly said many times that they are taking action irrespective of who is driving the bike or which department the vehicle belongs to.
Anyone violating the law will face serious consequences, the authority stated.
ITP is not only taking strict action against bikers who don't wear a helmet, but also commuters who are using tinted glass vehicles.  
What do you guys think about the efforts made by ITP, tell us in the comments section below?