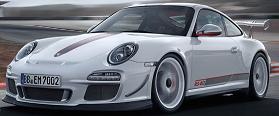 It's a Beetle? No, it's the last Porsche 997 of the 911s
Although I wonder why they call it the last Porsche 997 911 when all of 911s look the same roughly put but Porsche has made a very special GT3 RS to say bid farewell to the 997. This special GT3 RS version is equipped with a 4 liter flat-six engine producing 493 BHP and 339 lb-ft of torque which pushed the 2,998 pounds heavy last of the thousands of 997 variants around the Nurburgring in 7:27, slower than the GT-R but faster than the Carrera GT.
Although many were expecting Porsche to deliver a road version of full-spec RSR race car however, along with many notable improvements over the GT3 RS, the most significant is the engine which from the Porsche RSR.
The power improvement comes as no surprise as the Porsche GT3 RS did lack a few horses to catch up with the super car royals. Many auto journalists had conveyed their thoughts about this to the Porsche GT boss Andreas Preuninger and he listened. But timing is of the essence hence GT3 RS 4.0 has widely benefited from the GT2 RS project and now – in the auto-blogosphere, even though everyone is critical of Porsche's design fundamentals but, this is the ultimate driver's car.
When the 997 was launched after the 996, little had changed in design aesthetics apart from the light makeover. However, the GT3 RS 4.0 will do 0-60MPH in 3.8 seconds and hit 124 MPH in under 12 seconds with the top speed of 193 MPH.
Only 600 will be made which sold out before we even complete reading this article however, if you find a chance to book one of these, then all you need is US $ 185,000.