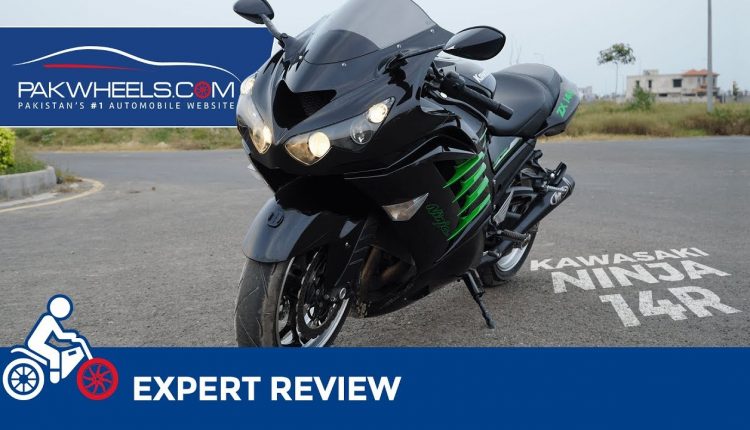 Kawasaki Ninja 14R More Comfortable Than Hayabusa – Expert Review
Today, we are here with an expert review of superbike Kawasaki Ninja14R.  If we talk about its history, Kawasaki launched this bike in 2006 and in some regions it was named as ZZR 1400. From 2006 to 2011, the bike remained under production and then in 2012, a modified version of this bike was introduced. Since then there is no change in this bike.
Comparison with Suzuki Hayabusa 
Before 2006, Kawasaki's high displacement bike was ZZR 1200. But then Suzuki introduced Hayabusa in 1300cc category and become world's fastest bike as its speed ranged from 312-320km/hour. To compete in this category, Kawasaki launched 14R in 2006 but still Hayabusa remained popular than this bike.
If we compare the salient features and specs of these two bikes, Hayabusa is 1340cc, producing 197hp and 138Nm torque, while this bike has 1441cc engine which generates 207hp and 153Nm torque.
You can read a detailed comparison between these two bikes here. 
Engine of Kawasaki Ninja 14R
The bike has DOHC liquid cool 4-Inline engine with 16-valves. Furthermore, it has 6-Speed Transmission with Hydraulic Clutch.
Look and Comfort 
In comparison with Hayabusa, this bike's handling and ride is more comfortable because its weight distribution is very good. In comparison the weight distribution of Hayabusa at rear is a bit heavier. Also, the riding posture on this bike is much straighter as compared to Hayabusa, meaning it will not make you tired as quickly as its competitor does.
Brakes and Tyres 
The bike has 310mm Dual Disc Brake in the front along with Four Piston Caliper Brake System. It has 250mm Single Disc Brake with Single Piston Caliper in the rear. If we talk about tyres, the bike has 120/70 in front and 190/50 ones in the rear on 17-inch Ally Wheels. As this bike's Wheelbase is larger, you can install tyre of 205 size.
Suspension 
At front, you will find 43mm Inverted Forks while at rear you will have Mono shock which is Two-Way Adjustable.
Drive
The bike has Two Drive Modes with Traction Control, making its ride smooth, enjoyable as well as safe. Meanwhile, its body design is well placed as per its engine size. Its front is especially very recognizable on the road.  Also, its ride is more comfortable than 1000cc bikes.
Price
This bike is 2014 model and its current price in Pakistan is Rs14-16 lacs. Meanwhile, its facelift which was launched with Brembo Brakes costs around Rs18-20 lacs.
Maintenance 
The bike requires 4-liter of Engine Oil and with Oil and Air Filters, the cost of its maintenance is around Rs12,000, if you use proper Synthetic Oil of a good company.
Watch Video