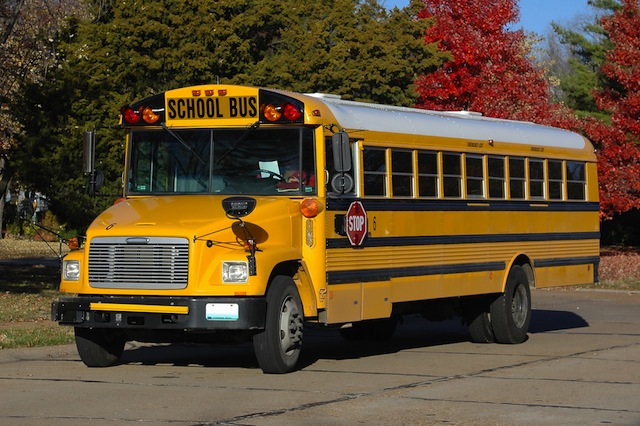 Laws Governing School Buses In Karachi Tightened – No CNG/LPG And Yellow In Color!
Traffic DIG Amir Ahmed Sheikh convened a meeting on Saturday, 1st August where the van owners were warned to remove compressed natural gas (CNG) or Liquefied Petroleum Gas (LPG) kits from their vehicles or face charges from the traffic authorities. One can understand from the fact that the Motor Vehicle Ordinance 1965 does not even set any criteria or standard specifications for these vehicles that transport thousands of school children every day. The traffic police department had issued several notifications to the van owners in the past but failed to keep a check or implement them in a proper way.
In the aftermath of the Gujarat school van incident in 2013, the then traffic police DIG Abdul Khaliq Shaikh had issued directives for school vans to ensure that all had a specific color, fire extinguishers, emergency exits, certified CNG cylinders, route permits and vehicle fitness certificates.
Moreover, the traffic police have written to transport Secretary Taha Farooqui, and Commissioner Karachi Shoaib Ahmed Siddiqui to issue a notification banning CNG and LPG from all school vans.
The traffic police wants to ensure a safe ride for school children and has suggested four main points that has to be followed by all van owners:
1) All school buses to be colored yellow. (Some news outlets have stated the color as blue)
2) No CNG or LPG kits in school vans, and will only be driven on either petrol or diesel.
3) There should be an attendant to take care of children in the van.
4) Driver or the attendant will not smoke inside the van.
5) It will be criminal offense to take the bus to the petrol filling station while the kids are inside.
6) Music will also be not allowed in the school van.
7) Seating more children than the actual seating of the bus/van is not allowed.
If someone is found violating the rules, a police mobile will stick with the van until all the children are dropped safely at their homes, then the vehicle will be impounded and both the attendant and the driver will be taken into custody.
Regional Transport Authority's (RTA) secretary, Manshad Ali suggested that it would be difficult to color all vehicles yellow as it would pose a security threat, therefore it would be better if the vehicles are labeled and given special protocol by the police and would have different set of laws implemented on them.
However, Traffic police spokesperson said that a special committee was formed to research and then devised the rules for our school children as they are self-witness to school bus drivers over-stuffing and driving recklessly on the roads and that should not have happened. The deadline for children's parents and bus owner is set for 21st of August.