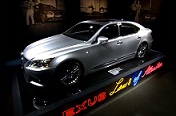 Lexus reveals the new 2013 Lexus LS 460, 600h L and LS 460 F SPORT
Automakers take different routes when it comes to revealing their new model cars and so has Lexus, but a completely different, and a new route.
It was sort of the footage you see by news channels when a new product has of a very popular old products. They touch a bit of history of that product, than go off to interview the people in-charge of the designing, creating and producing the new product and finally, showing off the new product in more angles than you could ever imagine.
Revealed at a San Francisco event, the first video is more of a live-broadcast type footage of the debut ceremony whereas the second video, shows the history and industry firsts of the LS range.
A total of four models were revealed on this occasion: Lexus LS 460, 600h L and LS 460 F SPORT.
LS 460:
The 2013 Lexus LS lineup includes the LS 460, LS 460L, LS 600hL hybrid, and the first-ever LS 460 F SPORT. LS 460 and LS 460L are available in RWD and AWD. The LS Hybrid is available with a full-time AWD system.
All 2013 Lexus LS 460 models are powered by a 4.6 liter V8 making 386-hp at 6,400 rpm with a maximum torque of 367 lb-ft at 4,100 rpm. Mated to a 8-speed sequential shift automatic transmission, 0 to 60 mph takes a nice 5.4 seconds (5.9 for AWD) with a top speed of 130 mph. Fuel-economy figures come in at 16/24 mpg (city/highway) or 19 combined and 16/23 mpg or 18 for the AWD 460.
The 2013 Lexus LS 600h L Hybrid is powered by 5.0 liter V8 making 389-hp and 385 lb-ft of torque. The engine is mated to a hybrid system with two electric-motors allowing for a total system output of 438-hp. Mated to CVT and and AWD system, the LS 600h L goes from 0 to 60 mph in 5.5 seconds with a top speed of 130 mph. Estimated fuel-economy figures come in at 19/23 mpg or 20 mpg combined.
LS 460 F Sport:
The 2013 Lexus LS 460 F Sport adds F SPORT seats with larger bolsters, a leather-wrapped steering wheel with paddle shifters and genuine aluminum trim. It also gets some sporty character with a sport tuned air suspension that has been lowered 0.4 inches, a Torsen limited slip rear differential (RWD model), Brembo 6-piston caliper brakes and 19-inch forged wheels with summer or all-season tires.