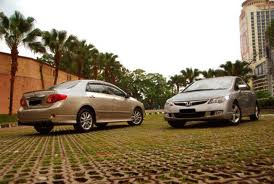 Local auto industry: Ban car imports!
After Indus Motors and Pak Suzuki had announced to keep the plants closed for a few days to level their production volume with the demand, which has been slow, now the local auto industry has laid blame entirely upon the used car imports and are initiating a drive to ban them completely.
Although it is highly unlikely that the government will ban car imports entirely, however, a few corrective steps are not out of questions.
As PAAPAM, in short local auto suppliers who have sought for ban on imports have raised the issue of Japanese cars with radiation and demanded  of the Pakistan government as well as Japan to certify all imports into Pakistan to ensure radiation-free vehicles.
"Local industry provides jobs to our people and I will continue to support them," Hashmi replied, when asked if the nuclear radiation idea is propaganda to panic buyers of used cars in the country.
Pakistan Atomic Energy Commission have not certified whether Japanese cars are non-hazardous or not, Hashmi said on a question.
He further said that the government, pursuing flawed policies implemented Euro-2 standards on the industry without even ensuring that Euro-2 standard diesel was available here or not.
If government does not react wisely soon than almost 2 million employees could lost their jobs.