Limited Edition Corolla GLi – Can you make one cheaper?
The first question when buying a car on a limited budget is that what do you really need? You ponder over the ergonomics offered by the car such as; size of the car, automatic or manual transmission and fuel mileage. Corolla is one of those cars aimed at buyers with limited budgets so it is a relevant question but ever since Toyota made us move windows up and down through moving a lever in a clockwise and an anticlockwise way even after paying 1,534,000 PKR (price of Corolla XLi at the time of writing), one wonders, is it a relevant question anymore?
Such an amount will get you seated in better places, where you will be offered ABS, and buttons for almost everything including, to move windows up and down but except a button, pushing of which will make a hand come out to scratch your back.
Toyota Indus, in all its wisdom and foresight saw it coming and therefore, brought the GLi with ABS and buttons incase you are not fond of engaging in the exercise of moving windows up and down through the aid of a lever.
However, the sudden influx of imported cars gave cautious Pakistani buyers things they've never seen or heard before. Rear camera suddenly became a common thing. And resale was never an issue anymore, people just bought these cars. The cautious Pakistani buyer entangled in the fear of resale was was slowly disappearing.
A friend who owns a 2007 Honda City recently drove his colleague's 2010 Toyota Vitz and went all crazy afterwards. Upon our inquiry what's driving you so mad to which he exclaimed, 'BUTTONS!'. The car was a nerdfest as everything was automated and all you had to do is just push it to make it happen.
So then, today we stumbled upon this Limited Edition Toyota Corolla GLi and immediately indulged ourselves in the research of what's so special about it and can it really cost an additional 45,000 PKR?!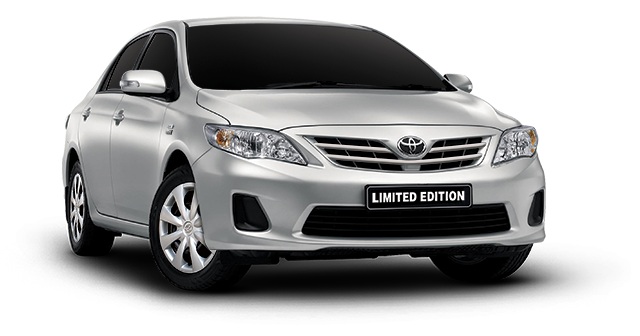 The GLi was originally coined to be a automated variant in contrast to the all-manual XLi but then GLi was only limited to power steering and windows and ABS brakes so there must be a few more buttons introduced to the Limited Edition GLi to battle the nerdfest offered in the imported Toyotas and Hondas as we thought but we were wrong.
There are no additional buttons, there's barely noticeable additions to the passing eye. The most noticeable feature will perhaps be the badge of 'Limited Edition' which we guess it shall wear. Other then that, it has;
1) Hi-grade clothe used for seats;
2) three pieces of wood panels for the dashboard;
3) a Chinese (probably) NAV system;
4) and matched color door handles.
The normal GLi is for 1,669,000 PKR and the special edition is for 1,714,000 as mentioned on Indus Motors' website, so you're paying an additional sum of 45,000 PKR for the four add-ons?
The question now is, can you have all those four add-ons for less than 45,000 PKR? Let us know in the comments to help buyers make their decision.