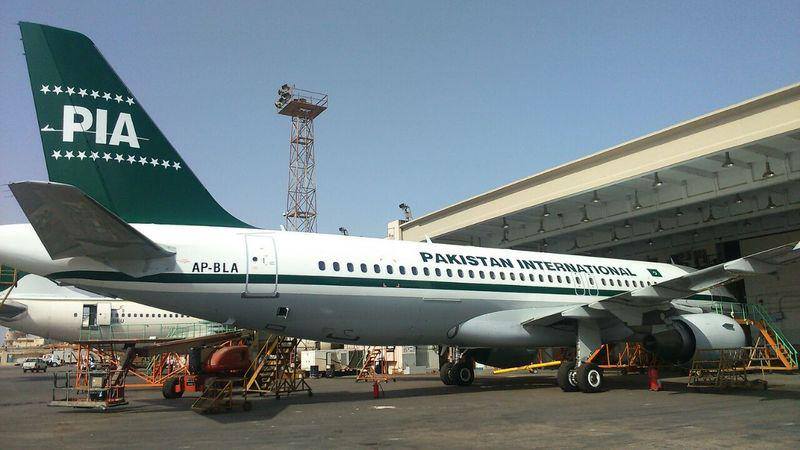 A Look Back At PIA's 60 Year History
As you might have heard, PIA has painted its Airbus A-230 in the color scheme of the 1950s to celebrate its 60 years of service, starting from 1955 till 2015. If only the rest of the PIA was as glorious as the years it has spent in service of the country. Unfortunately as we are all aware, it is not.
Let us revisit history to good old times when the airline was founded and had its most glorious years to date. Before independence took place, Jinnah collaborated with Mr. M.A Ispahani who was a leading industrialist of that time to set up an international airline because it was crucial for the two wings of Pakistan – East and the West to have a means of transportation. An airline by the name of Orient Airways was established on 23rd October, 1946.  PIA officially came into being on January 10, 1955 and the company did increasingly well, year after year. Men like M.A. Ispahani, Zafarul Hassan, Rafique Saigol, Nur Khan, Enver Jamal and Asghar Khan drove the company to profits and incredibly impressive international reputation, all thanks to their sincerity and undying devotion for their country's welfare.
If you see the image below, this a 1966 advertisement of the 50th anniversary of Boeing Company and it displays the uniforms of pilots belonging to the top 55 airlines in the world (the one circled red is PIA). The advertisement read: 'Look up to the airlines whose pilots wear these emblems. They're the 55 airlines that fly Boeing jets. They've already flown 132 million passengers in wonderfully comfortable Boeing 707s, 720s and 727s. And they've made the world smaller by bringing Boeing jet travel to 301 cities in 121 countries. Next time you travel, go right to the top. Fly with one of these 55 leading airlines.'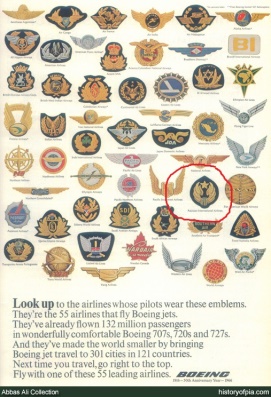 Indeed what an honor it must have been to be in that prestigious list for our country. Excellent airline service has a huge impact on how the rest of the world perceives a country – they might stay for a short while and not get to know the people well but for anyone and everyone who takes the first trip to Pakistan, the airline and its crew and service would the first point of contact; the first opportunity to make a positive impression. That is what a great service is about anyways, isn't it? Not letting your customers down.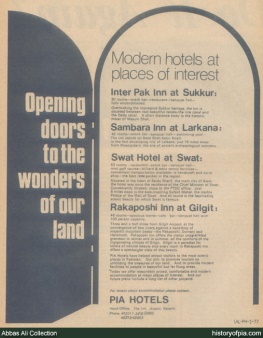 PIA handled the entire service from a holistic perspective; providing information on the modern hotels (seen in the brochure from the 1970s above). On November 20, 1970 PIA introduced flights from Decca to Amsterdam from Islamabad. Regional Cooperation for Development was established at this time by Pakistan, Turkey and Iran. Advertisements of that time would show images of mosques from the cities of these three countries and Islamabad was represented by Lal Masjid.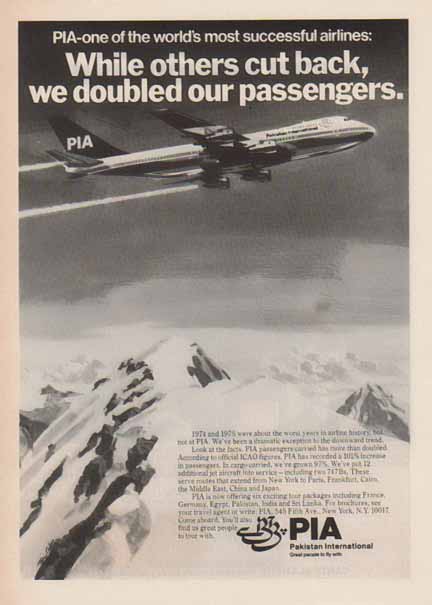 Apart from this honor, PIA was also one of the most recommended airlines in the world by Independent European Agency – what excellent management it must have been handling PIA back in 1982 when at the stroke of 9 am every morning, the staff would meet in the airline's Operations Room to review the details of the previous day. This was done to help pinpoint the issues that could then be addressed by the concerned authority as well as made the system transparent. It was recommended and praised not only by agents but travellers too had nothing but the best to say about it. In the 1980s, baggage loss was a huge problem for the international airline industry and PIA of course was also a part of it, IATA would publish reports stating that airlines worldwide spend more than $150 million in meeting passenger claims for lost or mishandled baggage. One thing that set PIA apart from the rest was its honesty in admitting its shortfalls (which is a very brave step for a service to do, considering their reputation depends on their quality of service). Customers would be frustrated (and rightfully so too) in case of mishandled or lost baggage. In 1979 baggage loss claims received by PIA did not exceed 1.3 per 15,000 pieces handle while many of the world's major airlines reported baggage loss claims of more than 4 to 5 per 15,000 pieces handled despite being equipped with sophisticated airport technology including automation and computerization. It was because of this impressive ratio of PIA that investors were confident and had reduced their insurance premium by more than 10% for 1979.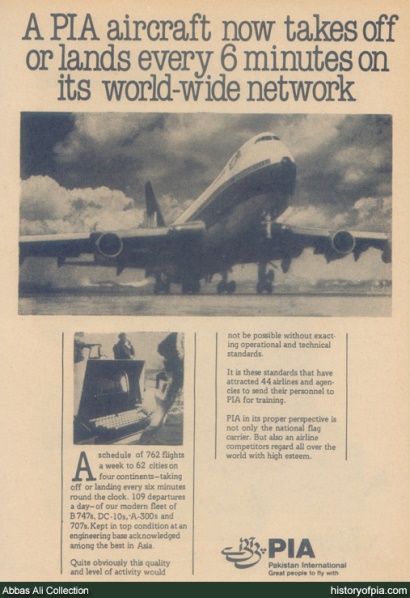 As this advertisement from 1981 makes it obvious, such quality and level of service would not have been possible if PIA did not have excellent operational and quality standards. 44 airlines sent their staff for training to PIA.
Of course, this is a story which takes an unpleasant twist and for sure it did. The downfall of PIA started after separation of East Pakistan because of which it lost 40 percent of its inter-wing traffic. After that, the MD AVM Zafar Chaudhry and his deputy, Air Commodore Khaqan Abbasi, recommended reducing the fleet, routes, staff and frequency of flights by half to help save it. They also recommended selling off excess aircraft but Bhutto refused and appointed Rafique Saigol to help the airline and he did. The PIA was back on its track, progressing greatly.  it by half in every which way: fleet, routes, frequency of flights and staff. The duo also recommended selling or leasing excess aircraft to make up for lost revenues. Political interference was forbidden; even the Prime Minister's request for delay of an aircraft was refused straightforwardly. Downfall started and was here to stay when Zia took over and PIA's demise started.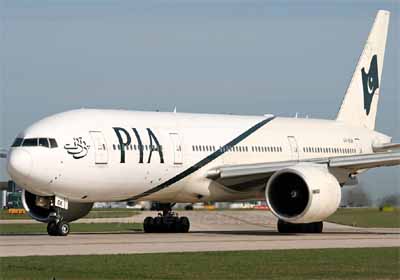 After Bhutto, in 1981 when the Zia government imposed MLR-52, PIA then had 24,000 employees. Five thousand were fired overnight. And from then onwards, PIA has never been the same anymore.
Flight delays, cancellations, sagging seats and soggy seat covers, dirty outlook, failing equipment and a high staff to aircraft ratio (it currently has more than 400 employees per craft) are a few of the issues that have created trouble for the airline. There more spent than is earned in revenue and this is leading to the downfall of a once glorious airline. In 2013, three male flight attendants were arrested by the Manchester police after a British woman complained of harassment against them. Then shortly afterwards, Co-pilot Captain Irfan Faiz Chishti was arrested because he was suspected of being under the influence of alcohol as he boarded a plane in England.
Fast forward to the future; where it was and where it is now shows the kind of demise one can only see in movies to be honest of empires in those crazy action flicks we see; PIA is that airline which was the first from Asia to receive maintenance approval from US Federal Aviation Administration and in 2007 it got banned by the European Union. Despite financial and several other constraints it faced in the start, looking at its history one can see that PIA had managed to perform better than many of the world's best airlines – as Pakistanis, we know that our airline indeed has the potential to be the best in the world given that it is handled by excellent and sincere administration and policy makers.