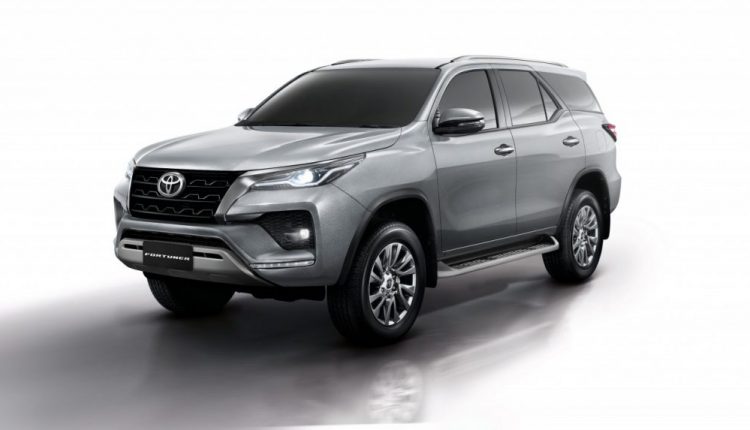 Toyota Fortuner Facelift is Here – Specs and Features!
Toyota Indus Motors (IMC) has brought a major facelift of Toyota Fortuner in Pakistan. As before the car would come in three trims, i.e., Toyota Fortuner Petrol (V), Fortuner Petrol (G), and Fortuner SIGMA 4 Diesel. 
The first major is in Fortuner (V) Petrol, top of the line variant, and that is it will now come in 4×4 Power Train. The SUV is currently available in 4×2. However, it is pertinent to mention that this variant used to come in 4×4, but was shifted to 4×2 after Fortuner diesel SIGMA launched. 
Furthermore, the reported primary exterior would be, Slim Front Grille, Black coloured roof, enhanced front/rear lights, skid plates in the front and silver-coloured side footsteps. By all these changes, we are expecting; the new variants would be close to Fortuner Legender, which has already been launched in Thailand.
The Fortuner SIGMA comes with 2755cc diesel engine 201hp at 3,000 to 3,4000 RPMs and 500Nm torque at 1,600-2,800 Nm torque. Meanwhile, Fortuner V has 2694cc engine, with 163hp at 5200RPMs and 245Nm torque at 4,000 RPMs.
The Fortuner G has 2694 petrol engine, generating 163hp at 5200RPMs and 245Nm torque at 4,000 RPMs.
Further Changes:
Further changes in new Toyota Fortuner are:
Different Slip Differential (LSD) which limits the wheel slip during acceleration

Increased Engine Power 

Enhanced Fuel Efficiency

Steering Change to VFC, meaning steering would be soft on low speed, and hard on high speed.

Three Driving Modes (Eco, Sports and Normal)

LED headlamps (Front + Rear)

New Alloy Designs

Rear Power Door

Front Electric Seats in Top Variants, i.e., Fortuner (V) and SIGMA

Android in Head Units of All Three Variants