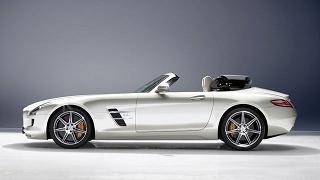 Mercedes Benz roofless SLS AMG finally introduced
The year 2011 marks the entry of so many super cars that looking back at the names sort of surprises me due to the sheer strength and influence of these names. Ferrari 458 Italia, McLaren MP4-12C, Pagani Huayra and Lamborghini Aventador but while all of them have just been produced in the coupe format, Mercedes Benz has been quite quick with the SLS AMG Roadster (convertible).
We all know the SLS AMG is based on the famous 300 SL Gullwing and Roadster, the SLS AMG's design was the direct successor of the 300 SL which had a convertible as well in the line up. German engineers went so far ahead that apart from the Gullwing doors and 0.1 second from 0-60 time, the SLS won't loose anything else.
The roof is made up of fabric which makes it a soft-top supported by a structure of magnesium, steel and aluminum can open and close in eleven seconds, even on speeds up to 31 Mph. Mercedes has also equipped the roadster with AirScarf neck-warming system along with a glass win-breaker followed by roll bars covered in leather.
Another new tech feature the SLS AMG Roadster shall arrive in the showrooms this fall is AMG Performance Media, it is a multimedia system that displays all your readings in real-time such as engine oil, coolant and transmission fluid temperature, engine output, torque and accelerator position, individual tire pressures, acceleration time from 0-60 mph or quarter-mile time and lateral and linear acceleration combined with braking performance and accelerator position, it will also record lap times as well.
Enjoy the photos of the new SLS AMG Roadster.