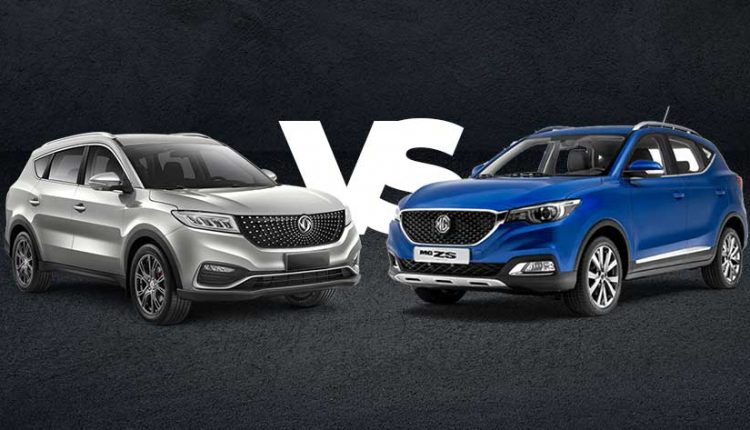 MG ZS Vs. Glory 580 Pro – A Comparison
Continuing over car comparison series, we are going to compare recently-launched MG ZS and not-so-old Glory 580 Pro. Both vehicles are fresh entrants in the growing SUV sector of Pakistan and hopefully they will be major hits. One of the major reasons behind their potential success is the price, as both have relatively low rates compared to other compact crossover SUVs in the local market. 
So, get ready because here is a joyful ride of car comparison for you. 
Engine and Transmission: 
MG ZS comes with 1490cc Naturally Aspirated engine, which produces 113hp and 150Nm torque. Meanwhile, Glory 580 Pro has a 1498cc Turbocharged engine, generating 150hp and 220Nm torque. Henceforth, Glory Pro is a clear winner in the category as it has a turbocharged engine, along with more hp and torque. 
Furthermore, MG ZS has 4-Speed Automatic Transmission, while Pro comes with CVT, making the latter a winner again.
Front Lamps and Tyre Size: 
If we look at MG ZS, we'll find that the car has Halogen front lamps, while 580 Pro comes with LED lights. Moreover, the MG's car has 17-inch alloy wheels against Pro's 18-inch ones. So, Pro has better headlamps, along with bigger alloy rims. 
Interior: 
Both crossover SUVs have Leather Seats; however, they are Electrically Powered in Pro but manual in MG's SUV. Also, MG has installed an 8-inch infotainment system in its car, while DFSK offers 9-inch Floating Display in its vehicle. 
More importantly, Pro has 7-person Seating capacity, while 5-people can sit in ZS.
Safety: 
On one hand, MG ZS comes with 6 airbags, while on the other hand, Pro has 4, making former a safer SUV. Additionally, both cars come with Electronic Stability Program (ESP), making them equal in this regard. 
Rear Camera and Parking Sensors: 
Both Pro and ZS come with Rear Camera and Parking Sensors, mean that both are head-to-head in this comparison. It means it is effortless and convenient to park and reverse in tight spots. 
 Sunroof and 360 Camera: 
580 Pro has both Sunroof and a 360-degree camera, which have not been offered in its competitor. 
Price: 
Now, the most important comparison. The price of MG ZS is Rs4,099,000, while the current rate of DFSK's SUV is 4,549,000. So, it means Pro is Rs4,50,000 costlier than its MG's vehicle.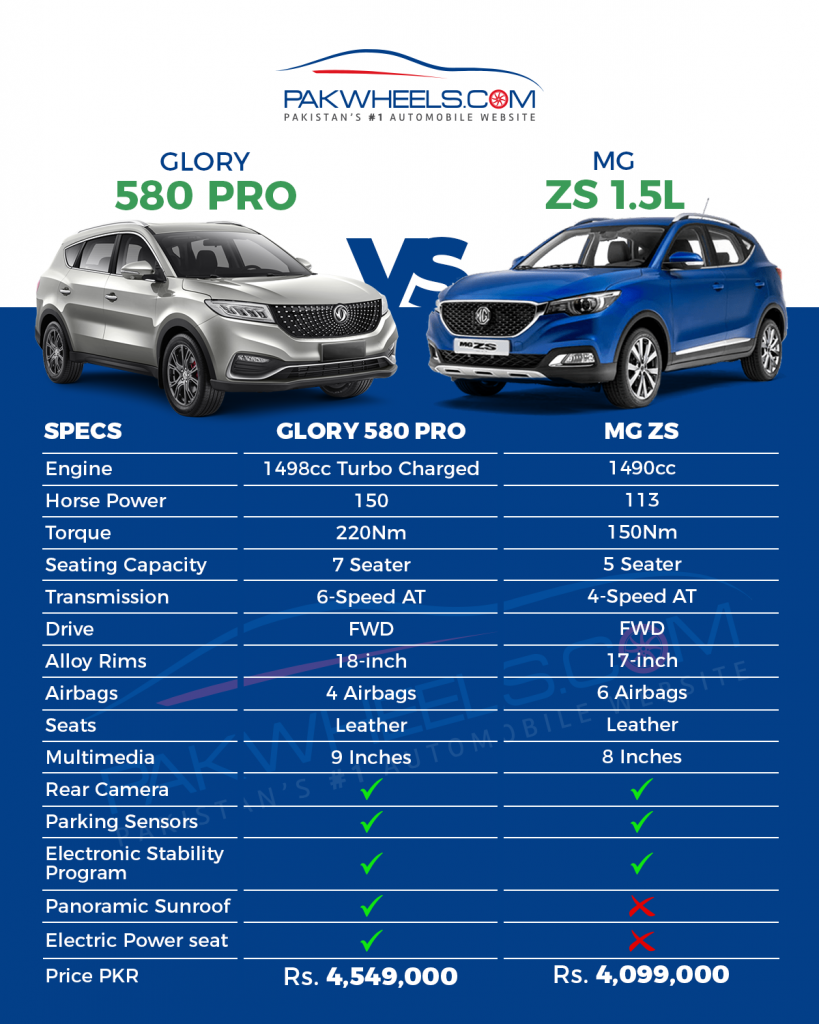 You can check the comparison between MG ZS and KIA Sportage Alpha, here.