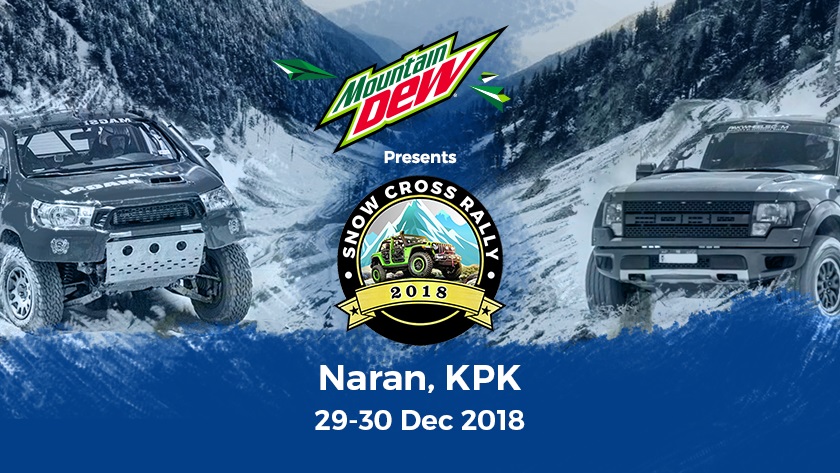 Mountain Dew presents Snow Cross Rally 2018 – Here is what you need to know
Pakistan is undoubtedly a beautiful country. It is filled with every kind of natural beauty you can imagine. From the thick forests to deserts, to the rivers, to the snow-covered mountains, we have everything in this amazing land.
The northern areas of Pakistan have started to see an increased number of tourists as compared to the previous years, thanks to the continuously improving peace, road network, and people becoming aware of the demanding driving and road conditions. And to bring the area into more limelight, Frontier 4×4 Club in collaboration with Mountain Dew is again organizing annual Snow Cross Rally in Naran. Previously, it was held in Lowari.
It will be a two-day event, On 29th of December, all participants will arrive in Naran and in the next day 30th December the races will take place. The schedule is mentioned below:
The event will start at 10 am sharp
Closing timings 12:30 pm
Free time 12:30 -1:30
Prize distribution 2 pm to 3 pm
Moreover, 4 types of vehicles will be taking part in the event which is as follow:
Category A: 1991 and newer 3400cc and above
Category B: 1991 and newer 0 to 3400cc
Category C: Older than 1991 all turbo diesel and petrol 6 cylinder
Category D: Older than 91 non-turbo diesel and 4 cylinder petrol engine
Note here that over 40 vehicles will be participating in the event. Our country has been going through tough times lately, and previous few years especially, have been difficult. Helping organize such events not only brings healthily and positive activity to the people but also shines a light on the hopeful future of our country. We hope to see such events in the northern areas of Pakistan more and more.