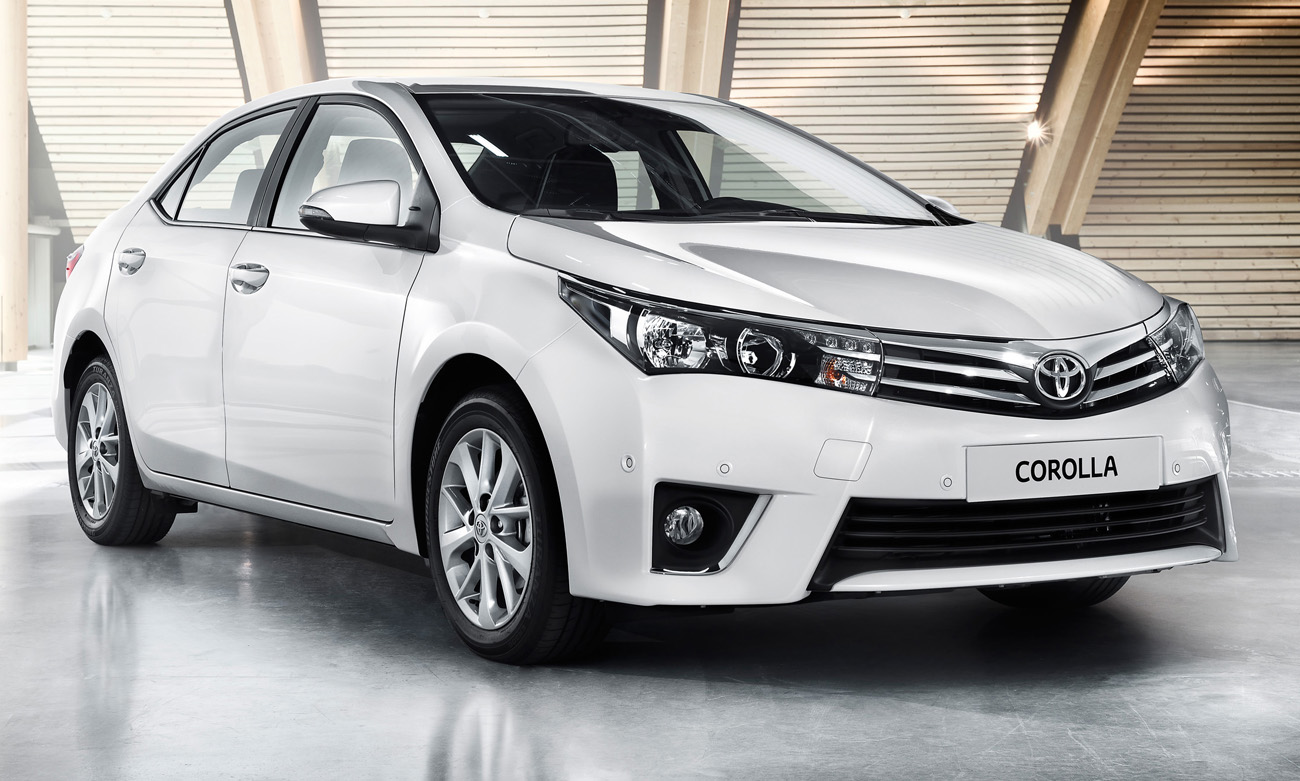 Toyota Corolla 2014 – Dealership Review
It has been quite a few days since the 2014 Toyota Corolla Altis 1.8 was moved into the dealerships allover Pakistan and it began popping up over on our newsfeed. I, like many others, was waiting for some details and pictures of it until my curiosity took me to one of the dealerships. There was earlier an article about Corolla getting ready for display at a dealership but that was before the official display.
Anyway, I visited Toyota Garden Motors in Lahore and though it seemed to be a very busy time for the dealership, as almost every type of customer was stopping by to have a look at the new model of Toyota Corolla. Since we, PakWheels members don't get such support from automakers except a few, I managed to get enough time at the dealership to write a dealership review on different aspects of this car:
Exterior:
Good. In fact, very good. Far better than the previous one and the one before it and the one before. It's sleek, sharp, and at the same time curvy, as you may expect from Corolla. I reckon that one can easily tell its a Corolla at the first glance, which is a good thing, and a bad thing too, but it does manage to keep its presence far better than Civic. There are chrome trims on door handles and turn indicators on side mirrors, a chrome grille at front and a chrome strip at the back, above the license plate. The wheels are the same size as previous model, with alloys as standard in the Altis category.
Sorry for no shots of the front, don't know how I forgot it.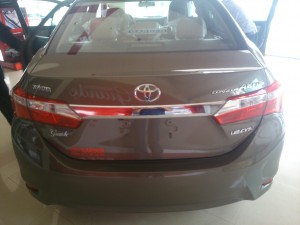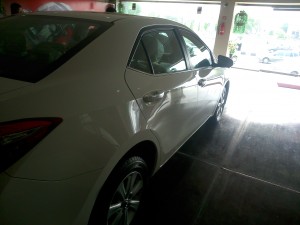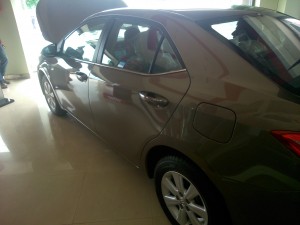 Interior:
I was very much doubtful as the discussions on forums and pictures, both were disappointing. But it's not bad. It seems simple and modest. The steering wheel is sturdy, solid and tough. The three spokes hold a leather grip in the Grande and a plastic one in others. There are some multimedia controls on left spoke in Grande whereas the other ones are blank. It would have been better to have some controls on both spokes as it seems out of proportion. The cruise control stick is standard on CVT versions. The Grande also has Paddle Shifters which is a new thing for Pakistani market.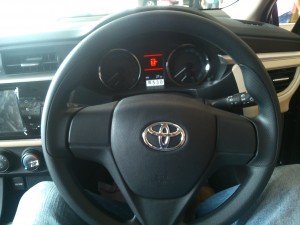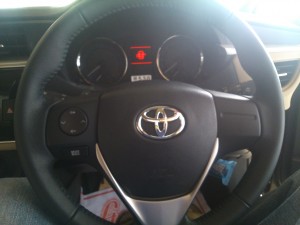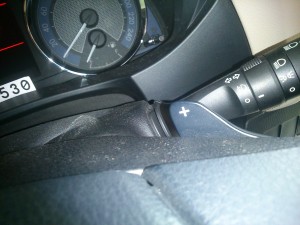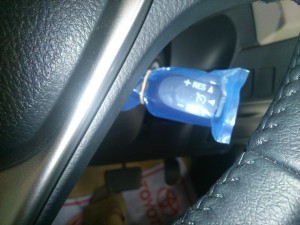 The meter cluster is also one of the best. Again, it's simple, no extra things, just a blue background and thin needles, and unfortunately that's all about it because they weren't allowing to turn the car on.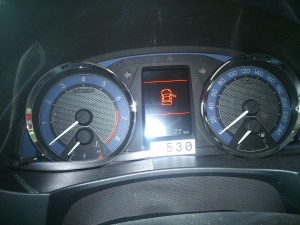 The Dashboard is the part where most of Corolla fans were disappointed, as was I, but it's not that bad. Toyota have tried to give it some humbleness and simplicity and they have done it quite well. It may resemble the 70's Corolla but in a refined, very refined form, which looks impressive.
The two tone plastic comes in black and beige and the plastic feels solid, not in any way cheap as some were predicting (it may be because it was new). There's a standard size glove box on passenger's side and a touchscreen display in the middle, under the AC vents. There's no climate control, just a simple AC with three regulators under the display, which is disappointing. If not in all, then at least in Altis or Grande version should they have given it.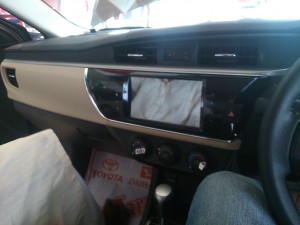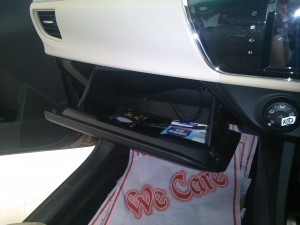 The gear stick is a gate type in CVT versions and a six speed manual stick otherwise. Two cup holders reside behind the gear stick and beside the hand brake.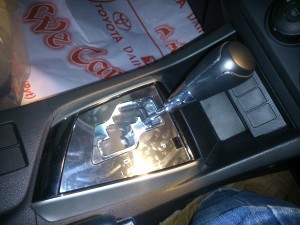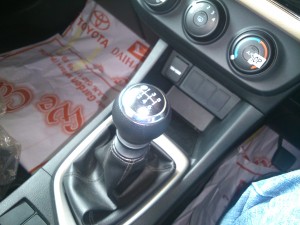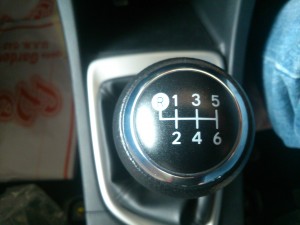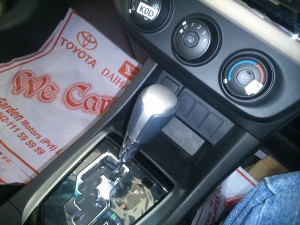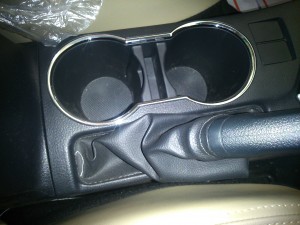 The seats are comfortable and soft, as expected from Corolla. The standard ones are fabric, while Grande has leather seats.The legroom is amazing. Even with the front seats fully backed up, I was able to sit easily in the back seats, my knees weren't touching the front seats (which is one of my major problems as I am 6'1″). The rear seats recline forwards to give access to the trunk from inside.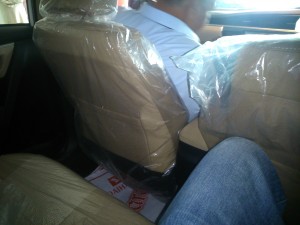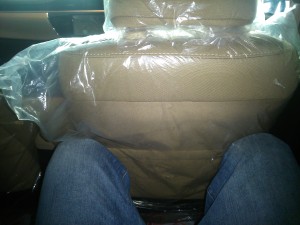 Engine and Transmission:
It's a 1.8 liter, four cylinder VVT-i (2ZR-FE), producing around 130 horsepower. As it's only 1.8 Altis which is displayed, the details about 1.6 and 1.3 engines are vague but the 1.6 is expected to be 1ZR-FE. It's been mated to a six speed manual in Altis, a virtual 7 speed CVT-i in Altis CVT and Altis Grande. The 1.6 variant will come with only automatic transmission while 1.3 will have both manual and automatic, and both of them will be launched either by the end of this year or the start of 2015. The new CVT-i transmission is first to come after Honda City Vario and it's not something related to VVT-i which is an internal engine technology, I heard some guys confusing the two so I considered it better to clarify.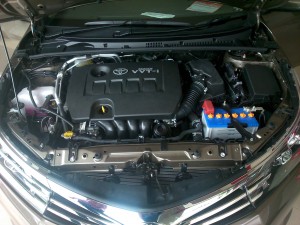 Trunk:
Of course anyone can tell, Corollas are famous for bigger trunks, and that is the case with this one too.