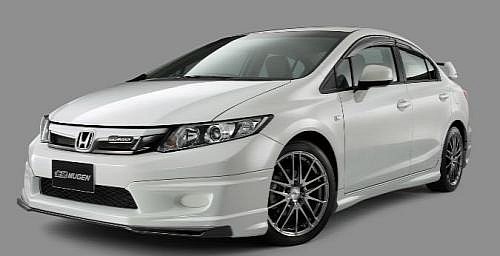 New Honda Civic receives Mugen makeover
The Civic is a sports car for people on a tight budget, but over here, it has gate-crashed into a elite party where it is a misfit, and although Honda Civic may be blown out of proportion by its stupid price but in the world, where it has remained in its own class, the Civic has received the most famous modification treatment that fans look after; the Mugen treatment.
Honda's in-house tuner have finally put together a body-kit for the ninth-generation Civic sedan and has revealed some photos.
The body kit starts off with a two-piece front spoiler, continuing with big side skirts and a rear bumper that protrudes lower to the ground. There's also the obligatory huge rear wing added to the boot lid for extra style and presence.
Mugen has also designed a new grille with their logo on it and offer multi-spoke 17-inch alloy wheels. If you'd like your car to sound like that Type R which you've always dreamed of, Mugen can also sell you a sports exhaust for the 1.8-liter engine.