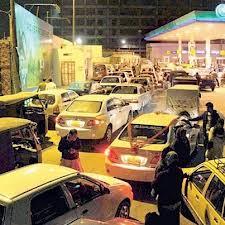 New pricing formula for setting CNG prices devised by OGRA
On Supreme Court's order, OGRA was working on a new pricing formula for setting up CNG prices and it has completed that task and according to the proposed new formula, CNG price would be raised by Rs 10.56 to Rs 72.20 per kg in Region-I (comprising Khyber Pakhtunkhwa, Balochistan and Potohar region), and at Rs 63.76 in Region-II (Sindh and Punjab).
This is the second proposal presented by OGRA and the suggested prices are Rs 2.5 less than the previous proposal.
All Pakistan CNG Association, have however rejected the prices and accused OGRA for defying Supreme Court's order by sending the proposal directly to Ministry of Petroleum even though they are also defying court's order by shutting down the CNG stations against the prices that were slashed by the court causing mass inconvenience to the public.
A spokesperson from the CNG Station Owners Association said station owners could not sell gas at the current price and have decided to keep their filling stations closed until their demands are met.