Nico Rosberg wins F1 World Championship 2016
After an intense Abu Dhabi F1 GP, the race was won by Lewis Hamilton; while Sebastian Vettel won many hearts for his superb drive to 3rd, however, the biggest winner of the day was Nico Rosberg, who claimed the F1 World Championship 2016 by 5 points after clinching 2nd place in the race itself.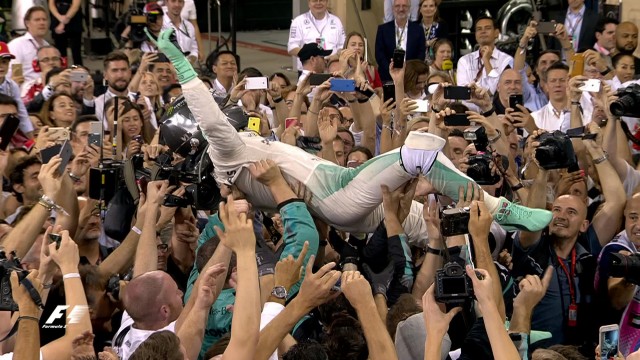 Before the start of the race, Rosberg was 12 points clear of Hamilton, so it was clear for him that he needed to finish at least 3rd if Hamilton won the race to become the champion.
As the lights went green, Rosberg was on course to his title hopes, as he settled for 2nd place behind Hamilton, while the drama unfolded in the rear with Verstappen spinning up in the opening lap. At the beginning of the race, it may have seemed that the title was decided if the reliability gremlins do not hinder, which rarely do with Mercs; however there was more drama to unfold at the front end of the grid later on.
As soon as Hamilton had foreseen the fact that if he pushed hard and disappeared in the distance, Rosberg would follow, leaving the field behind and the chances of anyone else overtaking Rosberg or even tagging him, would be near improbable; he slowed the race pace down, allowing the lights of Ferrari's and Redbull to keep close proximity to Rosberg.
Hamilton was doing this to apply ample pressure on Rosberg so that he may yeild, make a mistake and drop down out of contention of the championship win, however he pushed on, fending off Verstappen in the mid-section of the race.
The hardest of the challenge later came in the form of Vettel, who had bolted on fresh super soft tires while the rest of lead group had old sets of soft tires. He charged through the field 2 seconds faster than any other car present on the grid, first taking down his teammate, then Ricciardo and finally Verstappen and begun his charge on Rosberg.
The race engineer of Hamilton broke the silence on team radio exclaiming "You have to increase the race pace to win the race" however, Hamilton's response did not comply with the request. Rosberg was screaming on team radio for the same, however Hamilton had other ideas. Even a call from Team's director technical Paddy lowe, to improve race pace was in vain.  All this chaos resulted in Vettel closing down on Rosberg within a second with 3 laps to go. Rosberg however, fought valiantly and fended off a couple of attacks from Vettel.
As the chequered flag flew, the race was won by Hamilton but the Championship embraced Rosberg, who celebrated with donuts on the main straight.