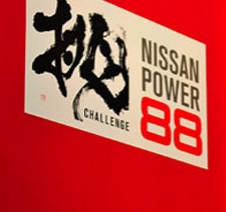 Nissan's new "Power 88" business plan: all new cars every six weeks for six years
Nissan was about to go bust until Carlos Ghosn stepped in to bring it out of the rubble and polish to shine so hard that Carlos Ghosn left an image in the hearts of the Japanese people as a hero. Today, Carlos Ghosn announced Nissan's new mid-term business plan which shall have all-new vehicles every six weeks for six years and Nissan shall also increase its brand presence in India, Brazil and Russia – sadly though, Pakistan was mentioned as we not know the fate of Gandhara Nissan and the curse of resale over life.
The Nissan Power 88 plan is effective immediately; the plan is bold and built upon four pillars "brand and sales power enhancement, growth, sustainable mobility and mobility for all". Power 88 shall remain in effect from this day till 2016. The plan is named "88" because Nissan aims to achieve eight percent of global market share and eight-percent operating profit which means that Nissan is will need 2.2-percent increase in market share and a 1.9-percent rise in operating profit versus last year's levels.
The major player for success in this strategy is rolling out – on average, an all-new vehicle every six weeks for six years to cover 92 percent of global market segments, launching 90 new technologies over those six years and reaching cumulative electric vehicle sales of 1.5 million units between Renault and Nissan.
Sales in BRIC (In economics, BRIC is a grouping acronym that refers to the countries of Brazil, Russia, India and China, which are all deemed to be at a similar stage of newly advanced economic development. Via Wiki) countries are expected to grow significantly, therefore, to support its efforts, Nissan is going to build factories where needed.
It can be said that Infiniti will also be promoted to whole new levels as sales are expected to grow from 150,000 to 500,000 by 2016 and a product portfolio of atleast 10 cars which will account for 10 percent of total global luxury market sales.
Carlos Ghosn has probably joined the race to compete in global sales because Mr. Ghosn sees this as necessary to meet future challenges however, actions speak larger then words and those actions will tell about how this Power 88 plan will come about for Nissan.
Press Release
"NISSAN POWER 88" MIDTERM BUSINESS PLAN ANNOUNCED
Plan emphasizes brand and sales power enhancement, growth, sustainable mobility and mobility for all
YOKOHAMA, June 27, 2011 – Nissan Motor Co., Ltd., today announced a wide-ranging, six-year business plan that will accelerate the company's growth across new markets and segments. The plan for fiscal years 2011 to 2016, called "Nissan Power 88," is effective immediately.
The name of the plan emphasizes key corporate goals: Nissan will renew its focus on the overall customer experience through actions that elevate its brands' power and sales power. By the end of fiscal 2016, the company will aim to achieve a global market share of 8% and increase its corporate operating profit to a sustainable 8%.
Highlights of Nissan Power 88 reflect Nissan's clear, global vision and strategic direction through fiscal 2016:
Nissan's extended new product plan will deliver, on average, an all-new vehicle every six weeks for six years. The company's global portfolio will have 66 vehicles and will cover 92% of all markets and segments.
The emphasis on sustainable mobility will continue, encompassing zero-emission vehicles and low-emission technologies that support PURE DRIVE. Cumulative electric vehicle sales for the Renault-Nissan Alliance will reach 1.5 million units.
"Mobility for all" will expand with dedicated new cars and light commercial vehicles (LCVs) developed for entry-level segments and emerging markets.
Nissan will introduce more than 90 new, advanced technologies, averaging 15 per year.
"Nissan Power 88 is the roadmap for our company's profitable growth," said Nissan President and Chief Executive Officer Carlos Ghosn. "We will accelerate our growth, bringing more innovation and excitement to our products and services as well as cleaner, more affordable cars for everyone around the world, in line with the energy and environmental challenges of the 21st century."
Nissan will increase investments in its brands and retail networks to enhance its customers' entire ownership experience. Nissan currently has 6,000 major points of sales globally; the retail network will expand to 7,500 in the midterm plan period.
Business expansion will focus on growth markets and further developing the company's Infiniti and light commercial businesses.
In 2012, Nissan will have a production capacity of 1.2 million units in China. China has become – and will continue to be – Nissan's largest single global market. Nissan aims for a 10% share of the Chinese market. Nissan will also increase its presence in Brazil, Russia and India, as well as in the next wave of emerging markets.
In Brazil, Nissan will build a new plant, with a capacity of 200,000 units as a first step.
Nissan NV200's selection as New York City's "Taxi of Tomorrow" illustrates the company's momentum in the LCV field. By 2016, Nissan will be the world's leading light commercial vehicle manufacturer.
The Infiniti premium brand will grow from its 2010 sales level of 150,000 vehicles to 10% of global market share among luxury brand segments, a level today that would represent 500,000 vehicles.1 Infiniti will be present in more than 70 markets with a product range of at least 10 vehicles.
"Nissan Power 88 is a demanding business plan, but our company has a proven track record of achieving challenging objectives," said Mr. Ghosn.
About Nissan
Nissan Motor Co., Ltd., Japan's second-largest automotive company, is headquartered in Yokohama, Japan, and is part of the Renault-Nissan Alliance. Operating with more than 248,000 employees globally, Nissan provided customers with more than 4.1 million vehicles in 2010, generating revenue of 8.77 trillion yen ($102.37 billion US). With a strong commitment to developing exciting and innovative products for all, Nissan delivers a comprehensive range of 64 models under the Nissan and Infiniti brands. A pioneer in zero-emission mobility, Nissan made history with the introduction of the Nissan LEAF, the first affordable, mass-market, pure-electric vehicle and winner of numerous international accolades, including the prestigious 2011 European Car of the Year award and 2011 World Car of the Year.